Manchester United revenues hit record of £590m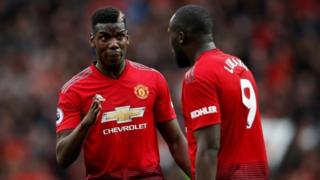 Revenues made by Manchester United have hit a record as the football club earned more money from TV rights.
The club reported revenues of £590m in the year to the end of June, up 1.5% on the prior year, and forecast they would top £600m next time
TV revenue rose 5.2% to £204m after the club finished second in Premier League last season, against sixth before.
But there was a big revenue fall in the final quarter due to United's poor showing in a key European competition.
Revenue for the three months to 30 June fell 16% to £147.6m, as United failed to make it through to the quarter-finals of the lucrative UEFA Champions League.
With the New York-listed club back in the competition this year, United is predicting that revenues will be between £615m to £630m in the current financial year.
Executive vice chairman Ed Woodward said: "Our increased revenue expectation for the year demonstrates our continued strong long-term financial performance which underpins everything we do and allows us to compete for top talent in an increasingly competitive transfer market."
'History demands'
The club is currently seventh in the Premier League, eight points behind early leaders Liverpool and six behind cross-town rivals and reigning champions Manchester City.
There have been media reports of behind-the-scenes discord between Mr Woodward and manager Jose Mourinho over the club's player recruitment policy.
Mr Woodward said: "Everyone at the club is working tirelessly to add to Manchester United's 66 and Jose's 25 trophies. That is what our passionate fans and our history demands.
"We are committed to our philosophy of blending top academy graduates with world class players and are proud that, once again, last season we had more academy graduate minutes on the pitch than any other Premier League club."
Total commercial revenue for the year was £276m, up 0.2%, although within that, sponsorship revenue was £173m, a 1% rise.