Chancellor warns over 'stalling' digital tax talks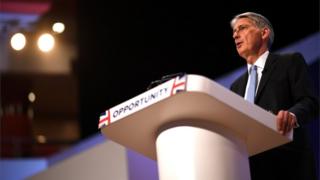 Urgency is needed in talks to reform the way big technology firms are taxed, the Chancellor of the Exchequer, Philip Hammond, has warned.
Google, Facebook, Apple and Amazon have been criticised for paying only modest amounts of tax in the UK on huge sales.
The chancellor said international agreements were needed to tackle the problem, but "the time for talking is coming to an end".
The next step would be a Digital Services Tax, he said.
Technology firms have argued they follow tax rules and have an obligation to shareholders to be tax efficient.
Their tax affairs sometimes involve complicated, but legal, arrangements that divert sales and profits to lower tax nations.
The OECD, which co-ordinates economic policy among rich nations, is trying to tackle the problem, but is struggling to reach a consensus among its 36 members.
The European Commission is also trying to come up with a common policy and has proposed an EU-wide 3% digital tax, but has faced opposition from some member states.
'Stop stalling'
Smaller EU states have argued that the EU measures should be part of a global reform.
However, during his speech at the Conservative Party Conference, the chancellor said action was needed.
"The time for talking is coming to an end," he said.
"The stalling has to stop. If we cannot reach agreement the UK will go it alone with a 'Digital Services Tax' of its own."