Amazon raises wages amid criticism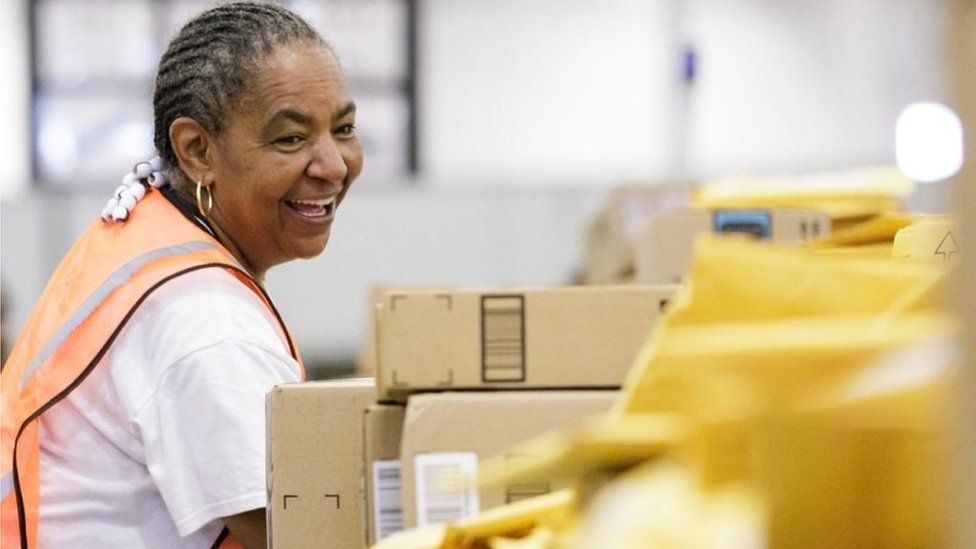 Online retailing giant Amazon is raising pay for hundreds of thousands of workers in the US and the UK.
Amazon's lowest paid US workers will receive $15 an hour. In the UK, pay will rise from £8.20 an hour in London to £10.50, while outside London the rate rises from £8 an hour to £9.50.
The move comes after criticism of its employment practices, with complaints over its warehouse working conditions.
Amazon has also been attacked by campaigners for how much tax it pays.
The company is one of the biggest companies in the world, worth about $1 trillion.
Its founder, Jeff Bezos, is the world's richest man, with a fortune estimated at some $150bn.
The new pay rates start on 1 November, and will apply to all staff, full and part-time, as well as temporary and seasonal workers.
The move will benefit 250,000 workers in the US, 17,000 in the UK and tens of thousands of seasonal workers.
Tim Roache, the general secretary of the UK's GMB union, welcomed the announcement but said more needed to be done: "Given their owner is the richest man in the world you'd think he could see fit to dig a little deeper, but it's a start.
Mr Roache said that 90% of the GMB Amazon members had said they experienced "constant pain at work".
The union said Amazon did not allow it to operate under its roof.
TUC general secretary, Frances O'Grady, said: "If Amazon is really serious about looking after its workforce it must recognise trade unions.
"Today's announcement is... only a start and shouldn't be spun as a huge act of generosity."
Amazon said in a statement: "Amazon is a safe place to work.
"The facts clearly show allegations to the contrary are simply wrong and misleading when attempting to portray Amazon as an unsafe workplace."
Amazon's move comes after widespread strikes by workers across Europe.
This summer, workers took action to coincide with the internet retail giant's Prime promotion event. Staff at warehouses in Germany Spain and Poland were trying to force the firm to offer better working conditions.
In the US, Amazon is also facing pressure from workers.
The increase in Amazon workers' wages coincides with a cross-US movement by retail unions to raise wages to a minimum of $15 an hour, the so-called "Fight for Fifteen" movement.
Already rival retailers such as Target and Walmart have had to raise their wages.
Major US companies are finding recruitment a growing challenge with US unemployment so low and are having to raise wages to attract staff.
The Democrat Senator and prominent Amazon critic, Bernie Sanders, told Reuters it was a good move that others should emulate: "I want to give credit where credit is due. There is no reason why other profitable corporations in the fast food industry, the airlines and retail should not be following."
Neil Saunders, managing director of GlobalData Retail, said politics had played a part in Amazon's decision: "The narrative that Amazon is an ungenerous employer at a time when the company's sales, profits, and valuation are soaring does not play well among many customer segments."
Analysis: Kim Gittleson, New York Business Correspondent
One way to understand Amazon's pay decision is politics.
By one calculation, Amazon founder Jeff Bezos earns the median US Amazon employee annual salary every ten seconds.
That disparity has led to political pressure to raise wages from those like Senator Bernie Sanders, who introduced a bill in the US, subtly named the Stop Bad Employers by Zeroing Out Subsidies (BEZOS) Act, to tax the company, who he claims pays such low wages that its workers still rely on government programmes like food stamps.
But the other, perhaps more salient way to put Amazon's decision in context, is economics.
The US economy is booming right now, with record low unemployment and wage growth not seen in nearly a decade.
Although the US federal minimum wage is $7.25, according to the Bureau of Labor Statistics, the current average hourly earnings for someone employed in the retail sector is $13.20.
That's put pressure not just on Amazon, but on rivals like Costco, Target and Walmart, all of whom have announced pay raises for their lowest paid workers.
In this context, Amazon is simply trying to catch up with a cannily timed move meant to lure workers in the crucial lead up to the holiday shopping season.
Amazon said it would press for a change to the US Federal minimum wage level, which is currently $7.25. However, 29 US states as well as Washington DC have set their minimum wage levels higher than this.
Amazon spokesman Jay Carney said: "We will be working to gain Congressional support for an increase in the federal minimum wage. The current rate of $7.25 was set nearly a decade ago."
In the UK, the legal minimum wage is £7.83 an hour for over-25s and £7.38 for those aged 21 to 24.
The retailer also said it would phase out one of its share incentive schemes, adding that the "net effect of this change and the new higher cash compensation is significantly more total compensation for employees... and with more predictability".
Mr Bezos said: "We listened to our critics, thought hard about what we wanted to do, and decided we want to lead."