Primera Air collapse: 'I don't know what I'm going to do'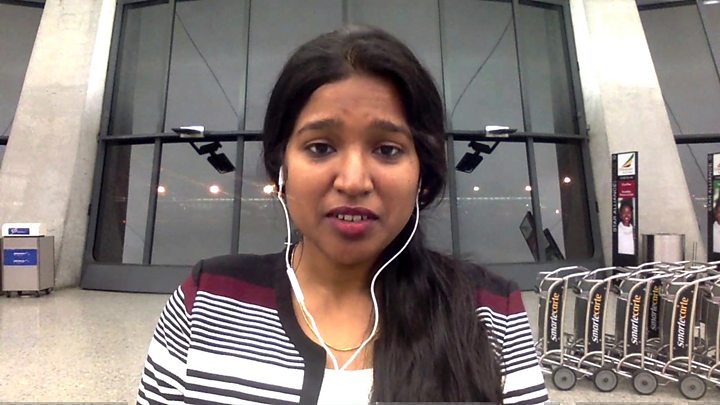 Passengers have been left stranded in airports around the world after the collapse of budget airline Primera Air.
The airline started offering long-haul flights from UK airports earlier this year, including Stansted to the US.
Flights to Washington and New York due to leave Stansted on Monday night were grounded and passengers have been told not to go to the airport on Tuesday.
Student Pavithra Priyadarshini found out that her flight was cancelled when she arrived at US airport Dulles.
"I came here to check in my luggage and the signboards saying that all the flights from Primera had been cancelled," she told the Victoria Derbyshire programme.
She said she did not have enough money to book a flight within the next day, or enough cash to stay in a local hotel.
"I did not know what to do. Still now, I don't know what I'm going to do. I'm just sitting in the airport."
She first tried to contact Primera Air, but the customer service network had "completely shut down". She then went to other airlines who had space, including United and British Airways, but couldn't afford the ticket prices.
She is asking for help from friends and family to try to raise money to get a ticket back to the UK, she says.
Other passengers have also complained. Simon Carrington said he had no warning from the airline that it was about to go bust, and only found out when he tried to check in for a flight from Malaga to Manchester.
"I am furious that they never told me. Panic set in when I read that they had ceased trading."
Mr Carrington managed to book another flight at short notice, but he had to pay £400 more.
"Hopefully as I paid on my credit card I will be covered for a full refund but now it has become a very expensive short trip," he said.
Who has been affected?
All Primera Air passengers who had booked flights with the airline from the beginning of October.
The UK's Civil Aviation Authority has said passengers who have travelled on an outward Primera flight will need to make their own arrangements to return to the UK.
The UK government has no plans to repatriate travellers as it did after the collapse of Monarch Airlines last year.
Will they get their money back?
The budget airline is registered in Denmark and therefore is not part of the UK Civil Aviation Authority's ATOL Protection scheme. This scheme covers passengers booked on package holidays.
However, if passengers booked through a travel agent which is ATOL-protected, they may be able to claim compensation via them.
People who booked a flight using a credit card, and paid more than £100, may be able to claim compensation from their credit card firm under Section 75 of the Consumer Credit Act 1974.
If passengers paid by debit card they could try to contact their bank to request "chargeback". To get this money back, their bank would need to get the money back from Primera's bank. Passengers could also request a chargeback on a credit card.
People with travel insurance may be able to claim if their policy covered insolvency.
Consumer group Which? advises passengers to contact their credit card issuer, travel agent, or insurer as soon as possible.
How long was Primera Air operating?
The airline started out in 2003 by offering chartered flights for Scandinavian tour operators, taking holidaymakers to destinations such as Spain, Greece, Italy, Egypt and Turkey.
It entered the UK market in April, offering low-cost flights from Stansted and Birmingham to North America - including Washington, Newark, and Toronto.
The airline was due to start flights from Manchester to Malaga later this month.
It had 15 planes and flew to 97 destinations in 23 countries.
What seems to have gone wrong?
The airline blamed a failure to secure long-term financing for going bust, saying it had "no choice" but to file for bankruptcy.
It also said the late arrival of new aircraft from Airbus had also forced it to cancel flights and lease planes.
Signs that the airline was in trouble came in August, when it said short-haul flights from Birmingham to seven European destinations would end on 3 September.
But Primera's decision to start competing with other low-cost long-haul operators such as Norwegian and Wow appears to have led to its demise.
When it began long-haul operations from Stansted in May, Primera was offering flights to New York's Newark airport, Boston, Washington DC and Toronto starting at £149 each way.
It had planned to start flying from Madrid to New York, Boston and Toronto next month from €149 each way.
Airline analyst Alex Macheras told the BBC the airline's growth "simply wasn't sustainable".
"The general feeling in the industry was: this airline is travelling a bit too fast in terms of their expansion with a fleet of that size," he said.