Tesla production hits record high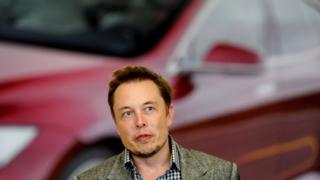 Tesla said it produced a record number of vehicles in the most recent quarter, easing fears about the firm's ability to boost manufacturing.
Elon Musk's electric carmaker said it made more than 80,000 vehicles, including more than 53,000 of the Model 3 - roughly in line with forecasts.
The disclosure comes at a turbulent time for the company.
On Saturday, Mr Musk settled fraud charges brought by the US Securities and Exchange Commission.
The agreement, which resolved questions about claims he made regarding potential plans to take the firm private, required him to step down as chairman.
The episode had increased scrutiny of the California-based company, which has struggled over the last year to boost output of its newest model.
The lag has exacerbated a cash crunch as expenses rise and deadlines for debt payments approach.
This spring it revamped its manufacturing process, scaling back some of its automated features, a move that Mr Musk has told investors was helping.
Tesla hit a major milestone in June, producing 5,000 Model 3 sedans in a week.
The figures released on Tuesday suggest it has roughly maintained that pace for the Model 3s, its newest and cheapest model.
However, its overall average production rate, including other models, is still short of the 7,000 cars a week that Mr Musk told investors in July would make the firm "sustainably profitable".
The firm also appears to be struggling to get the cars into the hands of customers - a challenge Mr Musk has conceded in the past.
Tesla said it delivered 83,500 vehicles in the quarter - 80% more than its total in 2017.
"With production stabilised, delivery and outbound vehicle logistics were our main challenges during Q3," the company said.
China warning
Tesla also warned that tariffs in China were causing challenges, underscoring an issue it raised last quarter.
China has raised import duties on US-made cars as part of the broader trade fight with the US.
Tesla said the costs that go into its cars are roughly 55% to 60% higher than for local firms, when tariffs and sea transport costs are take into account.
It plans to speed up plans for its new factory in China - but the firm said earlier that bringing that plant online would take several years.
"This makes for a challenging competitive environment, given that China is by far the largest market for electric vehicles," it said.