Fan Bingbing: Missing Chinese actress fined for tax fraud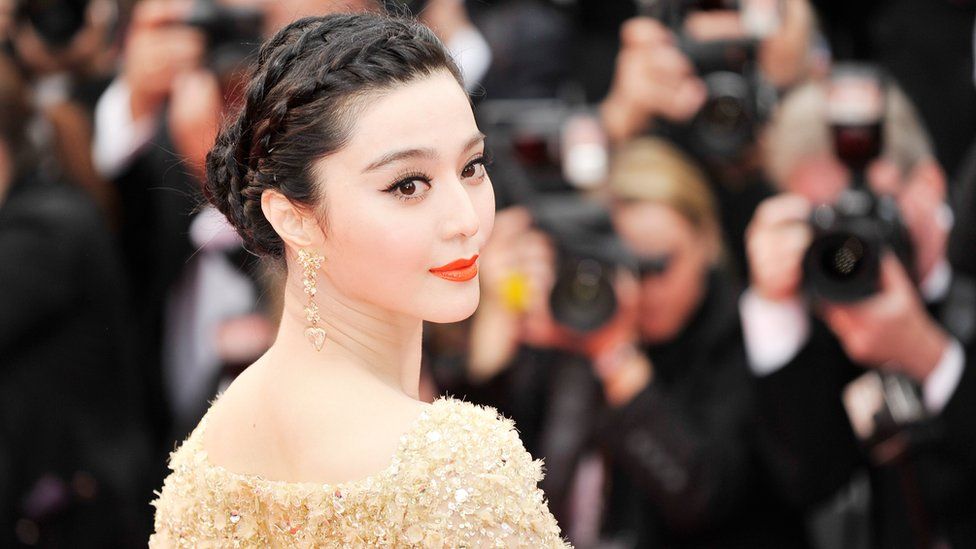 Chinese mega star Fan Bingbing has been fined around 883 million yuan ($129m; £98.9m) for tax evasion and other offences, authorities said Wednesday.
The star, who disappeared in July, posted a long apology on social media.
Ms Fan, who is one of China's highest paid actors, will escape criminal charges if the fines are paid on time, said state news agency Xinhua.
The actress had been linked to a government probe into how celebrities reported earnings in their contracts.
Some film stars were alleged to have used so-called "yin-yang contracts" - a practice where one contract sets out an actor's real earnings, and another details a lower figure, with the latter submitted to the tax authorities.
Authorities have now ordered Ms Fan and the companies she controls to pay the huge sum in taxes, fines and penalties.
The 37-year-old actress, who appeared in the X-Men and Iron Man film franchises, has not been seen in public since 1 July and her whereabouts have been the subject of intense speculation. Her current location is unknown but reports say she has been held in secret detention.
On Wednesday, the star posted an open apology to her tens of millions of fans on her Weibo account saying: "I've been suffering unprecedented pain recently… I'm so ashamed of what I've done. Here, I sincerely apologise to everyone.
"I completely accept all the penalty decisions made according to law, after the investigation done by tax authorities. I will follow the order, try my best to overcome difficulties, raise fund, pay taxes and fines."
She also praised the ruling Chinese Communist Party in her statement, saying: "Without the good policies of the party and the state, and without the love of the people, there would be no Fan Bingbing."
Ms Fan's agent has been detained by the police for further investigation. Her studio had previously said the star never signed "yin-yang" contracts.
BBC China correspondent Robin Brant said Ms Fan was the latest high profile figure outside of politics in China to disappear from view over allegations of corruption or tax evasion.
The actress is one of China's most influential celebrities and last year topped Forbes magazine's list of top Chinese celebrities with income of around 300 million yuan ($43m).
By Kerry Allen, China media analyst, BBC Monitoring
Wednesday's Chinese media is dominated by reports on Fan Bingbing's reappearance, and hundreds of thousands of users of the popular Sina Weibo social media platform are discussing official media reports and her letter of apology.
The official CCTV broadcaster stresses that she has not committed a crime but will be given an administrative punishment. However, Ms Fan has fallen out of favour with the Chinese public over the recent allegations, and users are not sympathetic towards her following her apology, given the millions of dollars in taxes state media say she evaded.
Some express relief that she has reappeared on social media after her lengthy silence. But many say that they don't think her apology is sufficient and say she should go to prison or be blacklisted by the entertainment industry.
Some feel her celebrity status has saved her from conviction and say that regular Chinese would be held criminally responsible for much smaller amounts of money.
In any case, it is extremely difficult for Chinese celebrities to bounce back after a scandal - especially one of this magnitude.