Shares flop in peer-to-peer lender Funding Circle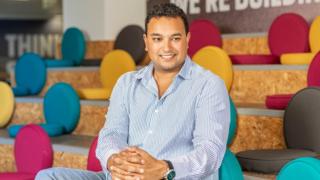 Shares in Funding Circle, the peer-to-peer lender, have tumbled in the first day of full trading on the London Stock Exchange.
They fell as much as 24% from the float price of 440p before recovering slightly to close at 365p.
Analysts say the flotation may have overpriced the firm.
Funding Circle draws on a pool of funds collected from individuals and firms, which is then lent to small businesses vetted by the company.
Because it cuts out banks, Funding Circle was billed as a disruptive force in lending.
It is the number one peer-to-peer lender to small businesses in the UK, the US, Germany and the Netherlands.
Since it was set up in August 2010, Funding Circle has lent more than £5bn to 50,000 small businesses from 80,000 investors - including some £1bn in the first half of this year.
High price
Russ Mould, investment director at AJ Bell, said Funding Circle was a "potentially high risk, potentially high return company".
However, he said there were reasons to approach Funding Circle's shares "with caution".
Similar firms in the US such as Lending Club had seen their shares falter because they had failed to turn a profit.
"Funding Circle itself is still in the red so patience will be needed as the company builds out its loan book and tries to reach critical mass, while trying to carefully select borrowers who will be good for paying interest on the loans and then the initial loan itself once it matures," Mr Mould said.
Helal Miah, an investment research analyst at the Share Centre, said shares had fallen because the initial valuation of £1.5bn was too high.
He also pointed out that marketing spending is equal to 40% of revenues - a high ratio.
That, coupled with sparse financial data about the firm, would be enough to make investors wary, Mr Miah added.
Funding Circle is the first such lender to float on the London stock market.
It said the stock market listing would help "engender trust" with investors, borrowers and regulators.
The venture plans to use the money raised on the stock market to expand into new markets.
Financial crisis
Funding Circle was founded in the aftermath of the financial crisis, when trust in traditional banks was in the doldrums.
It enabled small and medium-sized companies to borrow from ordinary investors and other firms, rather than the traditional banks.
It has been billed as one of a new crop of financial technology companies, that might prove to be a real threat to the traditional banking industry.
Funding Circle chief executive Samir Desai has previously said his company might not have existed were it not for the crisis: "Before 2008, small businesses didn't necessarily like their bank but they trusted them. After the crisis even that wasn't true."