Is this the end of the road for Traidcraft?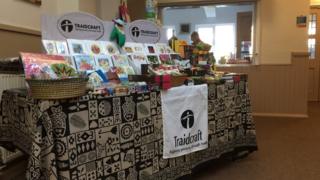 Traidcraft plc pioneered fair trade in the UK and counts on a large band of volunteers who sell its products.
About 4,000 of them still run Traidcraft stalls, but their sales are now more important than ever because the company has warned it is at risk of closure.
On Sunday mornings, Enid Gordon can often be found standing next to a table full of crafts and groceries ready to make a sale. This, she says, is not a business.
"I do it out of love for justice and love that we can help people," she tells me as potential customers file in from the church service next door.
We are in a hallway at North Shields Methodist Church and Enid hopes members of the congregation will buy from her stall as they head towards the tea and coffee counter.
Colourful packets of tea, coffee, dates, cocoa and chocolate (among other things) are set out neatly on her table. At the back, greetings cards are propped up on a stand in front of handmade trinket boxes and purses.
Enid says she has some kind and generous customers, but does not expect everyone to buy things from her stall.
She laughs as she tells me that one customer who regularly buys toilet rolls from her calls her "the toilet paper lady".
Since 2012, Enid has spent more than £17,000 on Traidcraft products and is running at a small loss - although she still has stock to sell.
Traidcraft started in Newcastle upon Tyne in 1979 importing handicrafts and food from impoverished parts of the world guaranteeing its producers a fair, minimum price and improved working conditions.
Coffee, tea, sugar, juice, wine, organic cotton, palm oil - anything you can think of that's fair trade today, Traidcraft did it first, according to one of the company's own promotional videos.
"You are selling things that people have made and they have been paid a fair price and that's really important because then you don't have to give them charity," says Enid.
"That's why Christians set it up and it started in the North East of England - I'm so proud of that and I'm so sorry that the likelihood is that it is going to finish."
All 68 people who work at Traidcraft plc's warehouse and headquarters in Gateshead have been told they are at risk of redundancy.
The business made losses of about £500,000 last year. It is consulting on its future but if no solution can be found, it could close.
It does not sell its products through supermarkets, relying instead on orders placed online or over the phone by individual customers or traders.
It still has about 4,000 people like Enid who run Traidcraft stalls often at churches but the company's chief executive, Robin Roth, says they used to have double that number of volunteers.
"Ultimately it is down to what individual consumers choose to do with their money," says Mr Roth. "We've tried to make the case over the past 40 years that what we do is particularly worth supporting. Perhaps we haven't made that case strongly enough."
While his business struggles, sales of goods bearing the Fairtrade Foundation's fairtrade logo (which Traidcraft helped to set up) are booming. In 2017, they rose by 7% compared with the previous year.
"We have made many mistakes as a business", says Robin Roth, "but at the same time the fair trade message has become so mainstream that anyone who cares about ethical consumption can get their fair trade products from any supermarket."
He describes the UK's vote to leave the EU as a "transformational moment" for Traidcraft.
"The value of sterling fell on that day by 17% against the dollar. We buy everything in dollars. That alone cost us just shy of a third of a million pounds in one go and even though we'd hedged a certain amount, maybe we were negligent in not seeing what was coming."
The big concern is for producers who have only got access to market through Traidcraft. Some 700 women in India, for example, are employed making hand-stitched cards.
Roth is hoping for an upturn in trade but also that the consultation process might bring some fresh ideas to help save the business.
"I do not want this company to go to the wall because I don't think our mission is complete," he says. "Fair trade is about more than just a product; it is about a whole way of thinking, being and living and that doesn't die".
Listen to the You & Yours report on Traidcraft here