US jobless rate hits 49-year low of 3.7%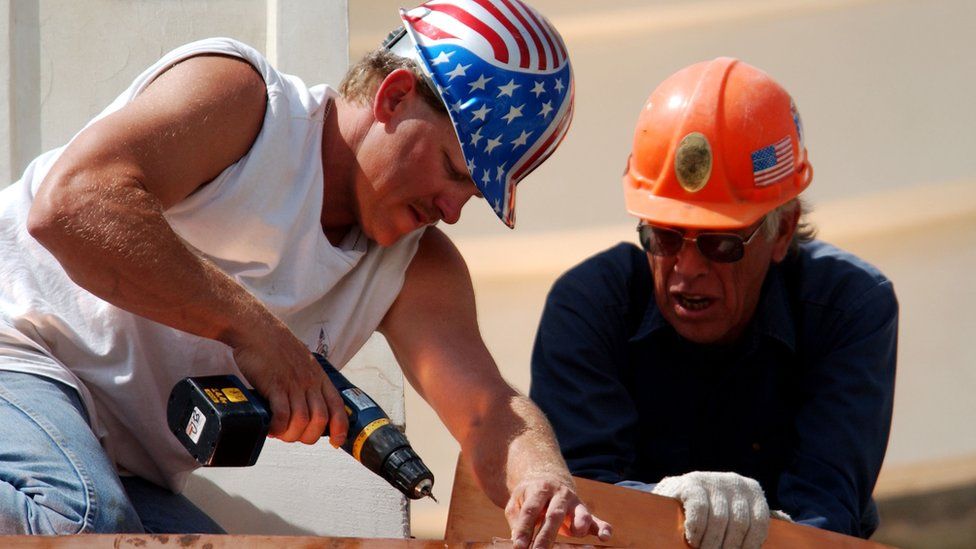 The US unemployment rate fell to 3.7% in September, the lowest rate since December 1969.
Significant jobs growth was seen in professional and business services, healthcare and construction.
Average hourly earnings rose at an annual rate of 2.8% in September, down from 2.9% in August.
Employment data for July and August were also revised to show an additional 87,000 jobs were created than first reported.
Hurricane Florence, which battered the US East Coast in mid-September, was cited by the Labor Department as a factor for some employment changes, specifically leisure and hospitality, which lost 18,000 jobs in the period.
The Labor Department said it was "impossible to quantify" the hurricane's net effect on employment.
America's missing workforce
Analysis by Andrew Walker, BBC Economics Correspondent
An unemployment rate of 3.7% is certainly quite an achievement.
From the low point in the aftermath of the financial crisis, the number with jobs has increased by almost twenty million.
But the very low unemployment rate also reflects an increase in the number not looking for work - if they are not looking they are not classified as unemployed.
A recent report from the Organisation for Economic Cooperation and Development said that compared to other countries "a large share of the population remains at the fringes of the labour market".
The OECD suggested a number of reasons, including what president Trump and many others have called the opioid crisis - the widespread misuse of and addiction to certain prescription drugs.
Jake Robbins, from Premier Asset Management, said low unemployment is driving wages higher.
"Employers are finding it harder to recruit and having to pay more when they do," Mr Robbins said.
Ian Shepherdson, the chief economist at Pantheon Macroeconomics, predicted that the jobless rate will fall as low as 3.25% by this time next year, strengthening the case for the US Federal Reserve to keep raising interest rates.
"No one at the Fed thinks unemployment near 3% is sustainable," Mr Shepherdson said.
Both economists predict the US Federal Reserve will continue to raise interest rates well into 2019, as better-paid US workers spend more and increase inflationary pressures.
The escalating trade war between the US and China does not appear to have affected hiring in factories.
The data showed manufacturing jobs continuing to multiply in September, with 18,000 added, reflecting a gain in durable goods industries. In 2018 so far, manufacturing has added 278,000 jobs.
Washington last month slapped tariffs on $200 billion worth of Chinese goods, with Beijing retaliating with duties on $60 billion worth of U.S. products. The United States and China had already imposed tariffs on $50 billion worth of each other's goods.
Jobs in professional and business services rose by 54,000 in September and has increased by 560,000 over the year.
Healthcare employment rose by 26,000 in September. For 2018 so far, healthcare jobs have increased by 302,000.