Canada cannabis legalisation: 'We know the world is watching'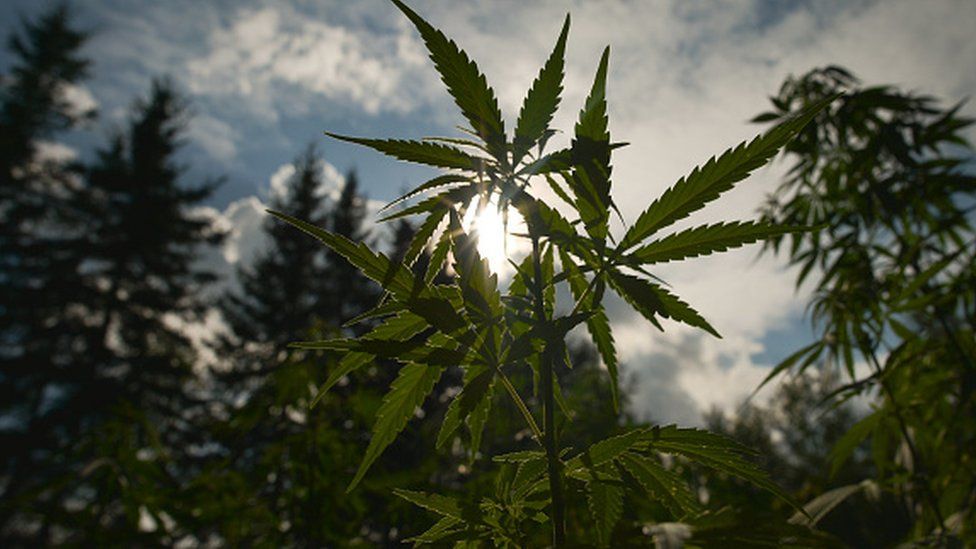 For many Canadians, the idea of legal cannabis once seemed a pipe dream.
But from 17 October, Canada will become the first G7 country to give recreational cannabis the green light.
It's following a trail first blazed by Uruguay in 2013.
"It's becoming a serious industry," says one entrepreneur.
Supporters say legalisation will bring new medical advances and help stamp out drug-related crime.
But some critics argue that long-term use can harm people's health. Others worry about how it will be policed.
So who are some of the so-called "ganjapreneurs" riding this new legal high?
'There is a lot of painstaking care in making the right plant'
Vinay Tolia ran his own hedge fund before becoming chief executive of Flowr this year.
He co-founded the cannabis producer with Tom Flow, an industry veteran who sold his last firm, MedReleaf, for more than $2.5bn (£1.9bn).
Vinay says getting into the legal cannabis industry is "the right thing to do from a social level".
"You can objectively see that the drug policies have been a failure," he says.
"And why not study it? There are tonnes of medicinal benefits waiting to be discovered that are going to be hugely beneficial to a lot of people."
Flowr runs an 84,000-sq ft facility in British Columbia where it grows plants under highly controlled conditions.
By managing humidity, airflow and other factors in a sterilised setting more akin to a pharmaceutical lab, Flowr says it can mass produce cannabis that's of a consistent, high quality.
"There is a lot of painstaking care in making the right plant," says Vinay.
"[Cannabis] is very sensitive. You can have the same strains in two different rooms with a slightly different temperature and get completely different chemical compositions."
Flowr has also teamed up with gardening industry giant Scotts Miracle-Gro, opening a research facility to study pot genetics and how the plant can affect users.
'We know the world is watching'
Many of Canada's larger firms are aiming for rapid industrial-scale turnover, but Kelly Coulter has other plans.
"My farm is going to be small and slow," she says. "I'm going to be like one of those vineyards in Italy who sell out because they have the best grape, and then we rest in the winter."
This year, she's leased two acres of land in British Columbia and plans to start an outdoor growing operation called Slo Farms.
"We've got the only Mediterranean climate in Canada, which is ideal for growing cannabis, and all food."
Kelly used to own an organic farm and says marijuana cultivation felt like a natural career transition.
"Most people care where their food comes from," she says.
"Right now we're seeing industrialised agriculture becoming exposed to consumer critique, the same will happen to cannabis."
Slo Farms will be an all-female business, and Kelly says licences for small-scale production will help more women to break into the industry.
"The big licences, those are really expensive operations and women don't always have access to that kind of money.
"We know the world is watching," adds Kelly. "We hope other countries will see what's happened here and replicate it."
'Canada will become an afterthought'
Ron Throgmartin admits he is "not a marijuana smoker", but as a businessman he sees an opportunity in commercial cannabis real estate.
He ran his own property firm for 20 years and is now chief executive of Diego Pellicer. The firm develops and leases property for marijuana businesses and has just opened its second US retail outlet with the help of designer Jill Savini, former creative director of the original Apple store.
Ron says he plans to expand into Canada, but he's "cautious" and sees more earning potential in the larger, neighbouring US market.
"At one point the US will federally legalise cannabis and when that happens, Canada will become an afterthought."
He also believes legalisation will eventually concentrate industry control into the hands of larger, probably tobacco corporations.
"Their model's dying so if they don't find something to transition to they'll be in trouble."
So unlike other firms, Ron says he's in no rush to have weed legalised in the US at a national level.
"[I would like] more time for Diego Pellicer to become a bigger company so we can be a candidate for acquisition from bigger corporations who we can't compete with.
"I'm always thinking about tomorrow and next year."
'It's akin to wine tourism'
Sean Roby runs Bud and Breakfast, a self-styled "AirBnB of cannabis".
The accommodation-sharing platform lets travellers search for "420-friendly" accommodation around the world.
"We get rid of the awkward factor,'' jokes Sean.
The website has nearly 100 properties registered in Canada. He says around 30 have signed up in the last week alone, with more Canadians hoping to cash in when legalisation comes into force later this month.
Bud and Breakfast also runs dedicated resorts in Denver, Hawaii, Uruguay and Jamaica where guests can enjoy cannabis yoga classes, "puff and paint" lessons and other eye-catching pursuits.
Sean founded the firm four years ago after organising wine tours and adventure holidays in California and Hawaii for his family business.
He says it's "akin to wine tourism", but many people come to his resort to help with severe medical conditions too.
"Cannabis is much safer than alcohol as well," argues Sean.
"I think it can obviously slow down productivity if you use it too much but if you use it in a vacation setting as an experience, it can be a nice thing to relax and watch the world go by, to escape the grind, which is what we all like to do."