Hammond says 'Brexit deal dividend' would deliver economic boost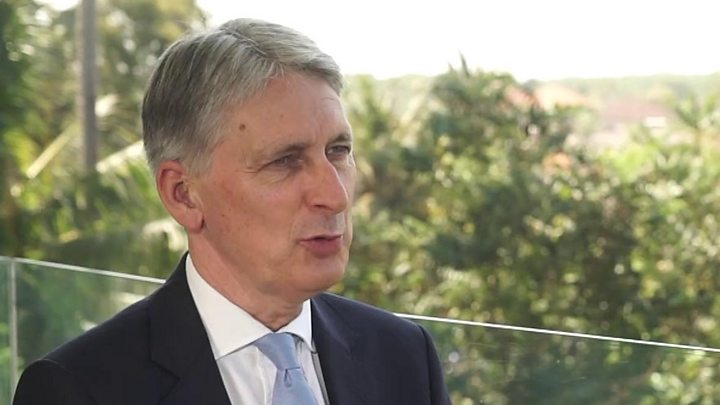 Britain could see an economic boost if it successfully negotiates a Brexit deal with the European Union, the chancellor has said.
Philip Hammond told the BBC that there has been a "measurable change of pace" in talks, adding to the sense of optimism that a deal could be imminent.
He said there were still hurdles, but the "process" was much more positive.
If a deal is done, the UK could enjoy a "deal dividend" which would "deliver us an upside" for the economy, he said.
Speaking at the International Monetary Fund annual meeting in Bali, Mr Hammond said that the UK's official economic watchdog, the Office for Budget Responsibility, had forecast economic growth as slowing because of Brexit uncertainty and the risk of a no-deal outcome.
If there is a deal, the OBR would be likely to upgrade that forecast.
"I believe there will be a dividend, a deal dividend for us," he told me.
"The OBR's forecast, which is the basis of our current projections for the economy and our fiscal position, is based on pretty much a mid-way point between no deal at all and an EEA [European Economic Area] solution.
"The deal that we're trying to negotiate with the EU now represents an improvement from the point of view of the British economy over that mid-point and therefore should deliver us an upside in the form of higher economic growth and better outcomes than were otherwise anticipated."
Mr Hammond has also built up a "fiscal buffer" to his Budget projections in case there is a disorderly Brexit.
Some of that £15.4bn could be released if a deal is signed, giving a "double boost" to the economy.
"I've always been optimistic that we would get to a deal in the end, because it's clearly in the interest of both sides to do so," Mr Hammond said.
"And what has happened over the last week, 10 days, is there's been a measurable change in pace.
"There's a real sense now of engagement from both sides of shared enterprise in trying to solve a problem rather than posturing towards each other - a really important step change.
"But that shouldn't conceal the fact that we've still got some big differences left to resolve.
"So the process is a lot more positive this week, but the substance still very challenging."
'Fudge'
To be clear, Philip Hammond is not saying there is a "Brexit dividend". I have made problems with that phrase clear.
He is saying a deal dividend is possible - a boost to the economic growth forecasts that were substantially downgraded after the referendum.
John McDonnell, Labour's shadow chancellor, said: "This all smacks of good old fashioned spin. It looks like Mr Hammond is desperate to save his and the Prime Minister's skins by dressing up a classic "put it off" fudge as a deal, which will fail to provide the long term security and certainty investors and businesses need.
"It appears that Hammond is planning a few tax conjuring tricks in the budget to kid people that austerity is over when the reality is that the vast bulk of the cuts are still rolling out. We need a chancellor, not a conjurer."