Jamal Khashoggi: Branson halts $1bn Saudi investment talks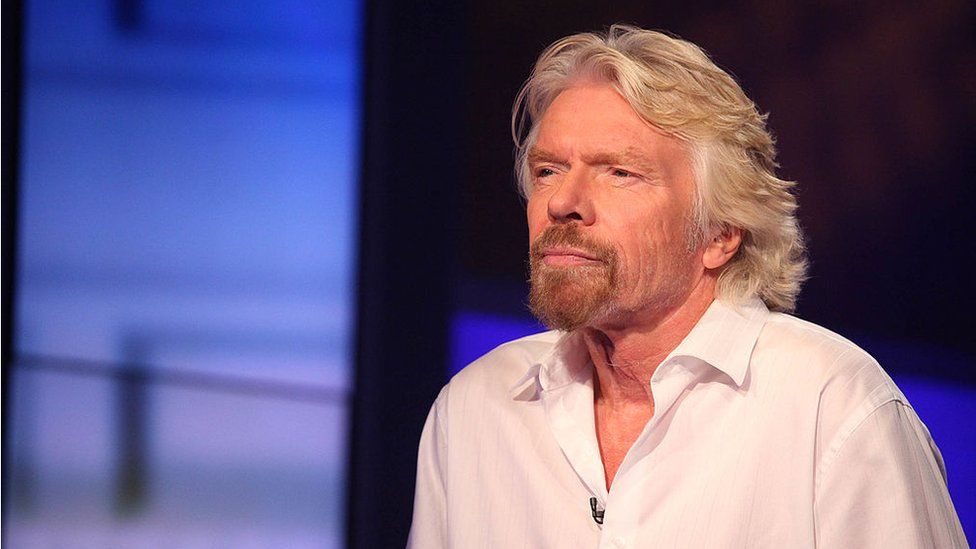 Sir Richard Branson has halted talks over $1bn Saudi investment in Virgin space firms after the disappearance of Saudi journalist Jamal Khashoggi.
Sir Richard has also suspended directorships in two tourism projects.
Mr Khashoggi, a noted critic of the Saudi government, disappeared when visiting the Saudi consulate in Istanbul last week.
In a statement, Sir Richard said: "What has reportedly happened in Turkey around the disappearance of journalist Jamal Khashoggi, if proved true, would clearly change the ability of any of us in the West to do business with the Saudi Government.
"We have asked for more information from the authorities in Saudi and to clarify their position in relation to Mr Khashoggi."
Turkish authorities in Istanbul have audio and video evidence that supports that the journalist was murdered by Saudi agents inside the consulate, the Washington Post reported.
Saudi Arabia has denied killing Mr Khashoggi and has insisted that he left the consulate shortly after he arrived.
What investment talks have been suspended?
Virgin was in talks with Saudi sovereign wealth fund the Public Investment Fund about a proposed $1bn investment in space companies Virgin Galactic and Virgin Orbit.
Talks have been going on since October 2017, when the Saudi intention to invest was agreed by Prince Mohammad bin Salman Al-Saud, Crown Prince of Saudi Arabia, and Sir Richard.
The Virgin investment plan was part of Saudi efforts to diversify its economy away from its dependence on oil profits.
Has there been any other action taken by businesses?
A number of high-profile business leaders and firms have put plans to attend a Saudi investment conference on hold, or have said they will not be attending.
The Future Investment Initiative, which will be held in Riyadh between 23 and 25 October, is known as the "Davos in the desert".
However, reports of Mr Khashoggi's murder have cast a shadow over the event.
Uber chief executive Dara Khosrowshahi said he was "very troubled" by the reports and that he would not attend the conference unless a substantially different set of facts emerge.
Viacom chief executive Bob Bakish, who was due to speak at the conference, has decided to not attend the event, a company spokesman said.
AOL co-founder Steve Case said he had put his plans on hold.
JP Morgan Chase chief executive Jamie Dimon and Mastercard chief executive Ajay Banga are still listed to speak at the conference, as is UK International Trade Secretary Liam Fox.
Various media firms have also pulled out or put plans on hold. The New York Times has pulled out of the event as a media sponsor, and the Financial Times is reviewing its involvement as a media partner.
Economist editor-in-chief Zanny Minton Beddoes will not participate, and neither will Andrew Ross Sorkin, a CNBC anchor and New York Times business journalist.
Bloomberg has said it, too, will not be a media partner of the event.
A spokesperson for the Saudi conference said it was "disappointing" that some speakers and partners had pulled out, but said it would still go ahead.
Meanwhile, former US Energy Secretary Ernest Moniz said that he had suspended his role on the board of Saudi Arabia's planned mega business zone Neom until more is known about what happened to Mr Khashoggi.
Who is missing journalist Jamal Khashoggi?
Mr Khashoggi, a well-known Saudi journalist, was once an adviser to the Saudi royal family, but fell sharply out of favour with the Saudi government and went into self-imposed exile.
After an international career, he left Saudi Arabia in 2017 for the US, and began writing a column for the Washington Post.
In his column, Mr Khashoggi said he had gone into exile because he feared being arrested, and that there had been an apparent crackdown on dissidents under Crown Prince Mohammed bin Salman.
Why did Mr Khashoggi visit the Istanbul consulate?
He first visited the consulate on 28 September to get a document certifying a divorce so he could remarry, but he was told he would have to come back.
Mr Khashoggi returned on 2 October and arrived at 13:14 local time for his appointment, which was scheduled for 13:30.
He reportedly told friends that he had been treated "very warmly" on his first visit and reassured them that he would not face any problems.