Remember Pastygate? Budgets that backfired
By Katie Hope
Business reporter, BBC News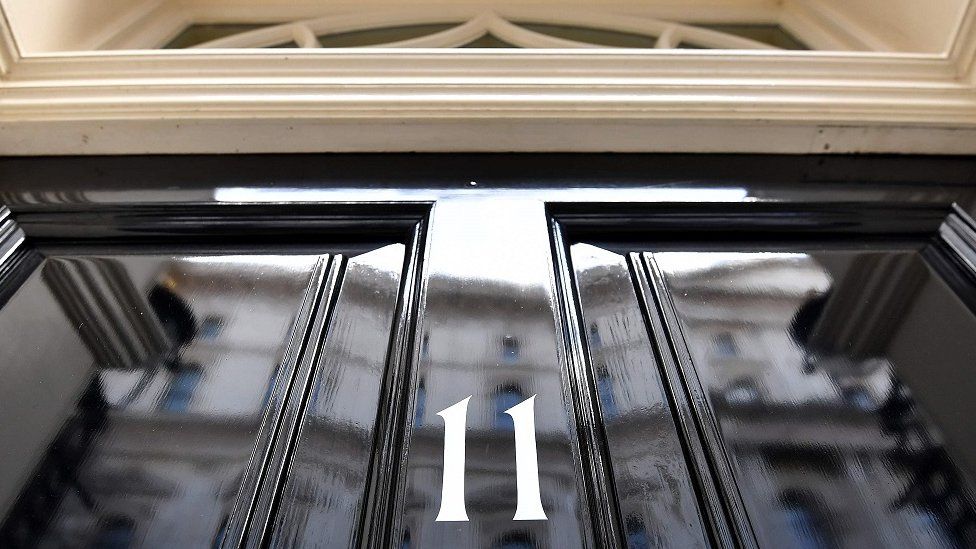 Budget day is a chancellor's day to shine. It's when the prime minister's number-crunching sidekick finally gets a chance to step out of the shadows.
The pay-off for all that poring over the figures is that for once they are the most important person in the room.
But despite all the preparation and planning, the announcements don't always go to plan. We take a look at some of the biggest disasters in Budget history.
It was a headline writer's dream. In 2012, one of the more obscure Budget proposals from Chancellor George Osborne was the introduction of a 20% VAT on pasties, rotisserie chickens and other hot food sold by bakeries and supermarkets.
The Treasury said that because VAT was already charged on most hot food, extending it to pies and pasties closed a "loophole".
Yet the idea was quickly translated into an attack on the working man's lunch. Cornish MP Stephen Gilbert said the pasty was "a staple, hearty meal" that must be protected.
Mr Osborne couldn't remember the last time he'd eaten a pasty from High Street chain Greggs, while Prime Minister David Cameron's claim to love them backfired when the Leeds shop he said he had bought one from turned out to have closed down years earlier.
Mr Osborne's suggestion that people could dodge the tax by buying cold pies led to him being branded a modern-day Marie Antoinette. "LET THEM EAT COLD PASTY" read the Sun's headline.
The pasty tax fiasco led to accusations that the Conservatives were out of touch and two months later the plan was ditched.
While pastygate grabbed the headlines, Mr Osborne was also forced to backtrack on several other proposed tax rises, including charging 20% VAT on alterations to historic buildings and static caravans - leading to 2012 being known as the "omnishambles Budget".
2. Chancellor hits white van man
March 2017 was Philip Hammond's first Budget as chancellor and it's fair to say it didn't go well. Dubbed "Spreadsheet Phil" for his dull but steady approach to the nation's finances, his big announcement was a plan to raise National Insurance contributions for self-employed workers.
"Hopeless Hammond", as one newspaper described him, was immediately accused of breaking a 2015 Conservative manifesto pledge not to raise National Insurance, income tax or VAT. Former Tory Chancellor Lord Lamont described the move as "a rookie error" and tabloid newspapers decried the "tax raid" on "white van man" - Britain's army of self-employed builders, plumbers and electricians.
"Rob the Builder", "Spite Van Man" and "Hammond hits white van man" went the headlines.
Labour urged the government to "think again" on the change, which would have meant 1.6 million people paying £240 on average more every year.
As the backlash against what the Sun described as a "strivers' tax" gathered pace, Mr Hammond did indeed think again. Just seven days after he had announced the policy, he ditched it. He justified the rapid U-turn by saying the reversal showed "we are listening".
Another word entered the political lexicon: the "omNICshambles".
3. Unforeseen consequences?
Foreseeable or not, chancellors have been caught out by the knock-on impact of their policy announcements.
In his final Budget as chancellor in 2007, Gordon Brown announced a surprise cut in the basic rate of income tax funded by abolishing the 10% starting rate.
He trumpeted the changes as a giveaway to middle-earning voters, but the move left millions of low-income workers worse off.
Mr Brown initially refused to acknowledge that there would be any losers from his changes. But under attack from the opposition, and also from his own party, he was forced to agree a compensation package for those who'd lost out.
Critics say it was one of the biggest mistakes of his political career and led to a loss of trust in his leadership when he became prime minister later that year.
Budget decisions are supposed to remain secret until the chancellor speaks.
But in 2013, just 20 minutes before Chancellor George Osborne addressed Parliament, the Evening Standard published a photo of its front page on Twitter.
It clearly showed details of the chancellor's big announcements, including his scrapping of the annual alcohol duty escalator and the rise in the personal tax allowance to £10,000 by April 2014.
By the time Mr Osborne stood up to talk, jeering Labour party members were waving photocopies of the newspaper's front page at him, claiming he "almost need not have bothered coming" given the details were in the newspaper.
The paper apologised for what it called "a very serious mistake". It had been given an early briefing on the Budget under embargo, to allow it to prepare its first edition, which goes to press during the chancellor's speech.
Some leaks have cost ministers their jobs. Labour Chancellor Hugh Dalton famously quit in 1947 when it was discovered he had told a journalist about some of his Budget before his statement.
Mr Dalton's biographer said the decision to quit was also driven by his frustration at the deteriorating state of the economy. The year was dubbed the "annus horrendus" for Labour with a severe winter freeze and rationing.
In the 1930s, Labour Cabinet minister Jimmy Thomas also resigned after he blurted out Budget secrets to a Tory MP on a golf course.
It's not just modern-day chancellors who have run into trouble over their Budgets.
Winston Churchill's 1925 Budget returned Britain to the gold standard at a fixed rate of $4.80 to the pound.
The aim was to restore Britain's position at the centre of the world's financial system. But critics now argue the high rate made UK industry uncompetitive and prolonged the Great Depression.
Meanwhile, in 1931 in the middle of a recession, Labour Chancellor Philip Snowden cut unemployment benefit and reduced public salaries.
The results were riots in the streets and a mutiny among sailors in the Royal Navy at Invergordon in Scotland, which virtually crippled the Fleet. Perhaps unsurprisingly, Britain's slump deepened, rather than improved.