What do young people want from the Budget?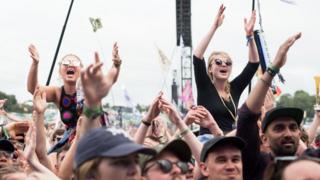 With wages rising at the fastest pace in nearly a decade and unemployment rates hovering at the lowest for more than 40 years, these should be boom times for young people.
But rising rents and living expenses means it doesn't feel like a boom for many of them.
One in five adults aged 25-34 are spending more than 60% of their pay on the same day it enters their account, according to KPMG.
On top of that, the chances of owning a home seem slim to many young people as house prices have risen so much in recent years.
So is there anything the chancellor could do in his budget next week to help them?
'I feel out of the loop'
Megan Cohen finished her A-levels this summer.
She was given an unconditional offer to study at university but has turned it down for now.
"I decided that it would be a better route for me to go into work so I wouldn't have the kind of student debt for working and making my way to the same position," says the eighteen-year-old.
She now works in digitals campaigns for an online jobs company and is living with her parents to help save money.
But Megan says transport and living costs are still eating into her budget.
"A lot of the time, especially with people in my situation, there's this expectation from everyone around you to be paying for things as if you're in a much higher job than you are," says the eighteen-year-old.
"Often people in my situation are in entry-level salaries, not making so much money that they can be providing for themselves."
Megan says she wants to see more government initiatives to cut the cost of transport for young people, and the introduction of small loans to cover living costs and support young people in work.
She also wants government spending to be much more accessible and user-friendly.
"People my age really do try to keep up with what's going on in politics and the news ," says Megan.
"As a young person we have the usual channels of social media and online news but often I feel out of the loop with what the government is spending money on."
"It's hard to see how things are affecting me because I don't know where to look."
'Scared' of mortgage repayments
Tom Church, 28, says he curbs his spending "on almost everything… it's really easy to do these days."
"There's so many apps which can track it automatically and you can get notifications when you go over a certain point.
"But none of it really matters when property is so expensive."
Tom is a co-founder of Latest Deals, a money-saving website, and says his biggest financial worry is not being able to afford a home.
What's more: "I'm scared that when I do get one it will still be really expensive with the mortgage repayments and, if I do get there, I still won't be able to enjoy the things that I'm working so hard to get."
"Everyone in my boat, young people especially, will never be able to afford a home unless things change"
High rents eating up income
Sumaya Hassan says she's worried that tuition fees are leaving students like her with massive amounts of debt after graduation.
"Even with a fairly well paid job [I'll] still have to struggle for years."
After graduating, Birmingham-born Sumaya wants to work in finance or the civil service. But she says she's concerned about Brexit's effect on her career prospects, quality of life and her ability to visit family abroad.
"Because of the uncertainty there is a worry."
Sumaya says a freeze on public transport prices in London has helped to ease off the financial pressure of commuting to university.
But most students are still worried about the high cost of tuition and bills, she adds.
"With high rent prices, the budget left for food and other basic needs is very minimal," says the 22-year-old.
'I'm trying to save to help my Mum'
"I'm not much of a spender,' admits eighteen-year-old Devon Davis.
Devon is studying journalism and media, and hopes to become a journalist after leaving college.
She says she spends her money on food, her cats, but most of it goes towards supporting her family, who all live in Bromley.
"Because I'm an apprentice I don't make a lot but at the moment I'm trying to save to help my Mum," says Devon who, along with her father, are the only members of the family in full-time employment.
"She's going through some immigration problems and hasn't been able to work for a while and that's taken a massive toll on the family."
Devon, who was born in Bromley, wants to see more government money put aside to support immigration appeals.
She also says the government can help young people by raising spending on youth services, not just education.
"Not a lot of the students now are necessarily in education and they're getting up to extracurricular activities that aren't best for society."