Firms defy pressure over Saudi summit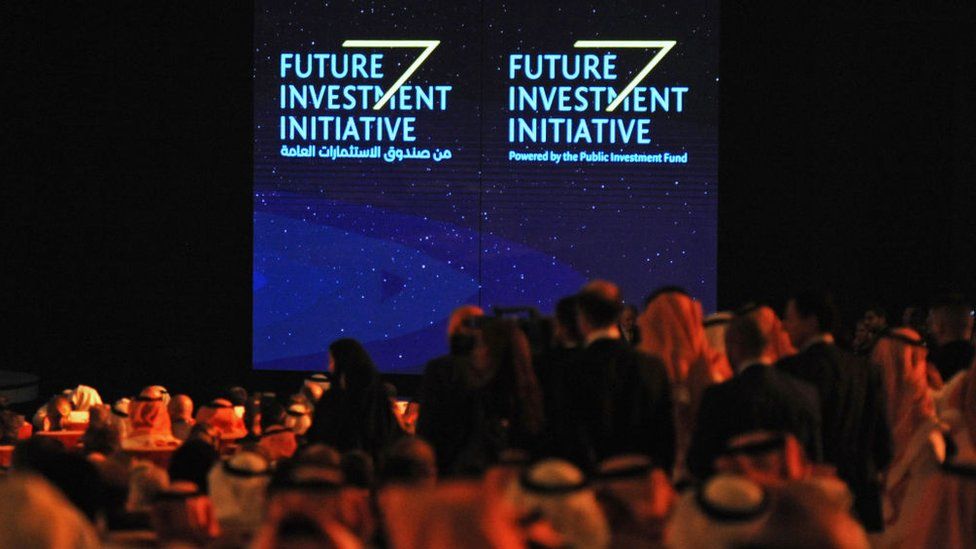 Major companies, including Pepsi and EDF, still plan to attend a conference in Saudi Arabia next week despite pressure for a boycott.
But more than 30 delegates have dropped out since Saudi journalist Jamal Khashoggi disappeared.
Goldman Sachs has said none of its executives will be there.
The event was set to feature 150 speakers from 140 organisations.
A critic of the government and a columnist for the Washington Post, Mr Khashoggi vanished on 2 October after visiting the Saudi consulate in Istanbul.
Turkish authorities say he was killed in the building by Saudi agents, but Saudi Arabia has dismissed the accusation as "lies".
Consultancy firms McKinsey, PWC, Ernst & Young, Deloitte, BCG, Oliver Wyman, and Bain & Company are all sponsors of the event, along with German conglomerate Siemens and research company SWFI.
None responded to questions about whether or not they had plans to withdraw.
Germany consultancy firm Roland Berger, which is also sponsoring the event, said it was reviewing its position.
The BBC understands that Goldman will be sending a small number of attendees.
However a page with a list of confirmed speakers has been removed from the conference's website.
Dubbed the "Davos of the Desert," the three-day event is organised by Saudi Arabia's sovereign wealth fund and is an opportunity for firms to build relationships and secure lucrative contracts in the Kingdom. Politicians and business executives from Europe, North America and Asia were on the attendance list.
US Secretary of State Mike Pompeo travelled to Riyadh on Tuesday for talks with Saudi Arabia's King Salman and Crown Prince Mohammed bin Salman, who he said "strongly denied" any involvement in the disappearance of Mr. Khashoggi.
But dozens of firms have now shunned the Saudi business event in protest.
At least 30 high-profile speakers have withdrawn so far from organisations including HSBC, Uber and the International Monetary Fund. Sir Richard Branson has also halted talks over a $1bn (£756m) Saudi investment in Virgin space firms.
Angus MacNeil MP, Chair of the International Trade Select Committee expressed his support for further boycotts.
"The behaviour of Saudi Arabia is utterly beyond the pale," said Mr. MacNeil. "They cannot operate with such savage impunity."
Human rights charity Amnesty International has also said businesses should "think twice" about attending.
Businesses should consider that it might damage their brands to be associated with a country that "bombs civilian targets in Yemen, imprisons human rights defenders and apparently disappears a journalist overseas", said Amnesty's Economic Affairs Programme Director Peter Frankental.
However a spokesperson for the Confederation of British Industry (CBI) said it was up to individual companies to "look at the situation carefully and make their own judgments".