Is democracy having a mid-life crisis?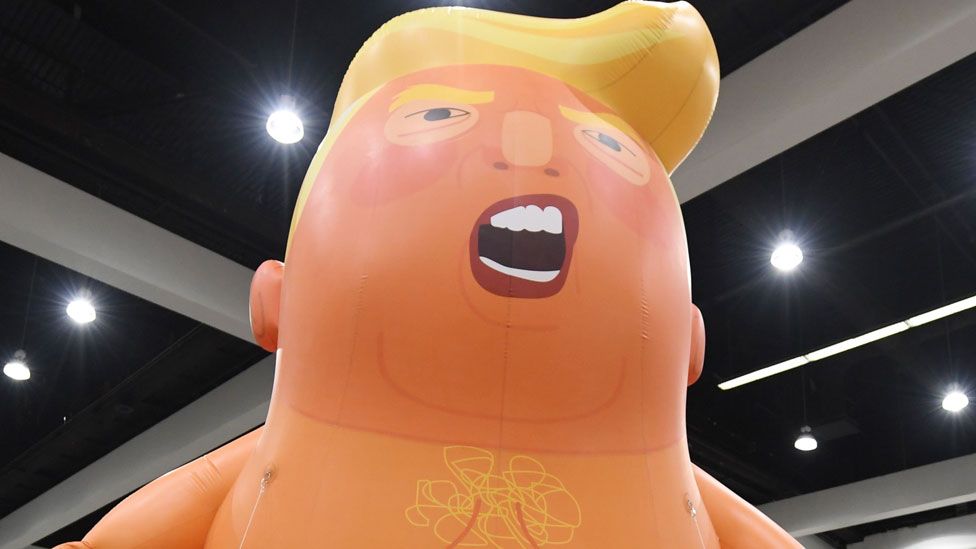 Democracy isn't dying, but it is having a very unpredictable mid-life crisis.
That's the view of David Runciman, head of Cambridge University's politics department, who has been trying to explain the current state of Western democracy, in an era of Trump, social media and widening economic division.
The Cambridge Festival of Ideas this week has been getting big thinkers from science, the arts and humanities to engage with the public, during hundreds of free events.
Prof Runciman, taking ideas from his recent book How Democracy Ends, has been speaking about one of the biggest questions: Is our system of democracy beginning to fall apart?
He says much of the sense of political uncertainty and frustration is a "consequence of the 2008 financial crisis".
"This is the long unwinding of that big moment of political failure," he says.
Along with the long economic hangover, there have been the political earthquakes of the election of President Trump in the US and the Brexit referendum in the UK.
"These are things that five years ago would have seemed so remote.
"So there's that feeling that we're going through something we don't understand. No-one predicted this stuff," says Prof Runciman.
"Is it the end? No, but I completely get why people ask, 'What next?'"
But the election of President Trump, he argues, should not be interpreted as the end of a traditional approach to democracy.
Quite the opposite, says Prof Runciman. He sees democracy as being in middle age, where voters feel in a rut and like the idea of a major change, but don't really want anything fundamentally different.
He likens Trump to a flashy motorbike bought during a mid-life crisis.
"We want a change without changing."
There could be "odder and odder" people winning elections, he predicts.
But it's because we think that the political institutions are so robust, that it won't really do any damage.
"We vote for Trump because we think democracy is durable and can withstand everything we throw at it."
Prof Runciman also rejects parallels between current political tensions and the pressure on democracies in the 1930s from the rise of nationalism and dictatorships.
"We're misled by the echoes. We don't see what life was really like in the 1930s," he says.
That was a time of intense poverty, politics was militarised, with violent extremism and young people with guns, he says.
Europe was in a state of "post-traumatic stress disorder" after the horrors of World War One.
It's nothing like the dynamic of modern political disruption, he says.
"The angry people now are the old people, with mortgages and Netflix."
A more substantial and unpredictable threat to democracy, he argues, could be from social media and the big technology companies.
"It's power that no-one understands - the scale, the speed, the complexity."
Democracy has always managed to cope with propaganda or fake news, he says.
"But we could feel in 20 or 30 years that we have lost control of where the real power lies in this system.
"The big tech companies have a power for which there is no historical precedent."
While in the past, over-powerful industries could be broken up, the big tech firms are interwoven into every aspect of life, including the political process.
"If someone wanted to take on Google, they would have to look up on Google how to do it."
As well as social media there is the changing media landscape - and the blurring of the boundaries of politics, entertainment and reality television.
'Affluent, stagnant societies'
Liberal Western democracy developed in the post-war years of rising affluence - and Prof Runciman says another big unknown is how democracy will change if people keep getting poorer.
When people have been stuck for years with stagnating pay, it pushes people to the political margins.
"There seems to be quite a lot of historical evidence that without economic growth democracies struggle.
"If people are not feeling better off, they look for politicians who are further and further on the outside."
In poorer countries, this can lead to political breakdown. But in relatively stable Western countries, it's more likely to create disillusionment rather than revolution.
"Affluent, stagnant societies can keep going with dysfunctional democracies for a long time," he says.
"And we might be at the beginning of that."
He argues that the durability of democracy is making people complacent about the need to protect and nurture it.
"It can survive, but it's being hollowed out.
"It's a system that is tired and struggling to deal with some big challenges, but it's not going to snap in half."
"We could be thinking about how politics could work better," he says, at a local, national and international level.
But instead Western democracies are in the phase of switching leaders rather than changing systems.
"Try another clown," he says.
The editor of Global education is sean.coughlan@bbc.co.uk