Europe markets calm after Asia and US sink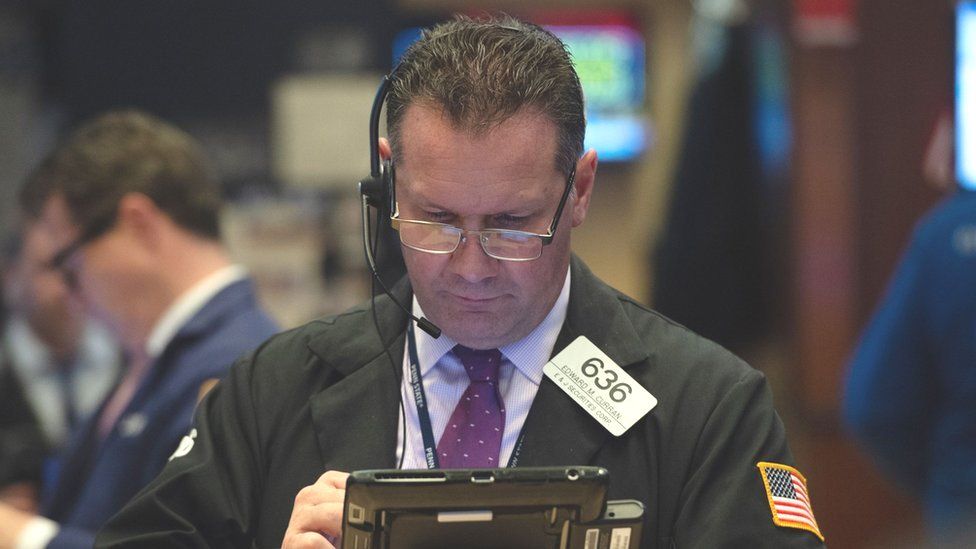 European share markets have steadied after big falls in Asian stocks that followed a bruising trading session on Wall Street.
Tokyo stocks slumped more than 3%, while losses pushed the US Dow Jones Industrial Average and the S&P 500 into negative territory for the year.
European markets followed suit at first, but had risen by lunchtime, with London's FTSE 100 up 0.17%.
Concerns over corporate profits and slowing growth have rattled investors.
In the US, the Dow Jones Industrial Average sank 2.4% to 24,583.4 points, while the S&P 500 plunged 3.1% to 2,656.1 points on Wednesday.
The technology-focused Nasdaq dropped more than 4.4% to 7,108.4 points - its worst day since 2011 - amid concerns about weak corporate profits and global trade tensions.
It was the worst day since 2011 for the index, which is now 10% lower than its September peak and in "correction" territory.
Even technology firms, which have driven much of the market gains this year, did not escape the sell-off, with Amazon falling 5.9%, Facebook down 5.4%, Google owner Alphabet off 4.8% and Netflix sinking 9.4%.
Stephen Innes, Asia-Pacific head of trading at Oanda, said in a research note the tech sector had previously been seen as "impervious to weaker global growth sentiment, but escalating US-China trade tension remains that sectors undoing".
The Dow is now on track for its worst month since May 2010.
Investors were also spooked by figures on Wednesday showing new home sales fell last month to their slowest pace in nearly two years.
They underlined other reports suggesting the US housing market is weakening - a worry given the sector is seen as a bellwether of economic health by many.
Investors have also grown nervous as growth in China slows and companies report increased costs due to labour shortages and tariffs.
Those forecasts hit companies such as Caterpillar, down 5.6%, and 3M, off 4.2%. The falls compounded declines on Tuesday in the wake of disappointing results.
Nate Thooft at Manulife Mutual Funds said: "Costs are increasing and it's often tariff-related. We also reached a potential peak for earnings - companies that show marginal weakness take a beating."
Adding to the sense of unease were a series of crude mail bombs and suspicious packages sent to prominent Democrats and critics of President Donald Trump, including Barack Obama and Hillary Clinton, less than a fortnight before the midterm elections.
Jack Ablin at Cresset Wealth Advisors said the selling appeared to be "emotionally" driven, adding: "Perhaps it's just a ratcheting up of chaos."
The losses on major European indexes were less severe. The pan-European STOXX 600 fell as much as 1% before paring losses slightly to trade down 0.7%