What wine has to do with our productivity problem
By Rob Young
Business reporter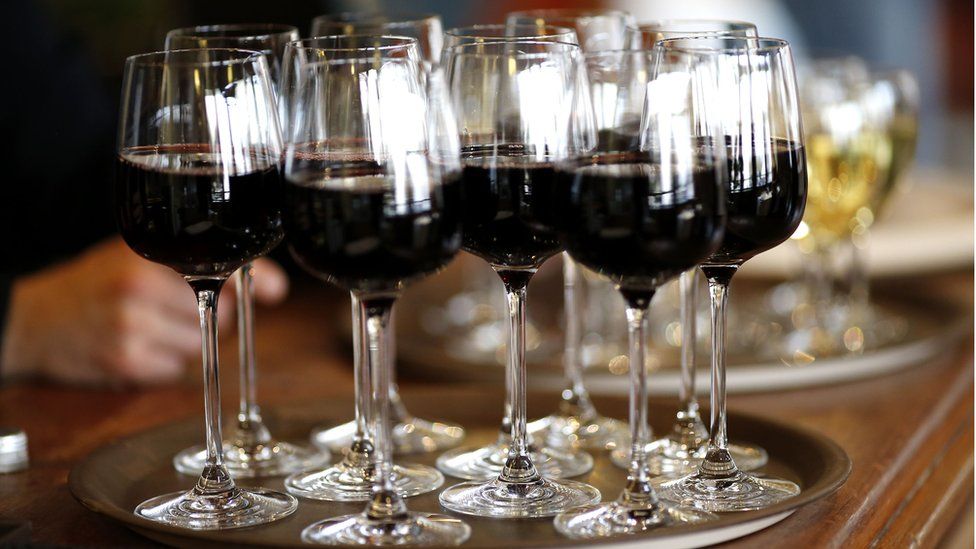 A bottle of wine being uncorked could be one simple, but perhaps unlikely, answer to Britain's dire productivity problem.
Staff at Fifteen Cornwall, a restaurant on that county's northern coast, have been sent on formal wine training.
The training helps workers to persuade diners to trade up to a more expensive, and therefore profitable, bottle.
"We have challenges between ourselves to try to up-sell on our tables, selling more premium bottles of wine to customers," says Lucy Cascarina, one of those who has been on an NVQ wine course.
It's not only good for the business. Lucy explains why the staff do it.
"The motivation to have that little bit of a challenge between colleagues makes the night more fun. You can win prizes... there are tips too," she says.
The restaurant says the training has helped to lift profits, and therefore pay for workers - a clear productivity boost.
The poor productivity of companies has been described by some economists as a far bigger economic challenge for Britain than Brexit.
Before the financial crisis, UK productivity growth was about 2% a year.
But over the past decade it has been much lower, at 0.2%, holding back the economy and therefore our pay packets and living standards.
Greater knowledge, new technology and streamlined processes are some of the ways to boost productivity.
Fifteen Cornwall itself was set up to train local workers in hospitality.
After a lacklustre period in 2012, it stepped up that training.
Its most profitable year happened to be the one when it spent the most on staff development.
"I like to look at productivity because it's something you can make real for individuals in the team," says the restaurant's managing director, Matthew Thomson.
"They're quite interested both from the point of view of pay, tips, but also from their time in the business - are they making a difference to someone's experience."
Even when the restaurant is busy, workers glance at up-to-date company financial charts and bookings data in the staff corridor.
"Everybody understands it's in their gift to improve the performance of the business overall; it's not just my job," says Mr Thomson, who believes openness makes staff and the business perform better.
"Instilling that as a culture requires the sharing of information across the business that you might feel a bit ginger about sharing."
On the beach outside the restaurant, children are playing during their school half-term holiday.
Cornwall may be up there when it comes to beaches, but its companies are bottom of England's productivity league - a nation that lags behind its international peers anyway.
Fifteen Cornwall has been getting help from Be The Business, a national campaign which is backed by the government.
Tony Danker, the chief executive of Be The Business, says Britain has two key productivity problems.
"The first is the gap we have between the best and the rest of our firms. The second... when you look at the practices of firms that typically drive up productivity across an economy, the UK underperforms."
Productivity is expected to be one of the themes in the Budget on Monday.
Big business lobby groups want more money for infrastructure, skills and a focus on the quality of management.
But years of initiatives and policy pronouncements show poor productivity won't be easily fixed.
Yael Selfin, the chief economist at KPMG, says more spending is important, but it is not all about cash.
"It's a question of linking people together, simplifying procedures and making the future less uncertain for business," she says.
Better productivity could be key to the nation's economic fortunes, particularly as it faces uncertainty over Brexit.
"Brexit brings home the UK productivity and competitiveness challenge," says Tony Danker.
"This has never been more important. The UK needs to be match fit for Brexit."