US shares drop on renewed tariff threat against China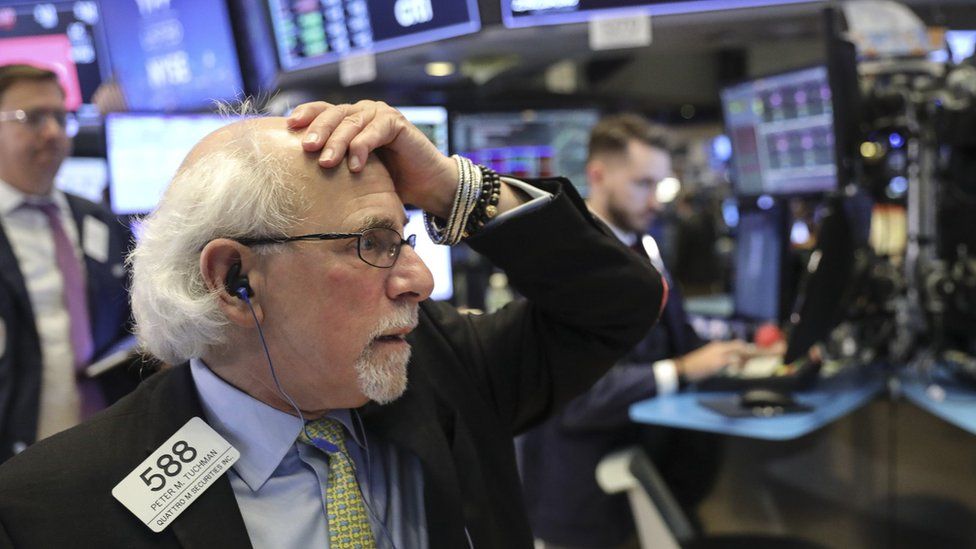 US stock markets tumbled in the final hours of trading amid signs that US-China tensions are reigniting.
The technology-heavy Nasdaq led the falls, down 1.6% to end at 7,050.29.
The Dow Jones slid 1% to 24,442.9, while the S&P 500 fell about 0.7% to 7,050.29.
The losses accelerated following a report by Bloomberg that the US is preparing tariffs on additional Chinese goods, pending a potential meeting between leaders of the two countries.
The US has already imposed tariffs on billions of dollars worth of Chinese goods. China has responded by implementing tariffs on US imports.
If the US moves ahead with more, it would mean higher import taxes for effectively all of the goods the US imports from China - more than $500bn in trade last year.
The moves, which the US says are a response to alleged intellectual property theft by China, have prompted widespread concerns in the business community.
The aerospace industry, which has seen growing business in China, is among the sectors rattled by the trade talk, due in part to concerns about retaliation.
Boeing led the Dow lower on Monday, falling about 6.6%. Lockheed Martin also fell about 6%.
Manufacturers, retailers, and technology firms - many of whom rely on Chinese suppliers - are also exposed.
US President Donald Trump has been threatening the additional tariffs for months, but the renewed talk follows several weeks of market declines.
Stocks have been hit by investor concerns that US company profits are at or near their peak, as firms face slowing global growth, trade tensions, and rising costs - including higher interest rates - in the months ahead.
On Monday, shares in Netflix fell about 5%, while Google-owner Alphabet fell about 4.5%, bringing both firms farther from their July peaks.
Amazon shares are now down more than 15% since Thursday, when the firm provided the outlook to investors as part of its earnings update.