Ryanair passengers brace for new bag rules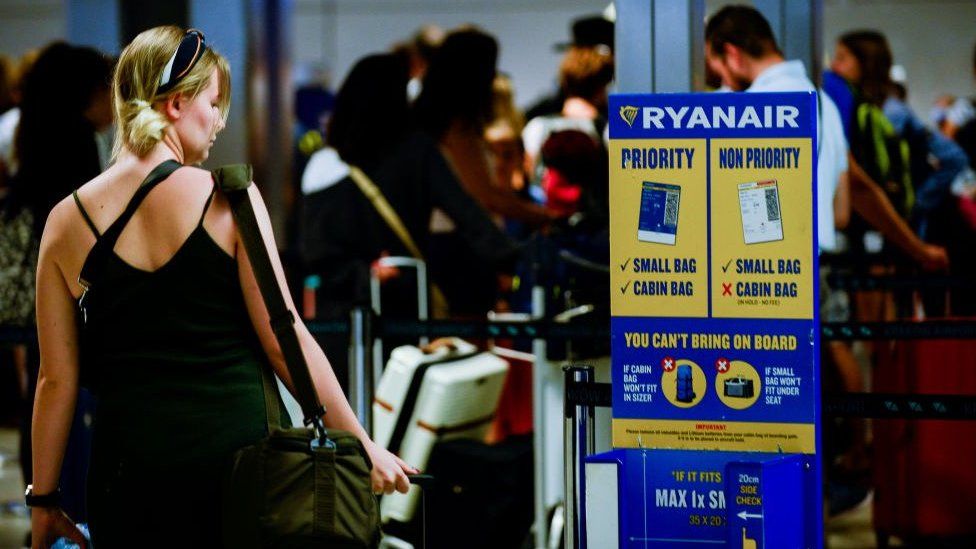 Brace, brace. The latest changes to Ryanair's baggage policies take effect today, meaning passengers who want to take anything more than a small bag on board must pay for the privilege.
Only those paying £6/€6 for priority boarding will be able to take a small suitcase of up to 10kg in the cabin.
That option is cheaper than the £8/€8 charge to check in a 10kg bag.
Ryanair says the changes - the second this year - are intended to reduce flight delays.
The problem faced by the Irish carrier - along with many other airlines - is the lack of overhead locker space on the Boeing 737 and the Airbus A320 aircraft used for short-haul routes.
Gerald Khoo, an analyst at Liberum, says Ryanair planes have room for about 90 "wheelie" suitcases, considerably fewer than the 189 passengers it can hold.
As the airline's flights are on average 95% full, there clearly isn't enough space for everyone's luggage.
"They are effectively rationing scarce capacity and saying if you want that space in the cabin, then you have to pay for it," Mr Khoo says.
Since January, Ryanair passengers have been allowed to take one small bag on board and one wheelie bag free of charge.
However, that often required up to 120 larger bags to be tagged at the gate and put in the hold, delaying departures (every minute counts, given the airline's 25-minute turnaround target).
Larger checked-in luggage will still cost £25 per bag.
The small bag that non-priority passengers can take on board is now 40% larger than previously allowed at 40x20x25cm. It must fit under the seat in front of you - not ideal if you value your leg room.
Easyjet is slightly more generous, as all passengers can take a bigger bag - up to 56x45x25cm - in the cabin, with the caveat that some may have to be checked in the hold free of charge.
Depending on when you book your flight, paying the higher price may be the only option. That's because priority boarding is limited to 95 customers per flight - about half the number of seats.
Sophie Griffiths, editor of Travel Trade Gazette, fears some passengers may only learn of the new rules when they get to the gate.
"I'm not sure everyone will be aware of the changes - it could result in massive confusion," she says. "It's just one more thing for passengers to get their heads around."
Travellers who do try to board with a wheelie case but have not paid will have to hand over £25/€25 to have it put in the hold.
Ms Griffiths said one winner from the move could be British Airways, whose standard fares include a checked-in bag.
This is the second time Ryanair has changed its baggage rules this year. The revision may not be the last, says Mr Khoo.
How the airlines compare on cabin hand baggage:
One cabin bag up to 56x45x25cm and 23kg and one handbag/laptop bag (max. 23kg and up to 40x30x15cm) for standard fares. The smaller bag is guaranteed to go in the cabin, but on busy flights, the larger bag may be put in the hold free of charge.
One cabin bag up to 56x45x25cm with no weight limit, but you must be able to lift it into the overhead locker. EasyJet says only about 70 cabin bags can fit in the overhead lockers, so all others will be put in the hold.
Any bags larger than the specified size will be checked into the hold for a fee.
Non-priority passengers: One small bag such as a handbag, laptop bag or small backpack up to 40x20x25cm that must fit under the seat in front of you.
Priority passengers: One small bag up to 40x20x25cm and one bag of 55x40x20cm and up to 10kg
All passengers can take a carry-on bag up to 40x30x20cm onboard to be placed under the seat in front.
Those who pay for priority boarding can also bring an extra wheelie bag of up to 55x40x23cm in the cabin.