Retailer Anthropologie 'deeply regrets' selling copied designs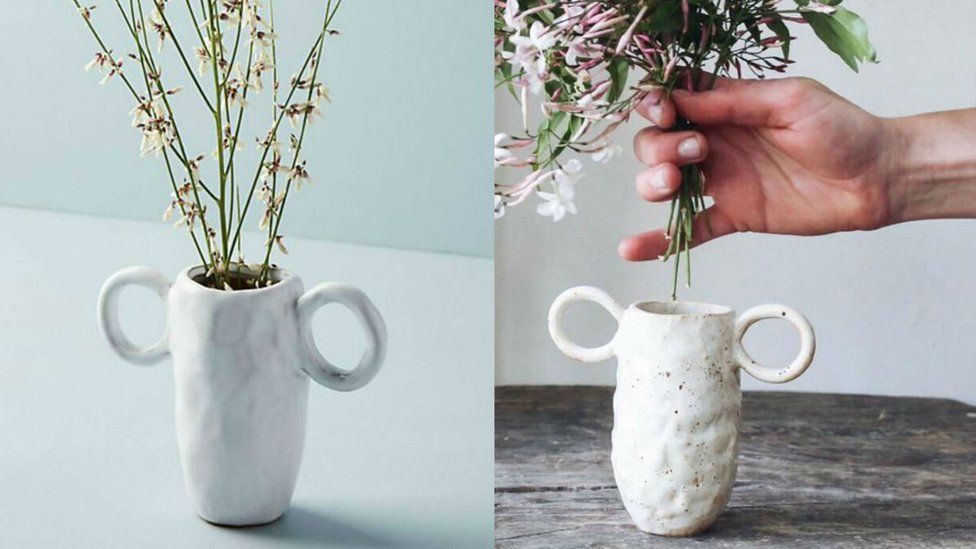 US fashion and homewares giant Anthropologie has apologised after it sold goods that imitated an artist's designs without permission.
Tara Burke, a ceramicist based in Sydney, Australia, called the retailer "scum" in a viral post on Instagram on Monday.
She said Anthropologie asked to collaborate with her in 2016, but she had turned down the offer.
Anthropologie says it has withdrawn the products in question.
"The welfare of our artist community is a priority for Anthropologie. We take intellectual property very seriously, both in protecting what has been developed by our own artists and designers and also respecting the intellectual property and designs of others, and we have systems in place for protecting creators' rights," the retailer said in a statement.
"We deeply regret that in this instance, our safeguards did not hold up to our standards. We have tremendous respect for the artist community and are exploring how we can further strengthen our protocols. The product in question is no longer available and we are reaching out directly to Tara Burke."
Ms Burke said she had since been contacted by the company, which offered a telephone call to discuss her concerns. There was no mention of compensation.
She told the BBC that she was first contacted by Anthropologie in 2016 and asked if she would be interested in collaborating with the store.
A company representative then visited her and photographed some of her work.
As a result of this meeting, she says she was asked if she'd like to design some vases which the company would reproduce and sell in its stores, after paying her a fee.
Ms Burke turned down the offer and thought that was the end of the matter.
Two years later, a friend alerted her to vases for sale on the Anthropologie website that she believed looked almost identical to her pieces.
Ms Burke says she sent a letter of inquiry and an email to the company's legal team in the US in August, but never received a response.
"I guess because I hadn't commenced legal proceedings, they didn't feel the need to respond," she said.
"It's kind of a David-and-Goliath scenario."
Anthropologie's parent company, Urban Outfitters, has also been involved in a copyright dispute.
At the time, Urban Outfitters said it withdrew the products "out of deference to the artist".
Ms Wilton said small, independent designers were often made to feel powerless when they came up against big companies.
"It's important to know your rights and let them know you know, so you that you can begin to negotiate," she said.
"Worst-case scenario is they'll ignore you. If that's the case, try and get some people power behind you."
Hundreds of Ms Burke's 18,000 Instagram followers commented on her post, many tagging Anthropologie's own Instagram account, to express their anger to the company directly.
That seems to have triggered a response from the company - months after Ms Burke apparently first complained.
It's an all too familiar tale for American jewellery designer Laurel Hill. Anthropologie bought a range of earrings from her in 2014.
When the company offered to reorder from her, Ms Hill says she decided the price was too low and declined.
Then, she claims, she saw Anthropologie advertising earrings that looked to her identical to some she'd designed years earlier - but this time they were made overseas.
She says the company ignored emails from her over many weeks.
When she finally posted about it on Instagram, she says the earrings were removed from the Anthropologie site, but she never heard from the company again.
Anthropologie says it didn't have any role in the design or the production of the earrings, which it says were purchased from an independent, domestic market vendor.
The company says it suspended sales of the line in December 2017 as soon as Ms Hill's concerns were brought to its attention, and the market vendor made contact with her directly to resolve the issue.