Ikea looks set to open more small stores in the UK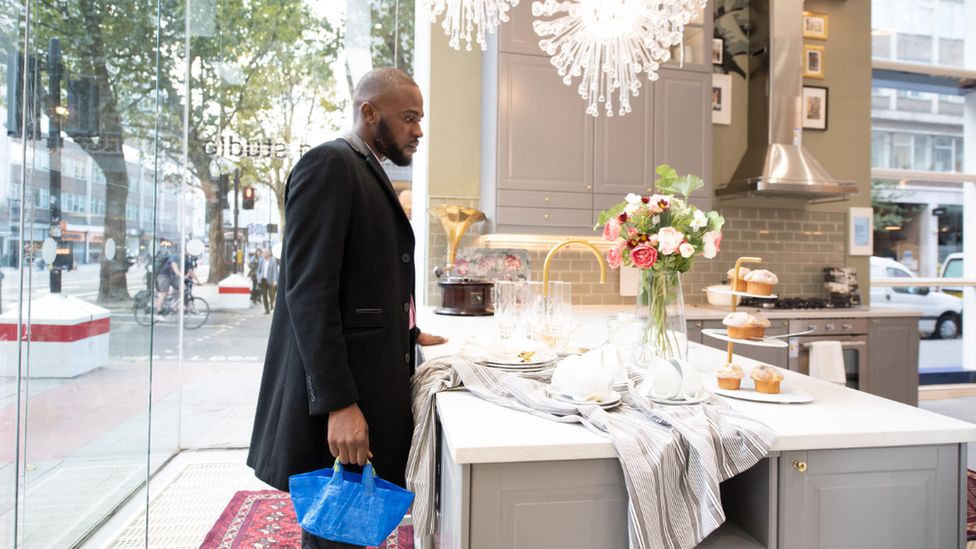 Swedish furniture retailer Ikea looks set to roll out its smaller city centre store format after seeing a positive response to its first outlet in London.
UK boss Javier Quinones said the London shop was a "learning experiment" but its success meant the format was likely to expand to other UK cities.
The concept allows people to browse items and discuss home decor plans without visiting out-of-town stores.
It is part of Ikea's wider UK expansion after another year of sales growth.
The company announced on Friday that UK revenues in the year to 31 August rose by 5.9% to £1.96bn.
Ikea opened two new large-format stores during the period, in Sheffield and Exeter, taking its UK tally to 21.
Online was the standout performer, with 199.3 million visits to Ikea's website, an increase of 13.4%. Website sales grew by 14.4% and now represent 15.5% of total sales.
Ikea has been investing heavily in online, logistics and distribution in a move to cut its home delivery times from one-to-two weeks to three-to-four days.
Mr Quinones said this investment was not a reaction to Amazon or any particular retailer but a response to changing consumer demands.
He said the small format experiment was part of that change.
"More people are living in cities. In London, fewer people have a car," Mr Quinones said.
It's part of a global trend, he added, hence Ikea will also trial its small outlets - called Planning Studios - in New York, Shanghai and Riyadh.
He could not give details of the small-format expansion in the UK. But he said the existing outlet, in Tottenham Court Road, "will hopefully be the first of many".
"Our stores will always be an important part of the Ikea brand when it comes to inspiration," Mr Quinones said.
"However, we know that the role of the store is changing. People want to shop in a number of different ways and count on brands to offer them services that reflect the way they live."
Despite Ikea's rise in sales, Mr Quinones said UK retailing was "a tough economic environment".
"Consumer confidence has gone down in the last couple of years," he said, but pointed out that people still wanted to improve their homes.
Ikea posted a 9% increase in home decoration sales, during the year, while sales of living room seating jumped 8%.
He said Ikea was working on contingency plans ahead of Brexit, but did not disclose details. "There is a working group in the UK looking at scenarios," he said.
Ikea imports the vast bulk of its products, and the fall in the value of the pound over the last couple of year had hit margins. "We didn't pass on all of the costs," he said.