New £50 note will feature a British scientist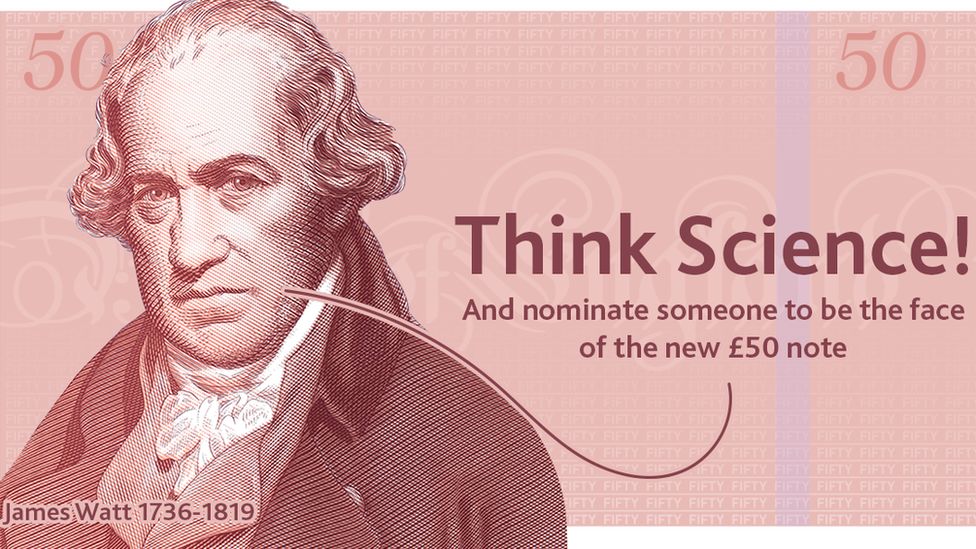 The new £50 note will feature a prominent British scientist, the Bank of England has announced, with the public being asked for nominations.
In addition to the Queen, the note will include the portrait of an eminent late scientist from fields such as biology, astronomy and medical research.
There are currently 330 million £50 notes in circulation, with a combined value of £16.5bn, the Bank said.
The Bank's governor, Mark Carney, made the announcement at the Science Museum in London.
"There is a wealth of individuals whose work has shaped how we think about the world and who continue to inspire people today," he said.
"Our banknotes are an opportunity to celebrate the diversity of UK society and highlight the contributions of its greatest citizens."
Nominations can include anyone who worked in any field of science including astronomy, biology, bio-technology, chemistry, engineering, mathematics, medical research, physics, technology or zoology, the Bank said.
A shortlist will be drawn up by a committee, including four experts in the field, and a final decision will be made by Mr Carney, with the note entering circulation at a date yet to be announced.
There will also be a new signature on the banknote - that of Sarah John, the new chief cashier of the Bank of England.
Who might feature on the note?
Analysis: Paul Rincon, BBC News website science editor
If a British scientist is to feature on the new £50 note, Prof Stephen Hawking has to be one of the frontrunners. The University of Cambridge cosmologist was one of the most recognisable scientists in the world. Having him on the note is likely to have strong public support, even if it is relatively soon after his death in February this year.
Another widely mentioned name is that of wartime codebreaker and computing pioneer Alan Turing. He played a crucial role in helping the allies defeat Nazi Germany, but he was convicted in 1952 under laws that prohibited homosexuality. Turing was posthumously pardoned in 2013, and many believe his legacy could be honoured with a prominent place on our currency.
There are strong contenders among female scientists and many will argue that a woman should feature this time. If so, Ada Lovelace might be near the top of the list. The English mathematician worked on an early general-purpose computer called the Analytical Engine.
Another worthy candidate could be Rosalind Franklin. Dr Franklin's work helped lead to the discovery of the structure of DNA - a breakthrough which later earned her colleagues the Nobel Prize. But her vital contribution was overlooked for many years, and recognition on the new £50 could help redress the balance.
A petition to put an image of Leicester and England football player Harry Maguire riding on a unicorn on the note gathered thousands of signatures, but was rejected by the government, as it said that banknotes were the responsibility of the Bank of England.
In fact the Bank's rules state that anyone chosen to feature on a banknote, apart from the Queen, must be dead.
There were also petitions, both rejected, to either put Margaret Thatcher on the £50 note, or to ensure her portrait was not on it. Although a chemist before she entered politics, it is still highly unlikely that the former prime minister will make it onto the shortlist.
The rules also state that fictional characters cannot be chosen. "So, I'm afraid, no Time Lords from whatever gender are eligible," Mr Carney said.
The committee which draws up the shortlist will now include space scientist Maggie Aderin-Pocock, author and genetics expert Emily Grossman, editor of the British Journal for the History of Science Simon Schaffer, and theoretical and particle physicist Simon Singh.
Why are we getting a new £50 note?
A year ago there were doubts that the £50 note would continue to exist at all.
Fears that the largest denomination note was widely used by criminals and rarely for ordinary purchases prompted a government-led discussion on whether to abolish it.
The note was described by Peter Sands, former chief executive of Standard Chartered bank, as the "currency of corrupt elites, of crime of all sorts and of tax evasion".
However, in October, ministers announced plans for a new version of the note, to be printed in the UK, which they said would be plastic - so, more durable, secure and harder to forge.
Some people have voiced concerns about the move to polymer banknotes after they were found to contain traces of animal fats. However, the Bank of England said that the alternative use of palm oil raised questions of sustainability and cost.
Who already features on Bank of England banknotes?
Steam engine pioneers James Watt and Matthew Boulton appear on the current £50, issued in 2011.
Polymer £5 and £10 notes are already in circulation, while a £20 design will be issued in 2020.
In 2015, a total of 30,000 people nominated 590 famous visual artists for the £20 note, before JMW Turner was selected with the help of focus groups, replacing the economist Adam Smith in 2020.
Sir Winston Churchill appears on the polymer £5 note.
A host of different people have appeared on banknotes issued in Scotland and Northern Ireland. Earlier this year Ulster Bank announced that vertical £5 and £10 notes will enter circulation in Northern Ireland.