Female pilots: Which airline has the highest number?
By Lora Jones
BBC News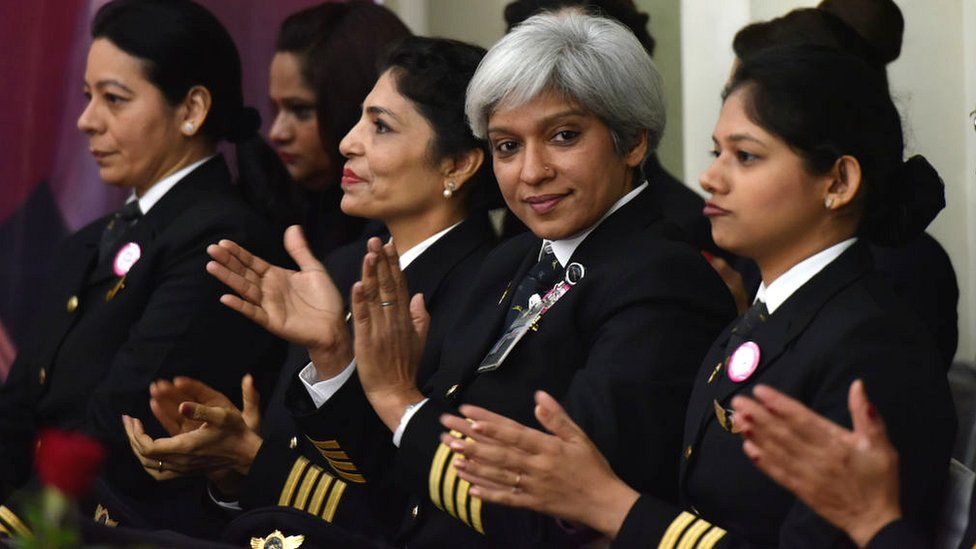 Airlines have been stepping up their efforts to recruit more female pilots to meet the increasing demand for travel.
Spending on travel and tourism has spiked in recent years, with customers keen to spend their money on new experiences.
Which airline employs the most female pilots?
Globally, just 5.18% of commercial pilots are women, according to the Air Line Pilots Association International trade union.
Indian airlines employ the highest proportion of female pilots at 12.4%. That's according to the latest statistics from the International Society of Women Airline Pilots (ISWAP).
Zoom Air, a regional Indian airline, tops the leader board. ISWAP says it employs nine female pilots out of a total of 30.
Kathy McCullough, communications chairwoman for ISWAP and a retired female captain, said that Indian companies have "aggressively encouraged more women to become airline pilots in what they see as an upcoming pilot shortage."
A report by Boeing found that with a growing middle class in India, commercial air travel is expected to become more frequent.
How much do pilots earn on average?
A typical day for an airline pilot could include flying passengers or cargo to short-haul or more far-flung destinations.
Commercial pilots' salaries depend on the airline they're working for, the type of aircraft they fly and their level of experience.
Starting salaries range between £20-30,000 for those in the cockpit.
For experienced captains, pay can reach more than £140,000.
That's higher than the £105,250 you could earn as an air commodore in the Royal Air Force, according to the National Careers Service in the UK.
But what about the gender pay gap?
Earlier this year, UK companies with more than 250 employees were required to report their gender pay gap figures for the first time.
British airlines were cited as having large gender pay gaps, which is the percentage difference between average hourly earnings for all male and female staff.
The average median pay difference between men and women was 9.7% across all industries.
Ryanair reported the largest gender pay gap for an airline (71.8%). EasyJet had a 45.5% pay gap, but said that men and women in the same roles are paid equally.
But much of the gap can be explained by one thing - the proportion of male pilots.
At EasyJet, for example, pilots make up a quarter of its UK employees. 6% of its UK pilots are women - a role which pays £92,400 on average. Lower-paid cabin crew, 69% of whom are women, earn an average salary of £24,800.
The airline says it has set a target that 20% of new entrant pilots should be female by 2020.
What other obstacles do potential pilots face?
Before starting their training, potential airline pilots need to hold a Class 1 Medical Certificate. Most training schools and airlines also require five GCSEs and two A-levels in the UK.
If you meet those requirements, there are several ways to get off the ground:
Getting an Airline Transport Pilot's Licence, or a 'frozen ATPL'. It can take around 18 months to finish the course, which is a mix of theory and flying. Costs for the course can range between £60-90,000. After at least 1,500 flying hours, you can apply for a full ATPL.
Doing a degree in aviation which includes pilot training. But a degree isn't essential and costs for flight training come on top of tuition fees.
Taking a higher level apprenticeship in professional aviation pilot practice.
It has said that the high cost of training can put off those from less affluent backgrounds.
Initiatives have also been set up to encourage young women's interest in science, technology, engineering and mathematics (STEM) subjects, which can be useful for those looking to become a pilot.
Captain Kate McWilliams, an EasyJet employee, became the world's youngest female airline captain at the age of 26.
She said: "A lot of people think it's a highly technical job, which puts them off.
"But a huge amount of it is being good with people. As a captain, you're a people manager. There needs to be a change in perception around the job."