Why maternity leave can be harder and lonelier than you imagine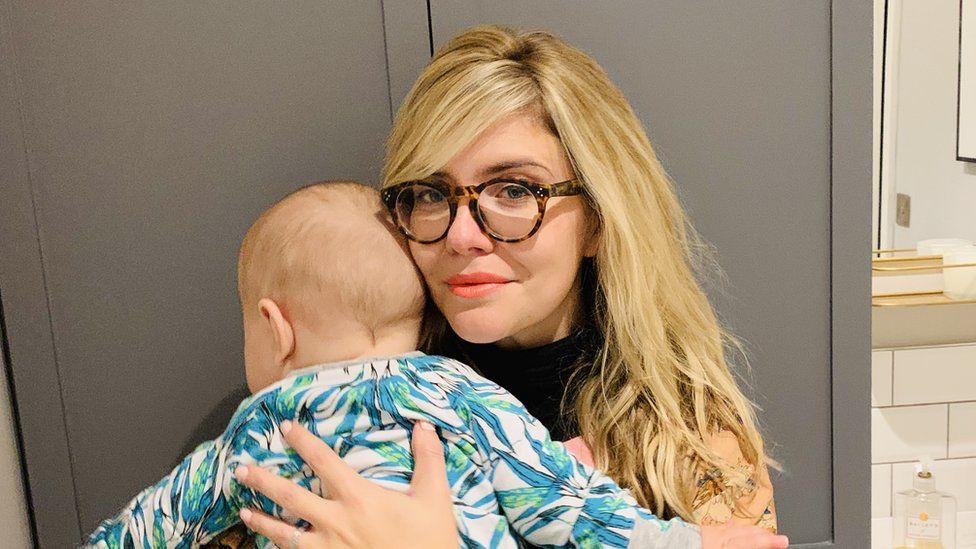 Maternity leave is often held up as a magical, idyllic time to spend with your new baby. The worries of your usual life evaporate while you're "off work", and saying anything otherwise is still considered taboo.
But a new poll, conducted for BBC Radio 5 live by ComRes, shows that maternity leave is far from a walk in the park - although that's what a lot of mothers find themselves doing most days to keep sane and get their babies to sleep.
I had always thought of maternity leave as a golden blissful period - especially as we had struggled to conceive, and it seemed further and further out of reach.
Don't get me wrong. I have had some of the loveliest and more memorable times of my life during my leave.
I have also, like two-thirds of the women spoken to in our poll, felt well-supported by amazing friends (new and old) and a loving family.
But it's still been bloody hard, and, at times, lonely.
The irony is that you are never actually alone - because you have this bundle that you are falling in love with attached to you almost 24/7.
But for such a long part of maternity leave, a good four or five months, they can't communicate beyond the occasional smile and major crying session.
I remember, very early on, having my son in a sling. No easy feat as he was pretty heavy already and I still had a nagging pain from my C-section scar.
I was bouncing him all over the house trying to stop him from crying. He wasn't hungry, dirty or tired. I just couldn't make him stop or soothe him.
It went on for what seemed like hours and I was alone - save for my "maternity leave survival playlist". It made me feel helpless, frustrated and low.
And at times, the rage is unbelievable.
I remember booking a flu jab only a few weeks ago and asking my mum to sit in with our son so he didn't have to come along.
After prepping his milk and getting the pram, changing gear and snack bag ready, should they fancy a walk, I dashed out to the appointment, only to be told the printer wasn't working in the chemist, so I would have to book and come back another day.
In my old life, that would have been annoying. In this new one, unthinkable.
It seems I'm not the only one who faced those struggles.
For our survey, ComRes spoke to more than 1,000 women who'd had maternity leave in the past 10 years. The results are below:
As part of my contract, I had several days, known as "keeping in touch" or "KIT" days, when I was able to come back into the office during my maternity leave, to reacquaint myself with my work life.
I used one of them to present BBC One's The Andrew Marr Show, while he was off convalescing from a operation.
I'll admit that was a slightly unique way to use a KIT day, especially 11 weeks after giving birth.
But I also found the KIT days useful for more practical matters. A week before returning to my BBC Radio 5 live show, I spent a day familiarising myself again with how our new newsroom computer and scripting system works.
Just those few hours in the office, with a hot cup of tea, away from looking after our son, started to make me feel more like me again, ready to re-enter the workforce. Personally I found it invaluable.
For myself, I decided to return properly to work after eight months.
I was ready, but also my husband had taken the decision at that point to do shared parental leave. And one of us needs to pay the mortgage.
But earlier in my maternity leave, he'd been the one who'd gone out and earned the money.
And that, of course, also puts pressure on you, your relationship and your time at home.
The two of you sign up to bring life into the world together. Then, after two weeks, suddenly they are out the door, whether they want to or not, and you are left literally holding the baby.
For some couples, this moment, and the clear societal division of labour, can sow the seeds of resentment.
As the one left at home, you struggle to have a sense of self, to remember who you were, and what you thought about before your child came along.
There should be no guilt in saying you find maternity leave hard, that you don't enjoy every single second with your child, that it's knackering in the truest sense, that you miss alone time with your partner and with yourself, and at times, you find the experience, whisper it, boring.
Negative feelings aren't personal against your baby.
It's OK to say you love them, but that you don't love your new existence yet, and that you still mourn for aspects of your old one.
The reality of maternity leave is being discussed on The Emma Barnett Show with women from across the UK on BBC Radio 5 live on Thursday, 29 November at 10:00 GMT.