'Most' internships unpaid in retailing and the arts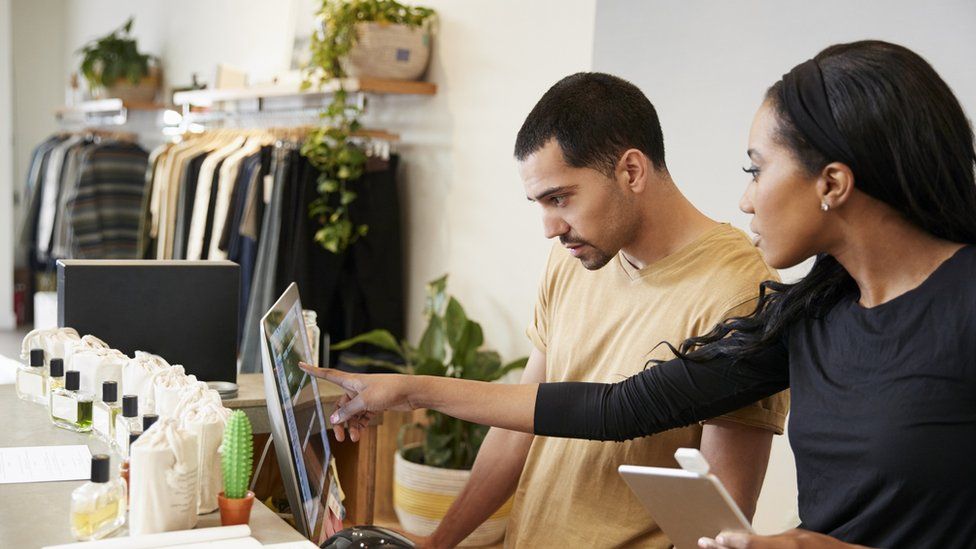 Most internships in retailing, the arts and the media are unpaid, according to a survey from the Sutton Trust - a body that campaigns for social mobility.
The highest proportions of unpaid internships were found in retail (89%), the arts (86%) and the media (83%).
The report coincides with a bill to ban unpaid internships of more than four weeks, which will be brought before the House of Commons on Friday.
More than a quarter of graduates surveyed had taken an unpaid internship the survey found.
"Unpaid internships prevent young people from low and moderate-income backgrounds from accessing careers in some of the most desirable sectors such as journalism, fashion, the arts and law," said Sir Peter Lampl, founder of the Sutton Trust.
"This is a huge social mobility issue. It prevents these young people from getting a foot on the ladder."
While unpaid internships were the norm in popular industries, they were less common elsewhere. The survey found that in the IT sector just 26% of interns had been unpaid.
For its study the trust defined any internship that paid less than the minimum wage, or expenses only, as unpaid.
Its survey covered internships that varied in length, from less than a month to more than six months.
The report also suggested there was confusion among graduates and employers about the current rules governing internships.
At the moment the National Minimum Wage must be paid to interns who work set hours or are given specific tasks by a manager who oversees how they are done.
But a spokesperson for the Sutton Trust said the guidelines from HMRC leave a grey area, which is why the organisation is pushing for the rules to be tightened up.
Many respondents to the Trust's survey needed help while on their internship.
The results showed that 43% of unpaid interns lived for free with family or friends, 26% needed money from their parents and 27% took a paid job to fund their internship.
Reality Check: Am I an intern or a worker?
At the moment in the UK, there's no legal definition of an "internship" or "work placement". Employers have to pay interns the National Minimum Wage if they're classed as a "worker".
You're usually classified as a worker if you have set hours, duties or responsibilities. For example, when:
You have a contract or another arrangement to do work for a reward
Your reward is money or another benefit, like the promise of work or a contract in the future
There are set hours you have to work
But, there are a few exceptions.
If you're shadowing someone else in the workplace, or taking part in an internship for less than a year that's part of a higher education course, you're not due the National Minimum Wage.
When it comes to working for a registered charity as a volunteer, you aren't entitled to the minimum wage either, although you might have some expenses paid for lunch or travel.
The Sutton Trust survey also found "some evidence" that doing several unpaid internships might be bad for employment prospects.
More than 70% of respondents to the survey who were doing their fourth or fifth internships said they were unpaid.
Of those that only did one internship 62% were unpaid.
"This suggests that many young people in certain industries are being trapped in cycles of unpaid placements without significant benefits to their career," the report said.