Viagogo ordered to clean up ticket sales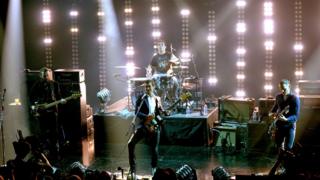 A court has ordered ticket reseller Viagogo to "overhaul" the way it does business.
The Competition and Markets Authority launched legal action against the company in August over concerns it was breaking consumer protection law.
The court said Viagogo must tell buyers which seat they will get and if there is a risk that they will be turned away at the door.
In a Twitter post, Viagogo described it as a "groundbreaking settlement".
In a statement, CMA chief executive Andrea Coscelli said the court order was a "victory for anyone who decides to buy a ticket through Viagogo".
The court order means Viagogo will have to:
Tell ticket buyers if there is a risk they will be turned away at the door
Inform customers which seat they will get
Inform buyers who is selling the ticket
Make it easy for people to get their money back when things go wrong
Prevent the sale of tickets a seller does not own and may not be able to supply
Not give misleading information about the availability and popularity of tickets
Viagogo agreed to address all the CMA's concerns, the regulator said.
The company has to comply with the court order by mid-January, the same deadline set for other resale sites that have already agreed to change their practices, the regulator added.
Earlier this year, the three other big ticket resellers, StubHub, Get Me In and Seatwave promised to make change to their business models.
In a statement Viagogo said: "We are pleased that we have been able to work closely with the CMA to come to an agreement that provides even greater transparency to consumers."
It said in future the face value of a ticket would be displayed on the website.
Alex Neill of Which? said: "It's right that Viagogo is being forced to make these changes after we repeatedly exposed the company as a rogue operator for flouting consumer law.
"It is shocking, however, that the company had to be dragged through the courts to ensure music and sports fans are given the information they are entitled to when buying tickets," she added.
StubHub executive Wayne Grierson, said his company was "delighted that Viagogo has finally been forced to operate in line with industry standards as well as existing legislation".
Many figures in the music industry have criticised reselling sites.
In April, the manager of the Arctic Monkeys, Ian McAndrew, called on the government to shut down Viagogo after tickets for the band's upcoming UK tour appeared on the site for as much as £2,200.
Viagogo is run by American Eric Baker, who founded StubHub with university classmate Jeff Fluhr. They sold StubHub to eBay in 2007 for $304m.
Mr Baker then moved to London to set up Viagogo, which is owned by his Delaware-based venture called Pugnacious Endeavors.