Didi executives fined following deaths of two women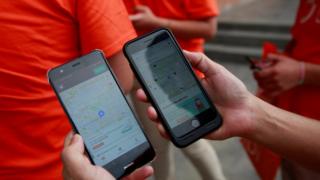 Executives at China's ride-hailing firm Didi Chuxing are being fined over the deaths of two female passengers earlier this year.
A 21-year-old woman was killed in Zhengzhou in May after using Didi's Hitch service, which pairs up commuters heading in the same direction.
Then in August, a 20-year-old woman was raped and murdered in Wenzhou while using the ride-hailing service.
Both cases caused a public outcry with calls for a boycott of the service.
In September, China ordered the indefinite suspension Hitch over safety concerns.
As well as the fine, the size of which has not been made public, the transport ministry said the Hitch service should remain suspended, Reuters reported.
Didi had violated multiple safety rules, presenting a "major safety hazard" - including failing to properly flag high-risk drivers - the ministry said, according to Reuters.
"As a young company, Didi still needs to work on many shortcomings and imperfections that have brought the public great concern," the news agency quoted the firm's chief executive Cheng Wei as saying.
Didi Chuxing claims to be the world's top transportation platform, with 21 million drivers and more than 450 million users.
The firm's investors include Japan's SoftBank and Apple.
Following a tough battle for customers, Uber sold its operations in China in 2016 in return for a stake in Didi's business.
Uber, which is also backed by Softbank, has grappled with similar safety issues in the US and India, prompting calls for tighter regulation.
In the UK, Uber promised to report crimes directly to police in an effort to improve safety.