Ex-Autonomy boss Mike Lynch charged with fraud in the US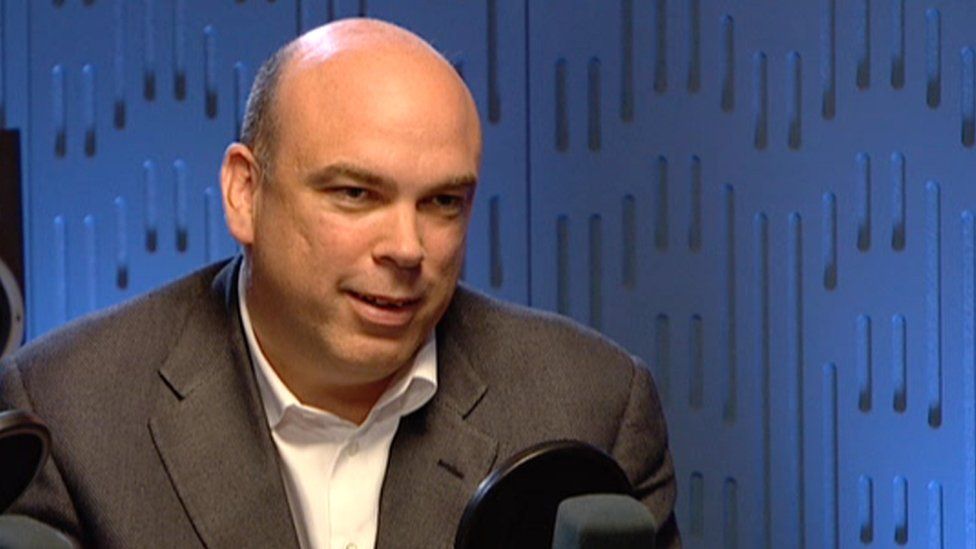 Mike Lynch, the former chief executive of software giant Autonomy, has been charged with fraud in the US.
Autonomy was seen as a runaway British success at the time of its sale. Mr Lynch's lawyers say he will "vigorously defend the charges".
Mr Lynch has now stepped down as a government scientific adviser.
"Dr. Lynch has decided to resign his membership of the CST [Council for Science and Technology] with immediate effect. We appreciate the valuable contribution he has made to the CST in recent years," a government spokesperson said.
The court documents say Mr Lynch made $815m fraudulently from the 14 charges levelled at him.
A Cambridge graduate who built Autonomy up to be one of the top 100 UK public companies
Has an OBE for services to enterprise
Is a fellow of the Royal Society
Was previously on the boards of the British Library and the BBC
Autonomy was founded by Mr Lynch in 1996. It developed software that could extract useful information from "unstructured" sources such as phone-calls, emails or video, and then do things such as suggest answers to a call-centre operator or monitor TV channels for words or subjects.
Before it was bought by Hewlett-Packard, it had headquarters in San Francisco and Cambridge.
In 2010, about 68% of Autonomy's reported revenues came from the US and elsewhere in the Americas.
In 2012, a year after the takeover, HP wrote off three-quarters of the value of Autonomy.
Earlier this year, Sushovan Hussain, Autonomy's former finance chief was found guilty of fraud.
According to this week's charges, between 2009 and 2011, Mr Lynch and Stephen Chamberlain, vice president of finance, along with other co-conspirators, artificially inflated Autonomy's revenues by overstating them.
The two are also accused of making misleading statements to regulators and market analysts covering the company.
The charge sheet also says they "intimidated, pressured and paid off persons who raised complaints about or openly criticised Autonomy's financial practices and performance".
Mr Lynch's lawyers, Chris Morvillo of Clifford Chance and Reid Weingarten of Steptoe & Johnson, said in a statement that the indictment was "a travesty of justice".
The statement said Mr Lynch was a "world-leading entrepreneur who started from nothing" and was being made a scapegoat for HP's failures.
It called the allegations "stale" and said they amounted to a business dispute over the application of UK accounting standards, something which is the subject of a civil case with HP in the English courts.
HP issued a statement welcoming the start of proceedings: "HPE is gratified that justice prevailed and that Mr Hussain was held accountable for his criminal actions when he was convicted in April of this year.
"HPE is now pleased to learn that Dr Lynch and Mr Chamberlain have also been criminally charged in this matter by a federal Grand Jury.
"HPE believes that the facts uncovered during the course of this matter will further demonstrate the harm that was caused by Dr Lynch, Mr Chamberlain, Mr Hussain and others to HP and looks forward to seeing justice served once again."
By Simon Jack, BBC business editor
Mike Lynch was a rock star in UK technology circles.
The company he founded, Autonomy, was one of the jewels in the crown of what became known as Silicon Fen - a high tech cluster of businesses grouped around Cambridge University- and drawing on its talent pool.
The sale of Autonomy for $11bn to Hewlett-Packard was trumpeted as proof positive the UK could grow businesses to be the envy of the world's biggest tech giants.
The deal made its founders very rich and hopes were high that they would go on to propagate a new generation of businesses in the way Paypal alumni - such as Elon Musk and Peter Thiel - did in California.
However, within a year, HP declared Autonomy had been wearing the Emperor's new clothes. Revenues had been massively inflated, it said, and the US company wrote off nearly $9bn of the $11bn it had paid.
Mike Lynch has always denied the charges - saying any discrepancies were down to different accounting methods of recognising revenue.