Parental leave: The good, the bad and the unexpected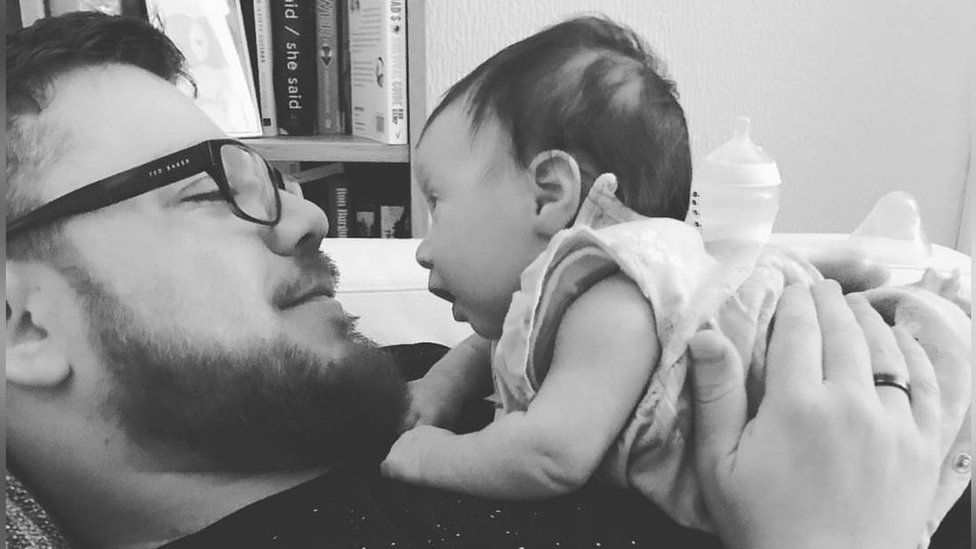 Following the release of a poll which suggested 27% of mothers did not enjoy their maternity leave as much as they thought they would, parents have been sharing their experience of parental leave - both good and bad.
So what's it like to be the one who stays at home and looks after the baby? Three parents share their very different experiences.
'I thought my partner was just off work'
Andy Shelley's girlfriend gave birth to their daughter in March and the couple decided to take shared parental leave.
Prior to making that choice, Andy's partner had been looking after their daughter while he worked 12-hour days.
"It was difficult because I felt like I wasn't doing enough," he says.
Thirty-year-old Andy took over full-time care for two months in July, but admits he was not aware just how much work was involved in staying home and looking after his daughter.
"Initially I thought parental leave would be a nice break from work - but it wasn't easy.
"Some days she would be upset and I just didn't know what to do. Your entire day revolves around feeds. It becomes a full-time job in itself.
"I would be happy when my partner came home from work as it meant I could have a break."
The Stoke-On-Trent resident says his experience of parental leave was important as he realised how much his girlfriend had been doing when he thought she was "just off work".
"It made me appreciate everything she had done and ultimately cemented my relationship with my daughter.
"It's a shame more fathers don't take parental leave as it really opens your eyes and you realise what your partner has to deal with."
'I made sure I kept busy'
Sandrine Charpentier, from Hayes in Bromley, says her maternity leave with both of her daughters, who are now aged six and nine, was a "really positive experience".
Despite not knowing many people where she lived, Sandrine made sure she wasn't isolated by booking a different activity every day.
"We would do baby swimming, yoga, singing and play groups. It motivated me to get dressed and get out of the house.
"The whole time I was really tired but I thought that was just part of the job.
"It was great to meet people, be social and talk about our experiences. I was really happy during that time and it was great for my daughters."
As much as she enjoyed her maternity leave, the mum-of-two admits it was also nice to return to work.
"Being at work was like a holiday because I was free to do what I wanted. I didn't have somebody glued to me all the time.
"It was good to do something different, to meet people and not talk about nappies and babies all the time."
'It's difficult to be accepted as a stay-at-home dad'
Craig Smith, 42, from Staffordshire became a stay-at-home dad to his daughter, Matilda, in January when she was eight months old.
His wife has a high-level job so they decided that it would be best for him to give up work and focus on their daughter's early years.
"I was very up for the challenge as I've always wanted children, but I didn't really think about what was involved in being a full-time dad.
"Sometimes it's hard because all Matilda wants is her mum."
Craig says his experience made him realise there is not enough support for stay-at-home dads.
"I tried to integrate with local playgroups, but the mums can be quite cliquey and it's very difficult for a dad to be accepted.
"A lot of mum-and-baby groups say fathers are welcome but in reality it's not like that - the mums can be quite cold."
Craig is planning on going back to work part-time when Matilda starts nursery, but says he feels anxious at the prospect of returning to normality.
"It feels like my brain has been conditioned to sing to Peppa Pig or nursery rhymes. The thought of carrying out serious and responsible tasks within a role kind of scares me."
Related Internet Links
The BBC is not responsible for the content of external sites.