Can a brand create a 'sonic identity' from light bulbs?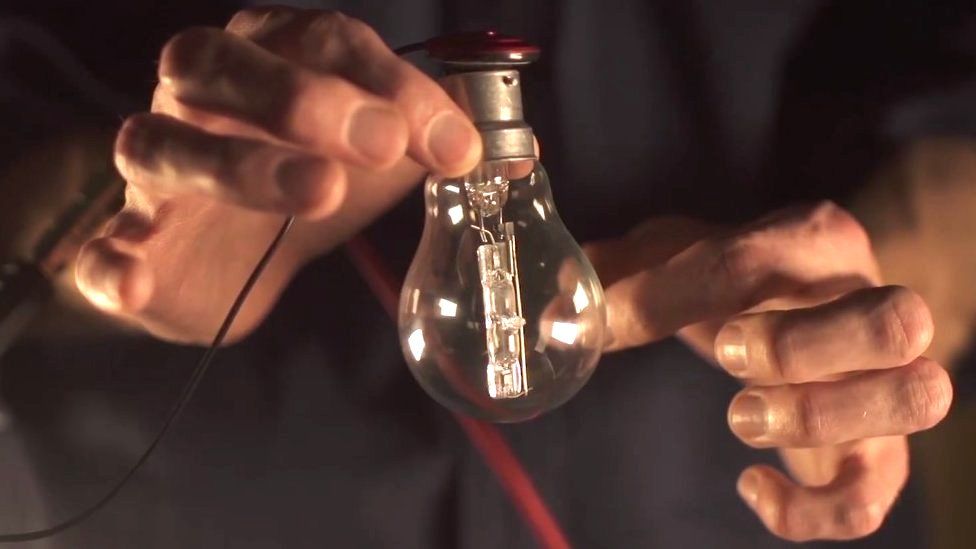 As we move to a more voice-controlled and audio-centric world, marketers are rediscovering the potential of sound to build brand identities and develop a new breed of advert for the streaming age.
Some of our most powerful and emotive memories are triggered by sound.
The music that was playing in the bar where you first laid eyes on your future partner; seagulls chattering outside the hotel on your first childhood holiday; or the radio jingle that still makes you think of a particular car dealership - even though it went bust 20 years ago.
But sound has traditionally played a secondary role to the visual in marketing. That is changing.
The increasing use of virtual assistants, smart speakers, audio streaming and augmented reality, has brought the concept of "sonic branding" to the forefront. It was included in the Interactive Advertising Bureau's industry report for the first time two years ago, and spending has already grown 39% to $1.6bn (£1.3bn) last year.
While we may think of the visual symbols associated with brands - the Nike swoosh, the McDonald's golden arches, or Apple's apple, for example - sound too, has always been an important component of how we think of them.
The Intel chimes for instance, or the hiss of static heralding the arrival of another episode of Game of Thrones or a classic rerun of The Sopranos on HBO.
Wanting to create a sound that listeners would associate with the electronics giant, be it through its adverts or its digital communications, the team decided to build their own musical instrument that harnessed the first product the Dutch giant famously mass produced - the trusty incandescent light bulb.
The team used contact microphones to capture the sounds of Philips light bulbs and the electricity running through them, as well as human body sounds, such as heartbeats and finger snaps.
The resulting sounds will now be used right across the brand, from a communications "sound logo" to product sounds and digital services.
"This is about more than just developing a jingle to sign off commercials," says MassiveMusic founder Hans Brouwer.
"It's about developing a sound that is also recognisable when you turn on your Philips TV or open your Sonicare app."
The potential of sonic branding lies in the way our brain processes music and sounds. It activates the same areas that are also stimulated by food and sex.
"Music is a super stimulus. It activates the centres in the brain that enable cognition, thinking, problem solving, memory, and decision making," says Dr Daniel Müllensiefen, professor of music psychology at Goldsmiths College, University of London.
"But music also activates areas that are related to the processing of emotions, too."
Dr Müllensiefen says that the emotional responses to music are particularly important, because we're inclined to seek out that music again in order to recreate the pleasure. The potential benefits for marketers, therefore, are huge.
"The idea is that the positive emotions evoked by music get associated with the brand or product," he says.
"Customers will perceive it more positively and ultimately change their consumer behaviour and buy it more frequently.
"If done right, it can hugely boost emotional brand building and will ultimately have a positive effect on sales."
Sound is also of increasing interest to the digital advertising industry because it has the ability to bypass ad blockers and grab the attention of potential customers no matter where they are.
"We're entering an audio-first world where innovations like voice-controlled devices are exploding, and making technology a more integral part of consumers' everyday lives," says Lauren Nagel, executive creative director at streaming audio company Pandora.
Ninety per cent of Pandora listeners are listening on mobile and other connected devices these days, says Ms Nagel.
"To create a successful sonic identity, the sound needs to have a voice profile and be consistent across devices and platforms, so that it's easily recognisable in word, tone and mood," says Ms Nagel.
Whereas commercial radio stations expose all listeners to the same adverts, streaming services can be much more targeted, because people create their own bespoke playlists that reflect their personalities.
Our musical tastes tell advertisers a lot about our likely buying habits.
With more than 73 million active monthly listeners, Pandora is the largest audio streaming service in the US. Its purchase of programmatic advertising platform AdsWizz earlier this year signalled its intent to join streaming rivals Spotify and iHeartRadio in adopting automated targeted ads.
Earlier this year it launched a service enabling companies to bid for the right to deliver ads around specific audio content listened to by their target audiences, with the whole process being automated and driven by data.
"The audio renaissance means more podcasts, more storytelling through audio, which means more ads on streaming services," says Ms Nagel.
Cornelius Ringe, chief executive of German audio branding consultancy Wesound, says the growing use of virtual assistants has altered the way we interact with devices, opening up new avenues for advertisers.
"We are already talking about the internet of voice," he says. "In the future, humans will more naturally and intuitively, verbally and audibly interact and communicate with machines.
"An additional change comes from the fact that we increasingly know more about consumers' music and sound usage."
His firm, whose clients include Audi, Red Bull, Seat and Lufthansa, has developed 3D sound technology and specialises in creating audio logos for brands as well as ambient sounds for venues and even cities.
This change to the marketing landscape is happening so quickly, believes Mr Ringe, that brands are in danger of failing to catch the audio wave. Brands are missing a trick if they don't have a sonic identity.
"If someone were to ask Alexa about your company, for example, what would it say?
"So far, very few brands have a clear answer to that."