Boohoo 'broke advertising rules', BBC Watchdog finds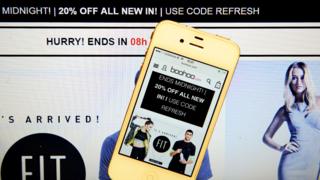 Boohoo, the fast fashion retailer, broke Advertising Standards Authority rules with "misleading" promotions.
The BBC's investigative programme, Watchdog Live, recorded promotions on its website that did not end after the countdown clock reached zero.
Time-limited sales put pressure on consumers to buy quickly. Keeping the clock running means the time limit - and the pressure - were false.
Boohoo said it was never its intention to mislead.
The company said customer demand drove it to extend certain offers.
Between August and November 2018, Watchdog Live recorded 14 sales advertised on Boohoo's site with a countdown clock.
But after the clocks on the sale reached zero, they were reset and the offers continued.
This included a Black Friday offer for 30% off "absolutely everything" that urged customers: "Hurry - ends soon."
In reality, the promotion did not ending anytime soon and when the clock reached zero, it simply started again.
In these cases, Watchdog Live found the clocks were misleading as the promotions were not genuinely time-limited.
The ASA has previously ruled against companies found to be advertising misleading time-limited sales.
It told Watchdog Live that Boohoo was breaking rules on sales promotions that it had investigated and ruled against in the past.
"The use of a countdown clock is problematic if it misleadingly implies the offer is time-limited when that is not the case," said the ASA, which will work with Boohoo to bring its advertising into line.
'Customer demand'
A Boohoo spokesperson said "customer demand" led it to extending offers on a "small number" of time-limited promotions.
"It is never our intention to mislead customers and we take full note of the BBC Watchdog's inquiry. We are looking into our processes to ensure that further diligence is exercised in relation to future promotions of this nature," she said.
Mary Creagh, the MP who chairs the House of Commons environmental audit committee, said psychological sales tricks such as ticking clocks helped fuel over-consumption and encouraged a throwaway society.
"Our inquiry has already uncovered a number of serious concerns about the 'fast fashion' business model and sadly it comes as no surprise that Boohoo are one of the worst offenders," she added.
The full report on Boohoo breaking advertising rules can be seen on Watchdog Live on Wednesday 5 December at 8pm on BBC One.