Four-day week: 'Time is one of the best gifts of all'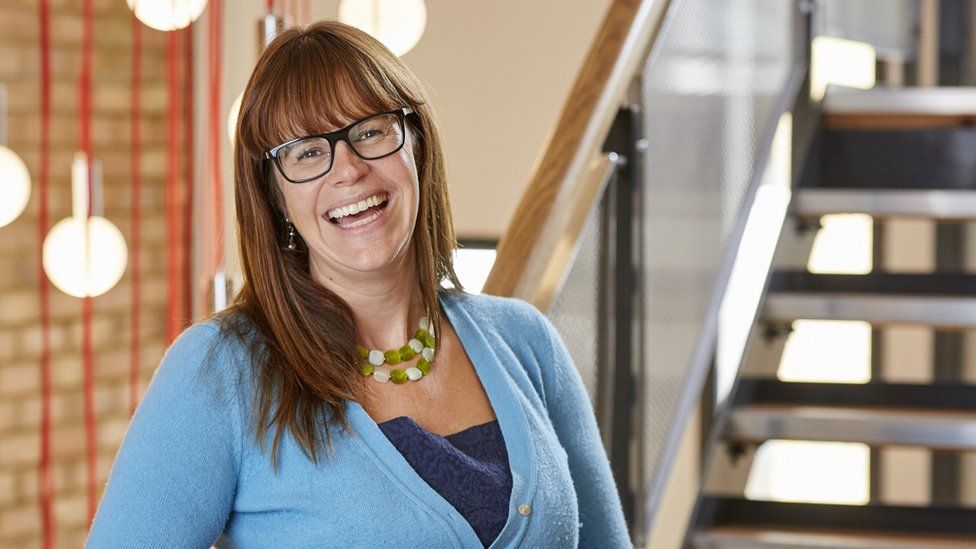 Staff at medical communications agency Synergy Vision have been given the gift of time in the run-up to Christmas.
Since the beginning of December the 45 staff have been working a four-day week, but being paid the same.
"Everyone's loved it in December... because they've had a day off for buying presents," says boss Ffyona Dawber.
The six-month trial at Synergy comes amid calls from unions for a UK-wide four-day week.
In October Labour's shadow chancellor John McDonnell told the BBC the party was looking at the length of the working week "because I think people are working too long".
At Synergy Vision, operations manager and mother of two, Orla O'Brien Davison agrees: "Time is one of the best gifts of all."
Prior to joining the company in May she had been toying with the idea of going part-time "as it's so hard to juggle work and a young family".
"For them to say they were going to a four-day week was great. It's made a huge difference to me."
Ms Dawber, who set up her business 11 years ago, was inspired to try out a four-day week by the results of a similar trial in New Zealand, which boosted productivity by 24%, and "improved happiness".
She said the main reason for embarking on the experiment was "staff well-being" and work-life balance. However, she also hopes it will help with recruitment and retention of staff.
"We have had people working long hours and getting exhausted... and in some ways an imposed day off forces people to rest."
More broadly, of course, the push for a shorter working week is all about who benefits from automation in the workplace.
The TUC used its annual conference this year to call on the government to take action to help people to work less but get paid the same.
The organisation said a four-day working week would be possible if businesses were forced to share the benefits of new technology, like artificial intelligence, robotics and automation, with their workforce.
And earlier this month, left-leaning think tank the New Economics Foundation (NEF) produced a briefing document examining ways of achieving a shorter working week in the UK. It's due to publish its full report and recommendations in the New Year.
One option outlined in the report is to create more paid bank holidays. The economic effects would be to increase annual pay per hour worked in a year, and ensure the "gains from increased productivity is automatically passed onto workers".
This could have the potential benefit, the report adds, of leading to "a gradual route to a four-day week, which would be reached once every week in the year had a bank holiday".
Head of Work and Pay at NEF, Alice Martin, says a number of sectors will potentially be impacted by automation, in particular manufacturing.
"If a company is able to increase its productivity because it's automated certain tasks, profit margins go up, and rather than sacking people, it can be that work is redistributed over more employees with reduced working hours, but protecting their pay."
However, Ian Brinkley, chief economist at the Chartered Institute of Personnel and Development (CIPD) sounds a note of caution.
"You could take all the benefits of productivity growth in higher wages or all in reduced working time, or more realistically take them as a mix between the two - that's the essential way you make this work."
He says there is no "particularly strong evidence" that reducing working time automatically improves productivity.
"A lot of evidence has come from companies that have cut working hours and they've said the cut in working hours makes them even more successful.
"Or was it the fact that they were successful that allowed them to cut hours in the first place?
He adds: "A four-day week is a 20% reduction in working hours. You're going to have to get a big improvement in productivity to cover that.
"It's unlikely that any productivity-enhancing effects from reducing hours would be big enough to cover the cost of reducing working hours."
Back at Synergy Vision, Ffyona Dawber thinks that at the end of the company's six-month trial the four-day working week will become permanent.
"I really do believe the long term productivity will stay the same - but time will tell - so I think the risk is low to my mind."