US markets mixed after turbulent week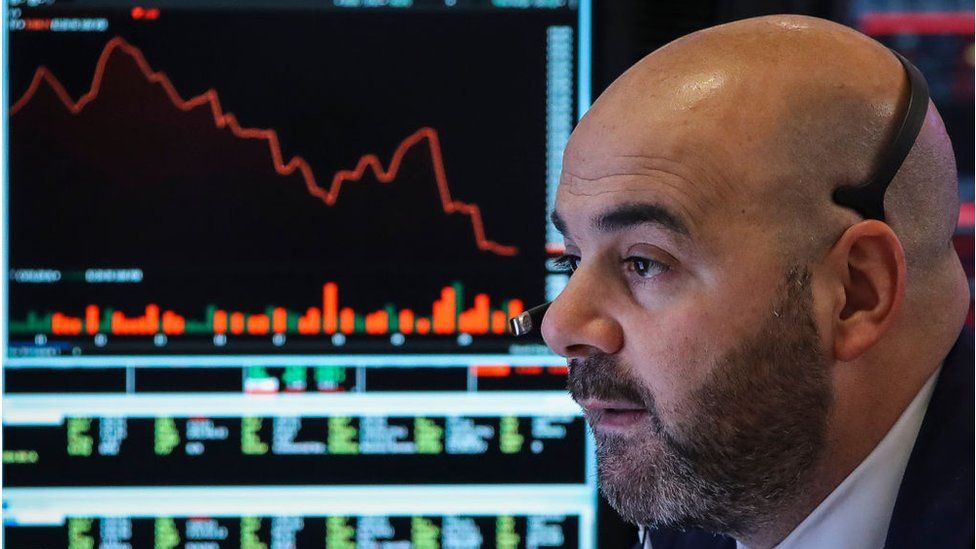 US financial markets were mixed on Friday after a choppy trading session that bounced between gains and losses.
The Dow Jones index sank 0.3% and the S&P 500 fell about 0.1%, but the Nasdaq gained almost 0.1%.
The moves marked a relatively calm end to a wild week of trade, in which US indexes rallied sharply after plunging on Monday.
European markets built on those gains on Friday. The FTSE 100 share index closed up more than 2.2% at 6,733.97.
In Germany, the DAX gained about 1.7%, while France's CAC index also rose about 1.7%.
Many markets have had a dismal year, as investor sentiment soured on fears of decelerating global growth, trade tensions and rising interest rates.
Japan's Nikkei suffered its first annual loss in seven years, while Germany's Dax index closed the year down about 18% - the biggest annual loss in a decade.
On Friday, Japan's Nikkei 225 ended 0.31% lower at 20,014.77, while Hong Kong's Hang Seng index closed flat, at 25,504.20.
In the US, Friday's declines were fairly widespread. However, they spared the consumer discretionary sector, which includes retailers such as Amazon.
Amazon shares jumped more than 1% on Friday, days after the e-commerce giant told investors it had a "record-breaking" holiday season.
Analysts cautioned that movements were exacerbated by the lower dealing levels seen during holiday trading.
US shares have been hit this week by weaker than expected home sales and consumer confidence data.
Concerns about US-China trade tensions also resurfaced, with reports saying US President Donald Trump is considering an executive order banning the use of Chinese technology.