TSB suffers £105m loss after computer chaos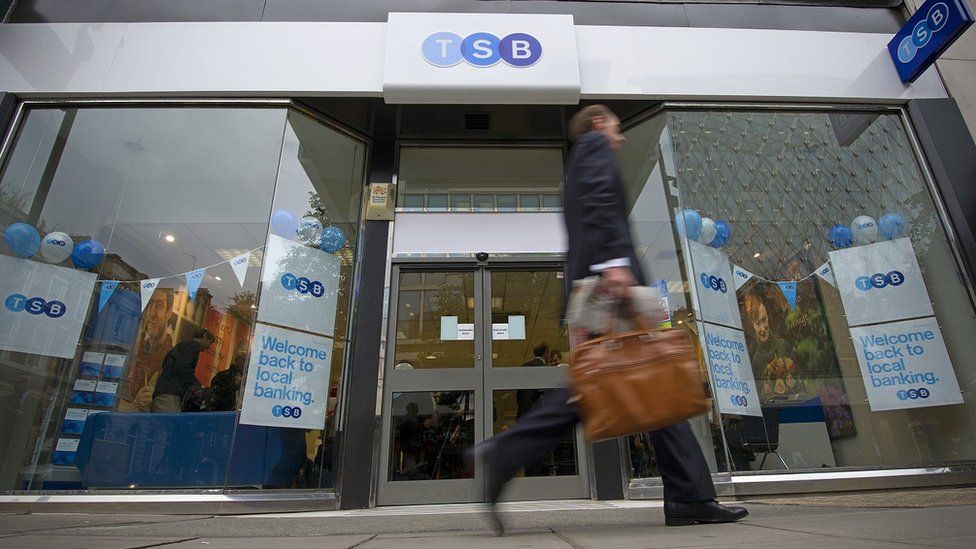 TSB's computer meltdown pushed the bank into a £105.4m loss last year, from a £162.7m profit in 2017.
The disastrous IT upgrade resulted in £330.2m in costs, to be partly offset by £153m that TSB said it expected to recover from computer provider Sabis.
About 80,000 customers switched their bank account away from TSB in 2018 - 30,000 more than 2017 - after some people went weeks without services.
There was also the cost of customer compensation and fraud.
TSB said it had resolved about 90% (181,000) of the 204,000 customer complaints received since the IT chaos.
Of the £330m in extra costs, about £125m was for customer compensation and sorting out their problems, £49m was due to fraud and operational losses, £122m for extra help and advice to sort out the IT problems, and £33m in lost income from waived fees and charges.
In recognition of the extra work for its employees, the bank said it had awarded staff - excluding executives - £1,500 each in December. No bonuses are being paid to executives for 2018.
Now the losses, next the blame
Analysis: Kevin Peachey, personal finance reporter
The management of TSB are talking up 2019 and attempting to move on from the IT failure that ruined last year for the bank.
It also disrupted weddings and house moves, as well giving fraudsters opportunities to exploit TSB customers.
This moment only marks a comma, rather than a full stop, in the saga as three inquiries into the meltdown are still open.
MPs on the Treasury Committee still have an open inquiry. TSB itself commissioned an independent review from lawyers Slaughter and May to detail what went wrong and what lessons need to be learned. The results are expected in the next few weeks.
But the most significant of all is an inquiry by the Financial Conduct Authority, the City regulator, which has powers to issue fines of many millions of pounds. Last summer it was critical of TSB's response to the crisis, but its in-depth investigation - undertaken jointly with the Bank's of England's Prudential Regulation Authority - could take months to complete.
TSB, owned by Spanish banking giant Sabadell, was stung by the IT crisis last April that left up to 1.9 million users of its digital and mobile banking locked out of their accounts.
The tech troubles were triggered by the movement of customer data from former owner Lloyds' IT system to a new one managed by Sabadell.
Chief executive Paul Pester stepped down in the wake of the fiasco. Nicky Morgan, chair of the Treasury Committee, said at the time that Mr Pester "set the tone for TSB's complacent and misleading public communications".
The bank announced his replacement, former CYBG chief operating officer Ms Debbie Crosbie in November. She will join the business in the spring.
TSB also said that customer deposits fell by 4.7% to £29.1bn last year, which the bank said was due to planned changes in savings products. Customer lending also decreased by 2.7% to £30bn.
Despite customers switching away at the height of the crisis, a total of 140,000 customers opened a new account with TSB.
The bank said that economic and market conditions remained uncertain for a number of reasons, including Britain's impending departure from the European Union.
But it maintained that it was "one of the most strongly capitalised banks in the UK and, with a healthy liquidity reserve, is well positioned to weather economic uncertainty or shocks".
TSB's Common Equity Tier 1 capital ratio - a key measure of financial strength - stands at 19.5% and is among the strongest of UK banks.