Thomas Cook considers sale of airline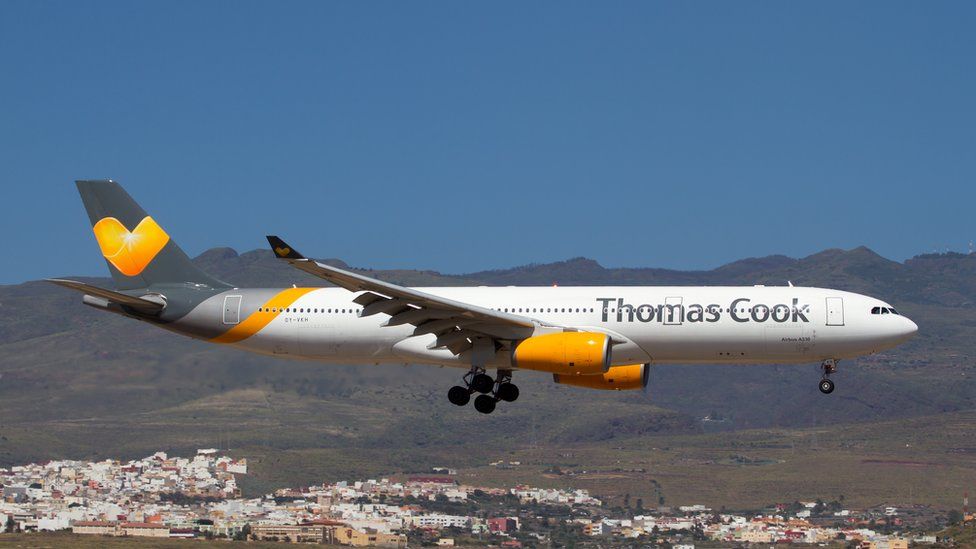 Thomas Cook has said it is conducting a "strategic review" of its airline as it seeks to find funds to invest more in its hotels business.
The travel firm stressed the review was at an early stage, but would consider "all options" including a sale.
The company's fleet of 103 jets is a mix of planes it owns and leases.
In contrast, Thomas Cook's airline is largely profitable. It made earnings before financing costs and tax of £129m last year, although it reported a loss in the last three months of 2018.
News of a potential sale boosted the firm's shares by 13% in early trading.
The company said it needed "greater financial flexibility and increased resources" to invest in its own-brand hotels. The company wants more control over its hotels to make them more customisable, it says, such as offering a sunbed booking service.
Thomas Cook reported a wider operating loss in the three months to the end of December, up £14m from a year ago to £60m. Sales rose 1% to £1.66bn.
Lee Wild, head of equity strategy at Interactive Investor, said: "Net debt of £1.59bn is a millstone around Cook's neck, and it just does not have the money to make crucial and necessary improvements to the business."
If it wants to upgrade its hotels, it "explains the rationale" of potentially selling the airline business, he said.
Thomas Cook operates planes in the UK, Germany and Scandinavia. Just under half of its airline seats are used by the tour operator's own customers, with the remainder sold to rivals and the public. A quarter of the fleet flies long-haul.
In a further sign of stress in the airline sector, Norwegian Air said on Thursday that its fourth-quarter loss had widened to $351m (£272m) from about $83m a year ago. The airline made a name for itself offering budget transatlantic flights, but it landed itself with high losses and large debts.
IAG, British Airways' owner, last month decided not to buy the firm, leading Norwegian to decide to raise funds from shareholders.
Earlier this week, Ryanair posted a net loss of €19.6m (£17.2m) for the last three months of the year, its first quarterly loss since March 2014.
While the company blamed too many airlines chasing too few passengers, costs may be the real problem, industry experts said.
Separately, shares in rival travel Tui sank 20% on Thursday after the company slashed its earnings forecast. blaming last year's "extraordinary hot weather" and the weak pound.
The firm said profits for the year to 30 September will be about €1.17bn, similar to last year. Previously it said 10% growth could be expected.