Marks and Spencer and Ocado in home delivery deal talks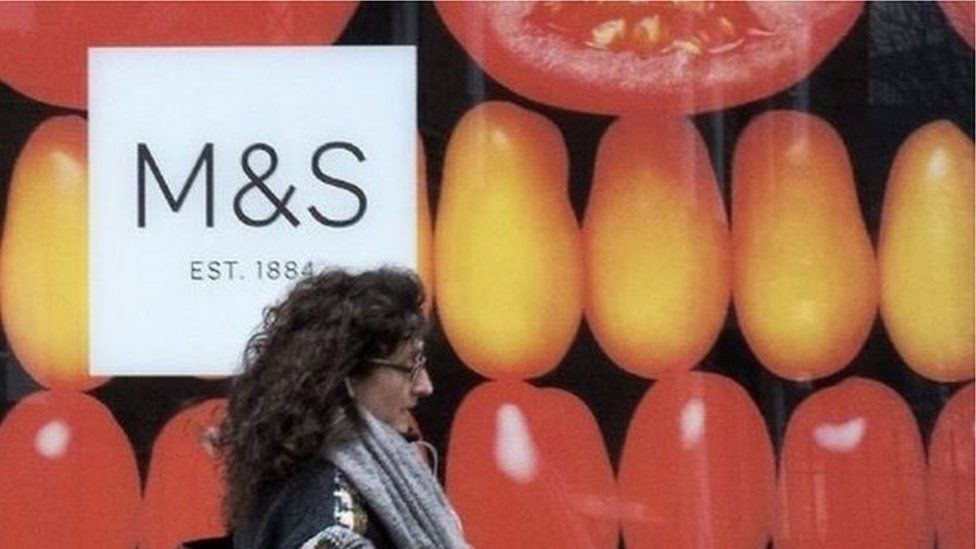 Marks & Spencer (M&S) and Ocado have confirmed they are in discussions about a £1.8bn joint venture.
If the two companies reach agreement, it would give M&S a food delivery service for the first time.
Ocado is best known for delivering Waitrose goods, with whom it pioneered online grocery deliveries 20 years ago.
However, their latest arrangement, which prevents Ocado delivering any other retailer's own branded goods, is due to come to end next year.
M&S has the most limited range of groceries of any of the leading food retailers and has held well back from the move to online delivery.
Retail analyst Natalie Berg from NBK Retail said such a new deal would mean the end of the current one.
"It's safe to assume that any deal with M&S will require Ocado to dissolve its long-standing relationship with Waitrose."
Online behemoth Amazon is making inroads into the UK grocery market and Ms Berg said this had sparked a defensive scramble among retailers.
"The prospect of Amazon shaking up the grocery sector and transforming the way we shop is creating some strange bedfellows.
"But this move is a win-win for both parties. I think most would welcome M&S and its expertise in high-quality, prepared foods. This will be important for Ocado as they look to cater to the 'for tonight' shopping mission, having just announced plans for one-hour delivery."
M&S has a far more limited range of groceries than its main rivals, something that would make online shopping with them exclusively, even if available, less attractive.
But Ms Berg said a tie-up would bolt Ocado's wider range on to M&S's: "M&S would never be able to do online grocery on its own because the average transaction size is too small. Most customers don't do a full, weekly shop at M&S, the economics just don't stack up. Teaming up with Ocado would allow M&S to fill gaps in their food range and finally offer home delivery to customers."
Vincent Lee, retail analyst at Bernstein Reserch, said Marks and Spencer would effectively be "buying Ocado's customers" and the company's food delivery technology - allowing them to increase their market share.
He added that the M&S food business had been struggling, so it was clear that they needed a delivery business.
The latest figures from M&S showed food sales fell 2.1%.
M&S said there was no certainty the discussions would lead to a tie-up.
Currently Ocado has a deal to deliver Waitrose-branded goods and also delivers its own Ocado-branded products.
In addition, it has a delivery deal with Morrisons, although this is done under the Yorkshire-based supermarket's own brand.
The food retailing landscape is a complex one. Morrisons also sells its products through Amazon, and after pioneering online delivery with Ocado, Waitrose also delivers its own products under its own-branded vans.
Ocado, founded by three Goldman Sachs bankers, has recently undertaken a number of new international deals, striking licensing deals with retailers in Sweden, the US and Canada.
Shares in M&S were up 3% on the news while Ocado was up 10%.