Sainsbury's-Asda merger blocked by regulator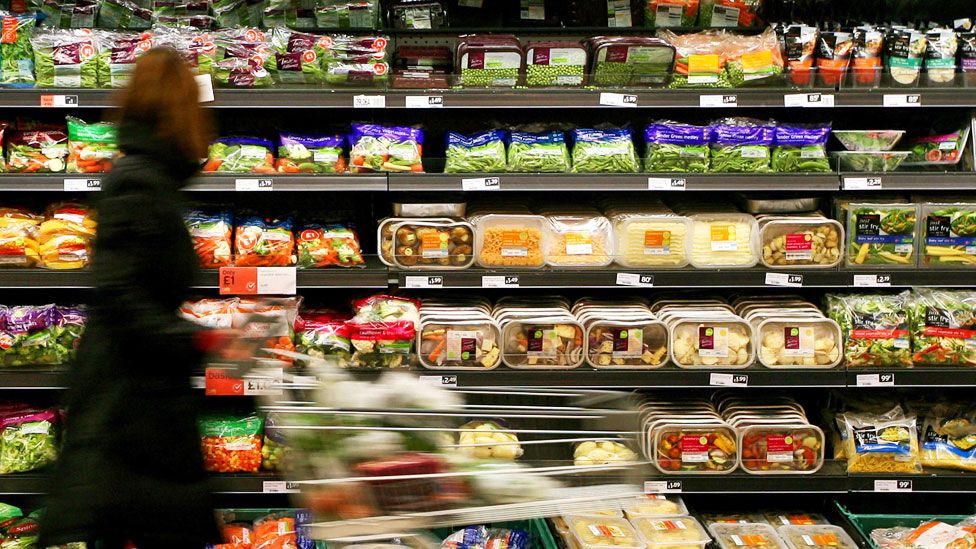 The proposed merger between Sainsbury's and Asda has been blocked by the UK's competition watchdog over fears it would raise prices for consumers.
Sainsbury's boss Mike Coupe said the regulator was "effectively taking £1bn out of customers' pockets".
But he said the supermarkets had agreed to end the deal.
Asda boss Roger Burnley said he was disappointed: "We were right to explore the potential merger with Sainsbury's, which would have delivered great benefits for customers and supported the long term, sustainable success of our business."
Why did the supermarkets want to merge?
The deal would have created the UK's biggest supermarket chain, accounting for £1 in every £3 spent on groceries.
Sainsbury's and Asda had said the planned tie-up would have cut their costs, allowing them to lower prices for consumers across the UK.
Analysts also believed it was designed to help the two supermarkets counter the rise of discounters Aldi and Lidl in the increasingly competitive grocery market.
Why was the CMA concerned?
But the CMA, which had previously raised concerns about the deal, said the merger would lessen competition at both a national and local level.
Sainsbury's has more than 1,400 shops in the UK, of which about 800 are convenience stores, while Asda has more than 600.
Stuart McIntosh, chair of the CMA's inquiry group, told the BBC's Today programme: "It would reduce competition in supermarkets and online grocery shopping and at the companies' petrol stations.
"We think that is likely to lead to higher prices or other changes which would be unwelcome to shoppers, such as longer checkout queues."
What concessions had the supermarkets offered?
Earlier this year, Sainsbury's and Asda, which is owned by US retail giant Walmart, promised to sell between 125 and 150 of their supermarkets to allow the merger to proceed, along with some petrol stations and convenience stores.
Sainsbury's said the CMA had ignored this offer, and misunderstood the potential impact on competition.
But the CMA said it had conducted surveys of 60,000 of the supermarkets' customers.
"Those promises were based on cost savings which we don't think are likely to be realised. Also those price promises are very likely to be difficult to track in practice," Mr McIntosh said.
What now for Sainsbury's and Asda?
Next Wednesday is shaping up as the most important day of Mike Coupe's professional life.
The chief executive of Sainsbury's has today seen his big gambit, a merger with Asda, fail - and fail utterly.
Now he needs to come up with a convincing Plan B, and demonstrate to a sceptical market how Sainsbury's can prosper without what would have been a transformational deal with Asda.
If he cannot do that, he will probably have to stand down.
Now the companies have said the deal is off, Mr Coupe's task next Wednesday is two-fold. First there is the subtle task of coming up with a new commercial strategy for Sainsbury's as a standalone company, without it looking like there is anything wrong with the current one.
This will be difficult given he has spent months explaining why the Asda deal is so necessary, and in the meantime faced accusations that the day-to-day management of the chain is not up to scratch.
This will require money - investment in stores and price cuts - and this is his second job. How can Sainsbury's pay for all this and maintain its all-important dividend payments to shareholders?
Asda has a different problem. It needs a new owner as its American parent, Walmart, has made it clear it wants out.
That could mean a sale to a private-equity investor, or a stock market listing. Neither would be straightforward.
Shares in Sainsbury's fell almost 6% following the news, despite many having expected the CMA's decision.
John Moore, senior investment manager at Brewin Dolphin, said: "This returns the focus to the UK grocery market, which is highly competitive, and now both businesses will need to concentrate their energies on reinvigorating and perhaps re-imagining their individual offerings to shoppers."
The GMB union, which represents Asda workers, said the ruling was good for jobs.
GMB general secretary Tim Roache said: "Swathes of stores and depots would have to have been sold off, with jobs put at risk and no real benefit for customers or communities.
"The workforce has been through months of uncertainty, worrying about what's going to happen and wondering if their stores or depots would be sold from under them."
Ian Giles, competition partner at law firm Norton Rose Fulbright, called the CMA's ruling "controversial in competition law circles".
"It suggests a higher bar than had been the case in previous retail mergers. The parties perhaps underestimated how the scale of this deal, and the CMA's focus on consumer markets, meant they would face such serious obstacles in securing approval."