Trump escalates trade war with more China tariffs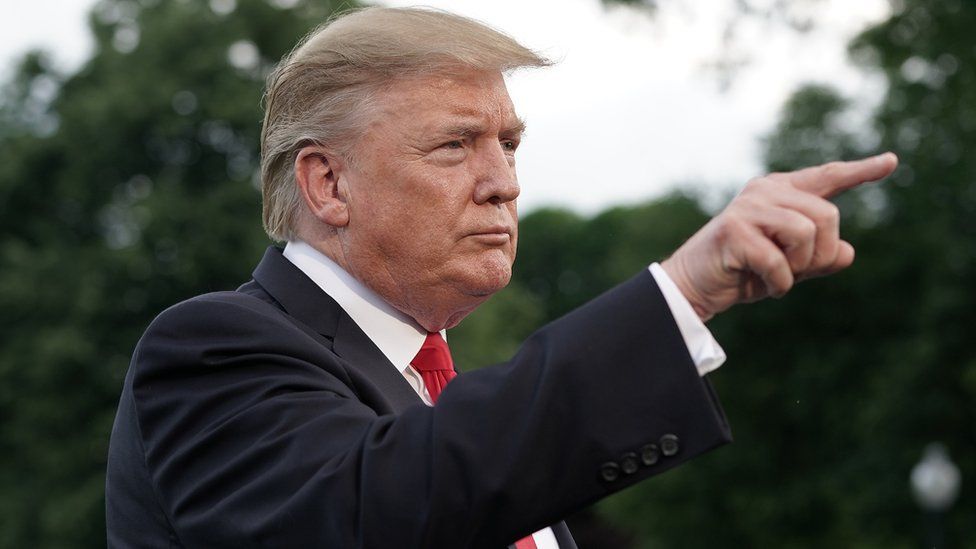 US President Donald Trump has said he will impose a fresh 10% tariff on another $300bn (£247bn) of Chinese goods, in a sharp escalation of a trade war between the two countries.
It came after the latest round of bilateral talks showed little sign of a breakthrough.
The new tariffs, due to take effect on 1 September, effectively tax all Chinese imports to the US.
The duty is likely target a wide range of goods, from smartphones to clothing.
China's Foreign Minister Wang Yi criticised the US move.
"Adding tariffs is definitely not a constructive way to resolve economic and trade frictions, it's not the correct way," Mr Wang said on the sidelines of a meeting of South East Asian ministers in Bangkok.
Mr Trump announced the tariff plan on Twitter, while taking aim at China for not honouring promises to buy more US agricultural products at this week's negotiations in Shanghai.
He also attacked Chinese President Xi Jinping for failing to do more to stem sales of the synthetic opioid fentanyl.
The BBC is not responsible for the content of external sites.
Skip twitter post by Donald J. Trump
Allow Twitter content?
This article contains content provided by Twitter. We ask for your permission before anything is loaded, as they may be using cookies and other technologies. You may want to read Twitter's cookie policy, external and privacy policy, external before accepting. To view this content choose 'accept and continue'.
The BBC is not responsible for the content of external sites.
End of twitter post by Donald J. Trump
In later remarks, the US president told reporters the 10% tariff was a short-term measure and that tariffs could be lifted further in stages to more than 25%.
"Somebody should have done this with China a long time ago," he added.
What has the response been so far?
The move jolted financial markets as Washington and Beijing had described this week's trade negotiations as constructive, and scheduled another round of talks for September.
On Wall Street, the Dow Jones share index closed down 1.1%, and Asia markets were sharply lower on Friday. Oil prices tumbled.
The US Chamber of Commerce, which represents more than three million US companies, said the latest tariffs on China "will only inflict greater pain on American businesses, farmers, workers and consumers, and undermine an otherwise strong US economy".
It urged the two sides to remove all tariffs.
The latest round of duties come amid mounting concern over how effective Mr Trump's strategy is proving to be.
On Thursday, Mr Trump's former chief economic adviser, Gary Cohn, said in a BBC interview that the tariff battle was having a "dramatic impact" on US manufacturing and capital investment.
Fed chair Jerome Powell said it was not the central bank's job to criticise US trade policy, but added that trade tensions had "nearly boiled over" during May and June.
Mr Trump says his trade tactics are working, and that Beijing is feeling the pain. But China isn't the only country that is hurting. The International Monetary Fund has warned that the US-China trade war is the biggest risk to the global economy.
There's mounting evidence to show it's also hitting the American economy. Data released last week showed that the US economy grew less than previously thought last year.
The figures showed foreign trade and business investment shrank as the trade war wore on.
US firms are holding off on expansion plans and investments, meaning new factories aren't being built and new jobs aren't being created.
China and the US have been engaged in a fractious dispute over trade since the early days of Mr Trump's presidency.
While campaigning for the presidential election in 2016, Mr Trump repeatedly accused China of unfair trading practices and intellectual property theft.
He also wants to cut America's trade deficit with China, which he says is hurting US manufacturing.
Over the past year, both sides have imposed tariffs on billions of dollars of one another's goods.
Despite several rounds of talks, the world's two largest economies have failed to reach an agreement to end the trade war which has rattled investors and cast a shadow over the global economy.