US officially labels China a 'currency manipulator'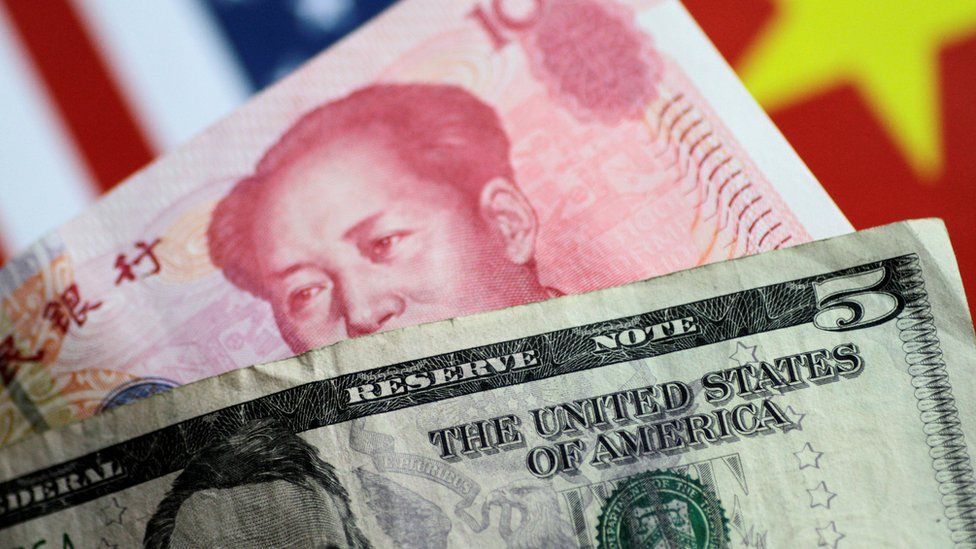 The US has officially named China as a "currency manipulator", a statement which will intensify tensions between the world's two largest economies.
The announcement by the US Treasury follows a sharp fall in the value of the Chinese yuan against the dollar.
The drop caught markets off-guard as Beijing usually supports the currency.
Last week, China pledged to retaliate after US President Donald Trump vowed to impose 10% tariffs on $300bn (£246.7bn) of Chinese imports.
On Monday, the yuan passed the seven-per-dollar level for the first time since 2008, prompting Mr Trump to accuse China on Twitter of manipulating its currency.
The US Treasury department defines currency manipulation as when countries deliberately influence the exchange rate between their currency and the US dollar to gain "unfair competitive advantage in international trade".
A weaker yuan makes Chinese exports more competitive, or cheaper to buy with foreign currencies.
On Monday, the People's Bank of China (PBOC) said the slump in the yuan was driven by "unilateralism and trade protectionism measures and the imposition of tariff increases on China".
The US government said Treasury Secretary Steven Mnuchin will now engage with the International Monetary Fund (IMF) "to eliminate the unfair competitive advantage created by China's latest actions".
Based on the historic currency manipulation by China, it is now even more obvious to everyone that Americans are not paying for the Tariffs – they are being paid for compliments of China, and the U.S. is taking in tens of Billions of Dollars! China has always....

— Donald J. Trump (@realDonaldTrump) August 5, 2019
China dropped the price of their currency to an almost a historic low. It's called "currency manipulation." Are you listening Federal Reserve? This is a major violation which will greatly weaken China over time!

— Donald J. Trump (@realDonaldTrump) August 5, 2019
The move is largely symbolic because the US is already engaged in trade discussions with China and has implemented tariffs on the country's imports.
However, it fulfils a presidential campaign promise by Mr Trump who pledged to name China a currency manipulator on his first day in office.
The decision rattled investors, with Wall Street's main stock market indexes recording their worst trading day for 2019. Asia markets extended losses on Tuesday, with the Shanghai Composite down 1.3% in afternoon trading.
By Michelle Fleury, New York Business Correspondent
The move doesn't change much. Not legally speaking.
But it is a big deal, accentuating just how fast things have gone south between the world's two largest economies.
When the US Treasury labels a country a currency manipulator - as it has done here with China - the next step would normally be for negotiations to begin between the two countries. In this case, trade negotiations have already been going on for more than a year.
The process also opens the path for America to introduce tariffs. Again, that's already happening as part of Mr Trump's 'America First' approach to trade.
Under the designation, Mr Mnuchin is also expected to work with the IMF to address its concerns. It's not clear yet what that will yield.
Still it's worth remembering that while the decision may not change much technically, it will have significant political ramifications.
Nobody thinks this will increase the odds of a compromise by the Chinese side when it comes to trade.
So don't be surprised if the prospect of a currency war further rattles investors' already frayed nerves.
No country has officially been named a currency manipulator by the US since Bill Clinton's administration did so to China in 1994.
In its announcement, the US Treasury said: "China has a long history of facilitating an undervalued currency through protracted, large-scale intervention in the foreign exchange market.
"In recent days, China has taken concrete steps to devalue its currency, while maintaining substantial foreign exchange reserves despite active use of such tools in the past."