Cathay Pacific boss Rupert Hogg quits after protest row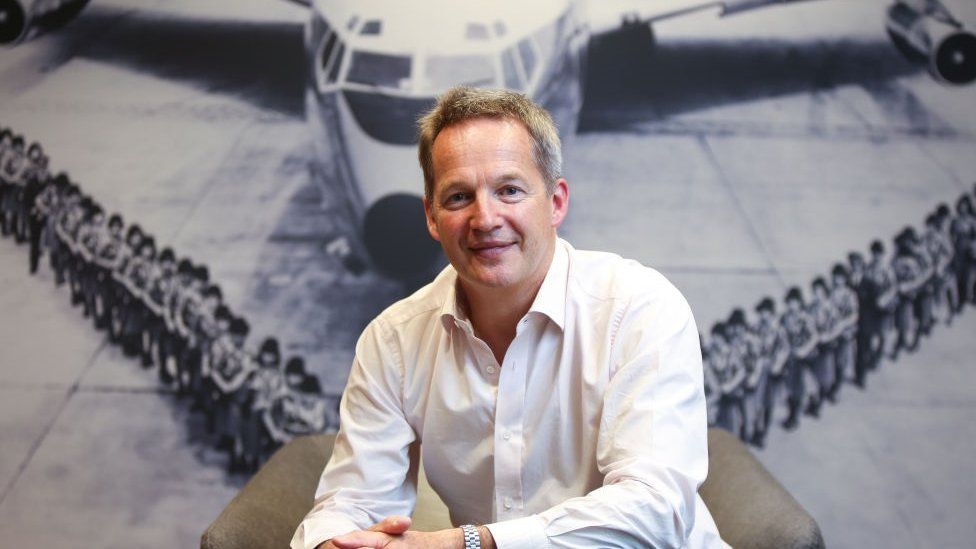 The chief executive of Hong Kong flag-carrier Cathay Pacific has quit after the airline became embroiled in the controversy over protests there.
Rupert Hogg said he was taking responsibility as these had been "challenging weeks" for the airline.
Some of its employees took part in the protest, but China's aviation regulator ordered the airline to suspend staff who did so.
Cathay's chairman, John Slosar, said it was time to put "a new management team in place who can reset confidence".
Paul Loo is also leaving as chief customer and commercial officer.
Mr Hogg said: "These have been challenging weeks for the airline and it is right that Paul and I take responsibility as leaders of the company."
Last week, Cathay Pacific had told its staff it would not stop them joining the pro-democracy demonstrations currently sweeping Hong Kong.
Cathay faced pressure online after China's state-run press fuelled a #BoycottCathayPacific hashtag, which trended on Chinese social media.
Beijing's aviation regulator, the Civil Aviation Administration of China (CAAC), required Cathay to submit lists of staff working on flights going to the mainland or through its airspace.
It also had to submit a report on planned measures to "strengthen internal control and improve flight safety and security".
Cathay Pacific said that Mr Hogg had been replaced by Tang Kin Wing Augustus and Mr Loo by Ronald Lam.
The airline is currently majority-owned by the Swire investment company, while Air China has a 30% stake. Qatar Airways also owns a stake.
Cathay's new chief executive Mr Tang was the head of Hong Kong Aircraft Engineering Company, which is also owned by Swire. Mr Lam was head of Cathay's low-cost service Hong Kong Express.
Mr Slosar said that while Mr Hogg and his team had carried out a three-year turnaround plan, "recent events have called into question Cathay Pacific's commitment to flight safety and security and put our reputation and brand under pressure".
"This is regrettable as we have always made safety and security our highest priority," he said.
The new bosses "have the experience and depth of knowledge of aviation and our people to be strong and effective leaders of Cathay Pacific at this sensitive time", he added.
Meanwhile, Hong Kong's richest man, Li Ka-shing, has taken out a series of full-page newspaper ads in an attempt to calm rising tension within the territory, urging people to "love China, love Hong Kong and love yourself".
But the Chinese star of the upcoming Disney live-action remake of Mulan has expressed support for Hong Kong police in the wake of the pro-democracy protests.
In a post on the Chinese social media platform Weibo, actress Liu Yifei wrote: "I support Hong Kong police. You can attack me now," adding in English: "What a shame for Hong Kong."
Hong Kong International Airport has been closed at times this week in the wake of the massive anti-government protests that have paralysed one of Asia's key transport hubs.
The airport is one of the world's busiest, and the Airport Authority has obtained a temporary injunction banning protesters from entering certain areas.
The protests began over plans that would have allowed extradition from Hong Kong to mainland China, but they have broadened into a pro-democracy movement concerned about China's growing influence in the city.
Mr Slosar said Cathay was "fully committed to Hong Kong under the principle of 'one country, two systems' as enshrined in the basic law".
This is a reference to the fact that despite being part of China, Hong Kong receives "a high degree of autonomy, except in foreign and defence affairs".
"We are confident that Hong Kong will have a great future," he added.
Mr Hogg was born in Portsmouth, has a degree from Edinburgh University, and joined John Swire & Sons - part of the Swire conglomerate of businesses - in 1986. He has worked in Sydney, Hong Kong and South East Asia.