US jobs growth weaker than expected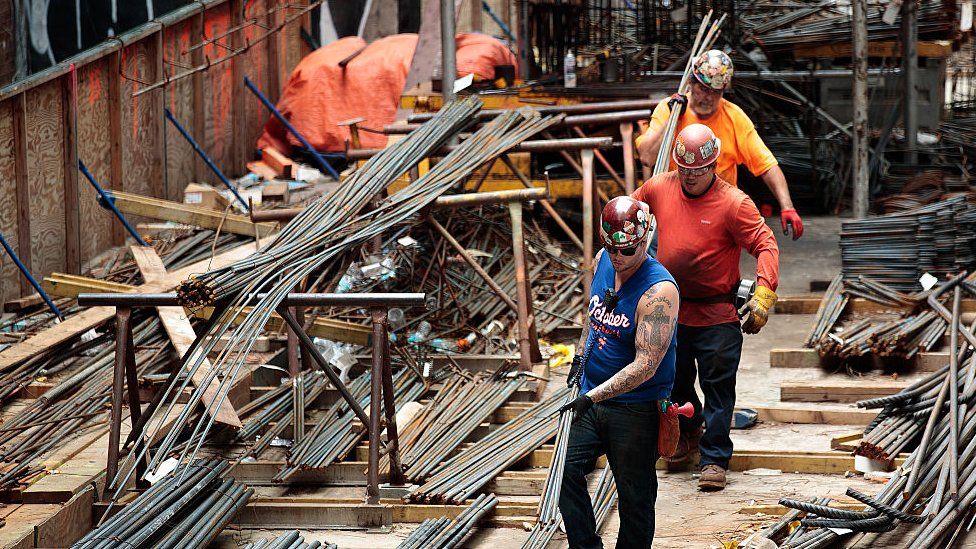 The US economy added 130,000 jobs last month, slowing more than expected, the latest official figures have shown.
Economists polled by Reuters had expected an increase of 158,000. In July, the economy had created 159,000 new jobs.
The unemployment rate was unchanged at 3.7%, while average hourly earnings growth rose 3.2% from last year.
The US economy is feeling the strain of President Donald Trump's tariff war with China and a wider global slowdown.
Mr Trump has been talking up the US economy in recent weeks amid growing unease about a potential recession.
Last month's job figures were boosted by government hiring of 25,000 workers for the upcoming US Census. Hiring in health care and professional and business services was also up.
However, the Labor Department said employers added 20,000 fewer jobs in July and June than it previously estimated. And while pay and participation in the workforce increased, both remain lower than rates typical before the financial crisis of 2008.
The US Federal Reserve is widely expected to cut interest rates at its meeting this month in an attempt to keep the economy growing.
In July, the central bank cut rates for the first time since 2008.
However, that was not enough to satisfy Mr Trump, who has repeatedly called for a "substantial" rate cut.
In his latest tweets on the economy, Mr Trump denied that there were troubles brewing.
"The Economy is great. The only thing adding to 'uncertainty' is the fake news," he wrote.
He also called into question the competence of Fed chair Jerome Powell, saying: "Where did I find this guy Jerome?"
Paul Ashworth, chief US economist at Capital Economics said the Labor Department's report offered enough good news to make a dramatic cut by the Fed unlikely. He pointed to the growth in wages and labour force participation.
For now, hiring remains strong enough to keep pace with growth in the labour force. But economist Gus Faucher of PNC Bank predicted that jobs growth would slow further, given a slump in global growth and uncertainty over trade.
"Although job growth will slow, the US economy should avoid recession," he said.