Thomas Cook asks government for bailout in funding race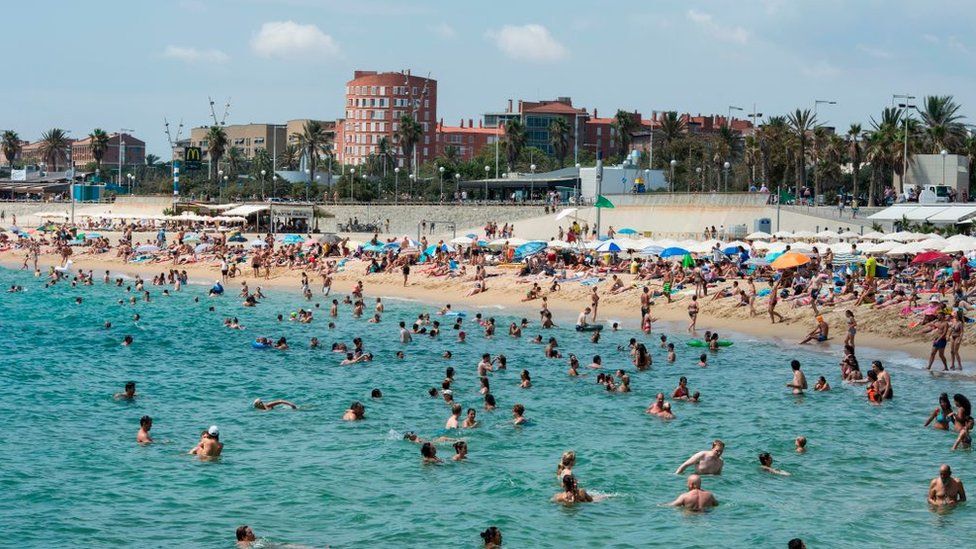 Tour operator Thomas Cook has approached the government in an attempt to plug a gap in its funding.
The travel company could fall into administration this weekend unless it finds £200m in extra funds needed to secure its future.
A collapse would leave 150,000 UK holidaymakers stranded.
The BBC's business editor said that while a private sector deal may still be possible, the noises coming out of the government at the moment suggested the UK taxpayer was unlikely to become Thomas Cook's saviour.
The troubled operator hoped to seal a rescue led by China's Fosun this week. But the creditor banks issued a last-minute demand that the travel company find an extra £200m.
The Civil Aviation Authority is on standby with a repatriation contingency plan called Operation Matterhorn. The potential cost of bringing home passengers is put at about £600m.
In his blog, Simon Jack says the government does not recognise the choice being presented as between spending £200m on a cash injection to save the company versus a £600m bill to repatriate UK holidaymakers.
He writes that the government's understanding is that most Thomas Cook customers will be covered by travel insurance or Atol protection - a fund paid for through industry levies.
He also says the government's previous refusal to offer assistance to companies like Carillion would make helping Thomas Cook very difficult in principle and in practice.
Furthermore, the matter is being handled by the Department for Transport - which organised the repatriation of customers of the failed airline Monarch - rather than the Department for Business, he adds.
There has been a shift in tone from Thomas Cook on Twitter, with worried customers being told to ignore media speculation on Friday.
Now they are being reminded they do have Atol protection "in the event that Thomas Cook goes into administration".
Travel expert Simon Calder said all Thomas Cook flights in and out of the UK were running normally on Saturday morning, and travel agencies would be opening at the usual times.
He said that while Thomas Cook remains a going concern - albeit in terrible trouble - there was very little anyone who was on a Thomas Cook holiday or has one booked in the coming days or weeks could do.
Anyone trying to cancel holidays could expect to be given short shrift and end up losing some or all of their money, he added.
Currently there are 600,000 Thomas Cook customers on holiday, of which 150,000 to 160,000 are British
Thomas Cook, one of the world's largest travel companies, was founded in 1841 to operate temperance day trips, and now has annual sales of £9bn.
It employs 22,000 staff, 9,000 of those in the UK and serves 19 million customers a year in 16 different countries.
The TSSA union's general secretary Manuel Cortes told the BBC that his members' "main concern was if they had a job on Monday morning".
One woman's £8,000 decision
Teacher Jacqui Cunningham and her partner, train driver Angus McNair, from Brentwood, Essex, have booked a holiday to the Maldives with Thomas Cook for December. The luxury trip is to celebrate Ms Cunningham's recovery from cancer.
They have paid a deposit of £500 and the balance of £8,000 is due by midnight on Friday.
Thomas Cook is, of course, still operating. But their predicament underlines the anxiety many customers are feeling.
Ms Cunningham and Mr McNair called the customer service helpline and asked if they could delay paying the £8,000 until they know that the tour operator is not going to fall into administration. But they were told the deadline remains, or they would lose their £500 deposit.
"We were going to pay on debit card, but now I think we'll put it on the credit card if we go forward," she said.
Thomas Cook's financial difficulties have mounted over the past year, culminating with the agreement in August of a rescue deal led by its biggest shareholder Fosun.
In July, Thomas Cook produced a business plan saying that it needed £900m in refinancing, up from a previous estimate of £150m. The £900m would come from Fosun, the group of creditors and some other investors.
The group of lenders then commissioned an independent investigation. Its financial advisers said Thomas Cook would require an additional £200m on top of the £900m already required, which would bring the total refinancing needed up to £1.1bn.
Thomas Cook succeeded in finding a backer to provide the additional £200m, but the BBC understands it has since pulled out and the group of creditors will not come back to the table unless that additional funding is found.
A final vote on that deal was due to take place this week, but it has been delayed until next Friday in the face of the latest demand for extra standby funding.
Earlier this week, Thomas Cook said it was "focused on completing" the deal. It is believed to be negotiating with its banks, bondholders and Fosun in an attempt to keep the rescue on track.
In May, the operator reported a £1.5bn loss for the first half of the year. It has also recently issued three profit warnings and is struggling to reduce its debts.
It has blamed a series of problems for its profit warnings, including political unrest in holiday destinations such as Turkey, last summer's prolonged heatwave and customers delaying booking holidays because of Brexit.
If you are on a package holiday you are covered by the Air Travel Organiser's Licence scheme (Atol).
The scheme will pay for your accommodation abroad, although you may have to move to a different hotel or apartment.
Atol will also pay to have you brought home if the airline is no longer operating.
If you have holiday booked in the future you will also be refunded by the scheme.
If you have booked a flight-only deal you will need to apply to your travel insurance company or credit card and debit card provider to seek a refund.
When Monarch Airlines collapsed in 2017, the government organised to bring home all the stranded passengers, whether they were covered by Atol or not.