Dyson has scrapped its electric car project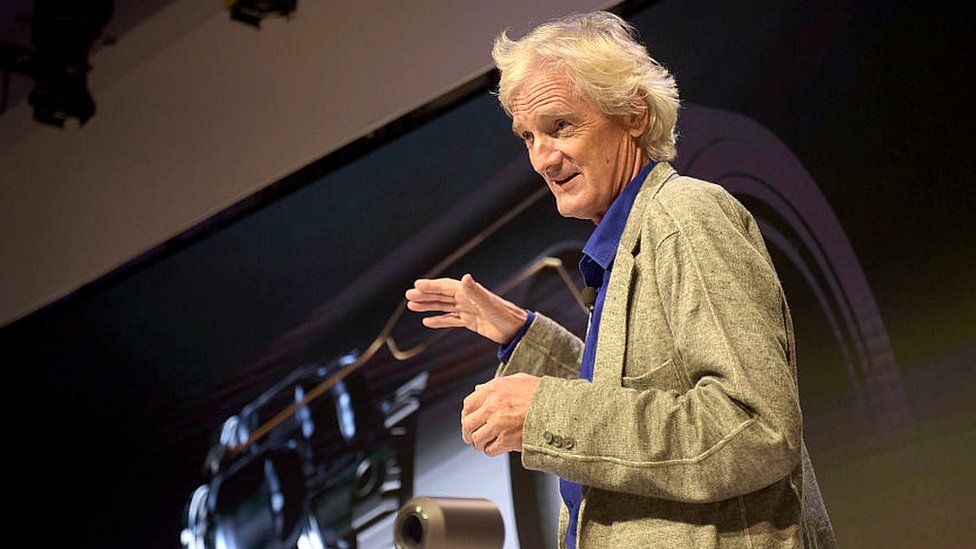 Dyson, the technology company best known for its vacuum cleaners, has scrapped a project to build electric cars.
The firm, headed by British inventor Sir James Dyson, said its engineers had developed a "fantastic electric car" but that it would not hit the roads because it was not "commercially viable".
In an email sent to all employees, Sir James said the company had unsuccessfully tried to find a buyer for the project.
The division employs 500 UK workers.
Dyson had planned to invest more than £2bn in developing a "radical and different" electric vehicle, a project it launched in 2016. It said the car would not be aimed at the mass market.
Half of the funds would go towards building the car, half towards developing electric batteries.
In October 2018 Dyson revealed plans to build the car at a new plant in Singapore. It was expected to be completed next year, with the first vehicles due to roll off the production line in 2021.
Dyson wanted to make something revolutionary - but also needed to make it pay. And the sums simply didn't add up.
Sales of electric cars are climbing rapidly. Yet they still cost more to make than conventional cars, and generate much lower profits - if any.
Major manufacturers like VW can afford to plough tens of billions into the EV industry - on the basis that economies of scale will ultimately make the technology cheaper and generate returns.
Even the upstart Tesla, widely credited with showing everyone else just how good electric cars could be, has burnt through mountains of cash and had to go cap in hand to investors.
Dyson has concluded it simply can't afford to play with the big boys - although its efforts to make a quantum leap in battery technology will continue.
The company also planned to invest £200m in the UK in research and development and test track facilities. Much of that money has already been spent and Dyson said it would use the site for other projects.
The rest of the funds intended for the electric car project would still be spent on developing other products, including its battery technology, Dyson said.
The assistant managing director of Singapore's Economic Development Board Tan Kong Hwee said the country would still play a significant role in Dyson's growth plans.
"As Dyson's decision not to pursue the electric vehicle business was taken at an early stage, the disruption to its operations and workforce in Singapore will be minimal," he said.
The first cars had already been developed and were being tested.
But in an email on Thursday, Sir James revealed that Dyson was closing electric car facilities both in the UK and Singapore.
The project employed 523 people, 500 of whom were in UK, and Sir James praised their "immense" achievements.
"This is not a product failure, or a failure of the team, for whom this news will be hard to hear and digest," Sir James wrote.
But, he said: "We have tried very hard throughout the development process, we simply can no longer see a way to make it commercially viable.
"The Dyson automotive team has developed a fantastic car; they have been ingenious in their approach while remaining faithful to our philosophies."
He said the firm was trying to find alternative roles for the workers in its home division, which makes things such as vacuum cleaners, fans and hairdryers.
Sir James said Dyson would continue to work on the battery technology, which was used in the car.
"Our battery will benefit Dyson in a profound way and take us in exciting new directions."
"In summary, our investment appetite is undiminished and we will continue to deepen our roots in both the UK and Singapore," he said.
"This is not the first project which has changed direction and it will not be the last."