Dior apologises for using China map without Taiwan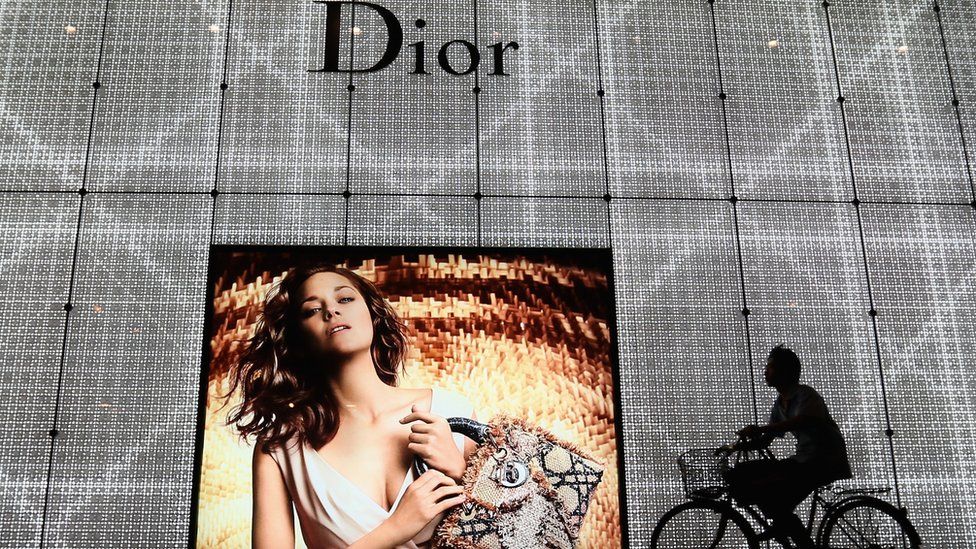 Christian Dior has become the latest foreign brand to apologise to China after it used a map that Beijing sees as misrepresenting its territory.
The French luxury brand was criticised on Chinese social media after an employee reportedly used a China map in a presentation that excluded Taiwan.
Taiwan has been self-ruled since the 1950s, but Beijing's official policy is that the island is a Chinese province.
Dior apologised for the "mistake in representation" made by an employee.
The row broke out after a video was posted online anonymously claiming to show a Dior employee giving a talk at a university in China and showing the map.
It sparked a huge reaction on social media, as people complained that Dior was not respecting Chinese territorial claims.
"Dior statement" was one of the top 10 most searched items on Weibo on Thursday.
"The company firstly deeply apologises for the incident on 16 October 2019 where a member of the Dior HR team was... giving a presentation when [the employee] made a mistake in representation and gave an incorrect explanation," the company said in its statement.
Christian Dior said it had done a "diligent investigation", adding it would "seriously handle" the matter.
"Dior has always respected and upheld the principle of one China, strictly upholding China's rights and complete sovereignty, treasuring the feelings of Chinese citizens," it added.
In recent years, Chinese social media users have aggressively been pursuing companies which they believe are challenging China's territorial claims.
China is a huge market for luxury brands, so they are keen not to risk negative PR or a boycott by offending Chinese consumers.
Coach and Givenchy have also faced a backlash recently over the representation of Chinese territories on some of their garments.
Airlines and hotel chains have also had to apologise after listing Taiwan as a separate country on their booking menus, not as part of China.
Earlier this week, Vietnam banned the animated movie Abominable over another map row.
The film, the first tie-in between Dreamworks and China's Pearl Studio, briefly displayed a map that showed areas of the South China Sea claimed by Vietnam as being Chinese territory.