Pound slips in early trading after delay on Brexit vote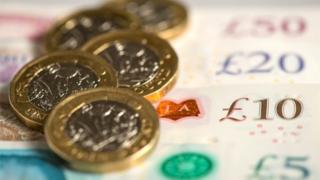 The pound slipped against the dollar as currency markets got their first chance to react to MPs backing a move to delay approval of the Brexit deal.
Many banks in London had called in extra staff, expecting volatile trading after the first Saturday sitting in the House of Commons for 37 years.
But the pound's reaction was muted, slipping 0.6% against the dollar to $1.29, and down 0.4% against the euro.
On Friday, the pound had been trading at its highest level for five months.
Jeffrey Halley, senior market analyst at Oanda, said the fall in the currency was limited because "despite more twists and turns than any other soap opera in history, a hard Brexit is now highly unlikely".
Jane Foley, senior foreign exchange strategist at Rabobank, told the BBC's Today programme: "[Investors] are a little bit more anxious certainly than they were at the end of last week. There was a lot of confidence going in to Saturday's vote that there would be something a little bit more constructive.
"Instead, of course, we've got this delay, so the lower pound this morning reflects the delay. But sterling hasn't sold off very much. If we go back 10 to 12 days, we were trading at $1.22, so we are significantly higher and this is of course related to optimism that Boris Johnson's government may have the numbers to push this deal through. This could still be done in a very short period of time.
"But of course, if we look at the medium term, there is still plenty of scope for volatility, there is still plenty of risk."
Deutsche Bank, like many other banks, had set up additional staff to come in on Sunday expecting a strong reaction to Saturday's vote.
But it scaled back numbers after the weekend's events - which saw Prime Minister Boris Johnson send an unsigned request to the EU for a further delay, accompanied by another letter - signed this time - clarifying that was not his own personal position.
Events serious enough to require extra staffing out of normal trading hours are relatively rare in currency trading, normally linked to a big infrequent event such as an election with an uncertain outcome, for example.
But Russell Lascala, global head of FX at Deutsche Bank, said that, since the Brexit referendum, there had been five or six such events.
"The uncertainty has been going on for years. The market is begging for clarity, to be able to invest or not invest."
'Very frustrating'
Sir Ian Cheshire, chairman of Barclays' UK operations, told the BBC that the deal on offer was "acceptable".
"No deal is perfect, but this deal is actually doable and it is, I think, very frustrating to see what appears to be a protracted process when most business leaders would like to see some certainty and get on," he said.
"The chances of yet another round of negotiations are extremely unlikely to yield anything significantly different and now the delay is beginning to affect consumer confidence, particularly investment confidence, and I think we have to push ahead and make the best of what we've got coming down the track."
Currency analysts say they expect the next strong movement in the pound to be when the Brexit deal is voted on in Parliament.
However, after Saturday's vote, many believe a no-deal Brexit is now less likely. US investment bank Goldman Sachs, which issues regular updates to its clients, now thinks there is a 5% chance of a no-deal Brexit, down from 10% previously.