'My reception was so bad even O2 couldn't call me'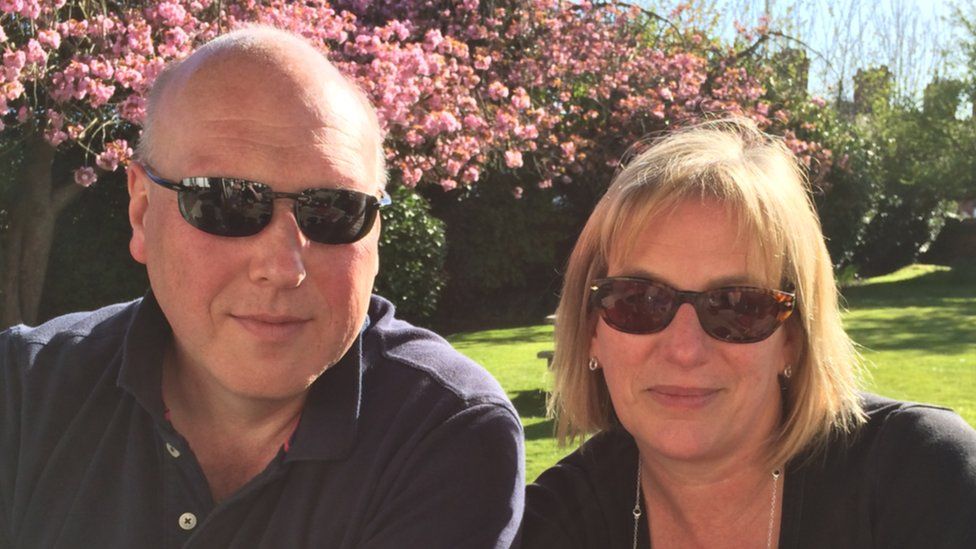 A promise to end rural 'not-spots' can't come too soon for Sian Davies. She moved to Rossett, north-east Wales, with her husband this year - and the lack of mobile coverage has been "a real bugbear".
"The signal is almost non-existent," she said. "If I want to send or receive texts, I have to go upstairs in my home," she said.
She's not alone. Currently one third of the UK has patchy or non-existent mobile phone coverage.
But on Friday, a £1bn plan between the UK's four main mobile phone companies and the government was unveiled with the aim of banishing these signal dead zones.
The proposed deal - which includes EE, O2, Three and Vodafone - promises to get 4G coverage to 95% of the UK by 2025.
The operators would invest in new and existing phone masts they would all share under the proposal, which the government hopes will be formalised early next year.
It is estimated that an additional 280,000 homes and businesses and 16,000km of roads will have coverage.
The four main mobile networks plan to contribute a total of £530m for the Shared Rural Network, with the government potentially supporting it with another £500m once the deal is finalised.
The government had threatened to force the mobile firms to allow customers to roam onto each other's networks in not-spots, a move the companies said would deter new investment.
Digital Secretary Nicky Morgan said "it is not yet a done deal and I want to see industry move quickly so we can reach a final agreement early next year."
For people like Mrs Davies, lack of coverage is a huge inconvenience. She's lost online purchases, as it takes so long for confirmation texts to come through. She ended up upgrading her phone so she could receive calls over wi-fi at home:
"Rossett is only six miles from both Chester and Wrexham, yet we are lucky to even get 3G never mind 4G," she said.
"One day O2 (her provider) called trying to get me to upgrade, but the caller said reception was bad and they would call later."
She contacted the company when it announced it was rolling out 5G: "I am flabbergasted that they can do this when many people cannot even get 3G!"
This deal follows years of wrangling between the government and the mobile operators with each side aware that the stakes were high.
It was under David Cameron's government that poor rural mobile coverage became a live issue - the Prime Minister was reportedly maddened by the lack of a mobile signal on his Cornish holidays, and residents and businesses in the countryside were understandably angry that poor connectivity was excluding them from the digital revolution.
The government repeatedly threatened to bring in so-called national roaming, forcing operators to allow customers to connect to rival networks in places where they could not provide a signal. They hated this proposal, insisting it would bring investment to a halt - why would you build a new mast only to see it used by customers of a rival who'd failed to invest?
But the threat has forced them to come up with a plan to invest £500m in a shared network which will see one mast hosting antennas from several operators.
In return they've won two concessions- the government will hand over cash to reach the really remote areas and Ofcom will drop coverage requirements from the rules for the next 5G spectrum auction.
Now though the final details of the deal have to be agreed - and rural residents may still have to wait some years before they can be confident of connecting wherever they are.
Vodafone's chief technology officer, Scott Petty, told the BBC the plan has been 12 months in the making.
"As an industry we really believe this is the most effective way to get the UK from the bottom end of the coverage tables in Europe to the top end," he said.
Mark Bridgeman of the Country Land and Business Association said the news was is a big step forwards.
"We have been hugely frustrated at the lack of progress in improving mobile reception to date," he said.
"This announcement will be welcomed by everyone who lives or works in the countryside."
Felicity Burch, director of digital and innovation at business lobby group the CBI, said the proposal would "unleash investment and boost productivity".
"This is another crucial step in making the UK match-fit for the digital revolution."
Sian Davies says she's "all for it, as long as the four companies can negotiate together and deliver what is promised."
She is worried though that her area will miss out: "I fear they may concentrate on more remote areas, and places such as Rossett which are relatively close to large urban areas, will be forgotten."