HSBC restructuring plans fuel fears of job cuts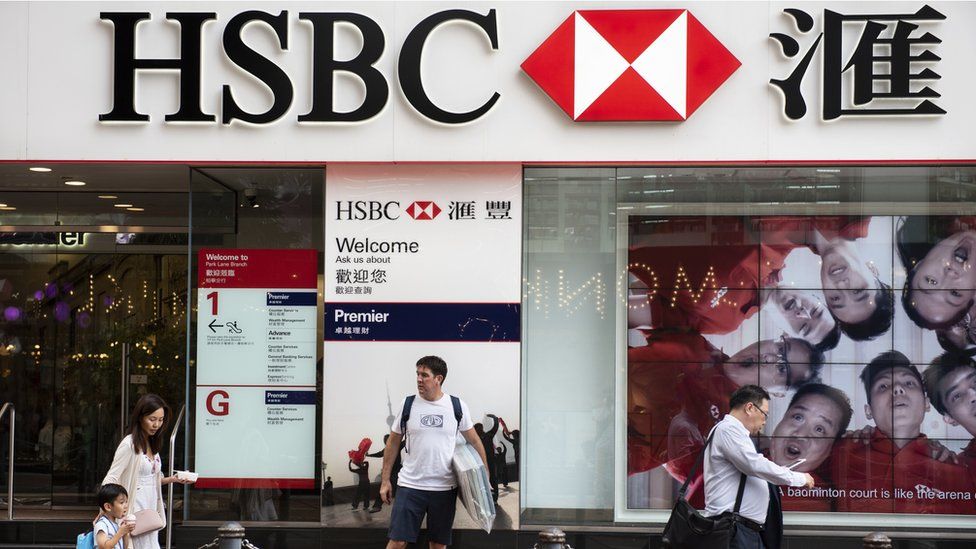 HSBC is planning to restructure its business after the banking giant said its performance in parts of Europe and the US was "not acceptable".
Interim chief executive Noel Quinn said plans to improve these divisions were "no longer sufficient" and that it was "accelerating plans to remodel them".
Earlier this month, the bank, which employs 238,000 people, was reported to be planning up to 10,000 job cuts.
On Monday, Mr Quinn said there was "scope" for potential cuts,
"There is scope throughout the bank to clarify and simplify roles, and to reduce duplication," he told Reuters. However, Mr Quinn did not provide any further details on potential job cuts.
Europe's largest bank said profit before tax fell 18% to $4.8bn (£3.8bn) in the three months to September, and also warned of a "challenging" environment ahead.
HSBC has been navigating uncertainty arising from Brexit, the US-China trade war and ongoing unrest in Hong Kong.
However, Mr Quinn praised the bank's performance in Asia - the region where it makes most of its profits.
"Parts of our business, especially Asia, held up well in a challenging environment in the third quarter," said Mr Quinn.
"However, in some parts, performance was not acceptable, principally business activities within continental Europe, the non-ring-fenced bank in the UK, and the US."
HSBC's dual nature - listed in London and Hong Kong and standing astride the trade flows between east and west - has often been a source of comfort for investors, who like a bank that doesn't have all its eggs in one basket.
It has also, however, been a source of discomfort for the bank and its shareholders. A dozen years ago, activist investor Knight Vinke led a campaign against HSBC's board, accusing it of corporate governance failings and urging it to stop spending money on western markets and concentrate on Asia, where there were more and more profitable opportunities for growth.
Fast forward to today and those same themes run through the first financial results from Noel Quinn, the bank's interim chief executive.
Mr Quinn, a battlefield promotion after the abrupt departure of John Flint in August, is clearly making his pitch for the getting the job full-time.
Statements from bank chief executives are normally bland in the extreme, but Mr Quinn pulls no punches, saying performance in the UK, Europe and US was "not acceptable" and that restructuring plans to focus on the Asian operations would be accelerated.
The bank has also warned there will be one-off financial hits in the next quarter to pay for the restructuring - which is likely to be shorthand for big job cuts to come.
The Financial Times reported earlier this year that HSBC would cut as many as 10,000 jobs; given the language in which Mr Quinn has couched his warnings about the bank's performance, that looks a likely outcome.
HSBC said the revenue environment was "more challenging" than in the first half of the year, and predicted "softer" revenue growth than previously anticipated.
It also warned of "significant charges" in the fourth quarter - including those related to restructuring - if the backdrop worsened further.
While HSBC warned earlier this year that profits would be hit by a slowdown in China, the broader region was profitable for the bank in the third quarter.
The bank said profit before tax in Asia rose 4% to $4.7bn in the period, citing "resilience" in Hong Kong.