Jingye to invest £1bn and save 'thousands of British Steel jobs'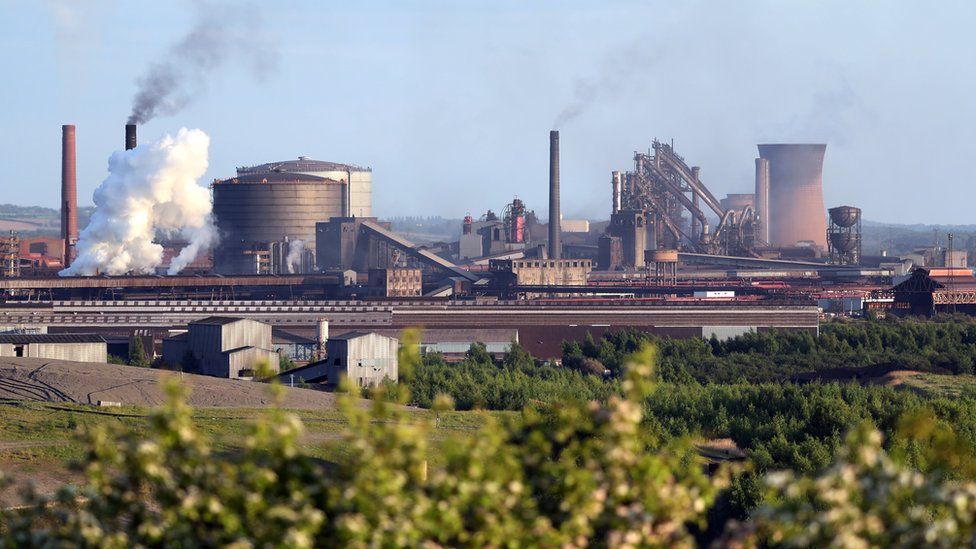 Chinese firm Jingye says will invest £1.2bn in British Steel as it signed a deal to rescue the UK steelmaker.
It also said it would seek to "preserve thousands of jobs in a key foundation industry for the UK" but did not put a number on how many would be saved.
British Steel employs about 4,000 people in Scunthorpe and Teesside.
It has been kept running by the government via the Official Receiver since May, when the company went into liquidation.
Jingye said it anticipated making job offers "to as many employees across the business as possible".
Group chairman Li Ganpo said it would spend £1.2bn over the next decade in upgrading plant and machinery, "improving the company's environmental performance... and boosting energy efficiency to place the operations on a more competitive and sustainable footing".
It also said it would aim to identify new markets and products.
Business Minister Andrea Leadsom said she had met with Jingye's chairman on Monday.
"I have been given reassurances that next to all current staff will be kept and that in the medium to longer term they are likely to want to expand the workforce" she said.
The deal will give the Chinese company control of a third of the UK's steel industry. But Ms Leadsom said: "There aren't any national security issues with this acquisition.
"In my dealings with Jingye, I think they will show themselves to be very committed to continued and expanded production [here] in Scunthorpe and on Teesside."
Jingye will acquire the steelworks at Scunthorpe, UK steel mills and shares of FN Steel BV, British Steel France Rail SAS and TSP Engineering. The sale also includes the shares owned by BSL in Redcar Bulk Terminal.
A statement from the Official Receiver said: "Completion of the contract is conditional on a number of matters, including gaining the necessary regulatory approvals. The parties are working together to conclude a sale as soon as reasonably practicable.
"The business will continue to trade as normal during the period between exchange and completion. Support from employees, suppliers and customers since the liquidation has been a critical factor in achieving this outcome."
One worker at British Steel in Scunthorpe told the BBC: "It has been a big concern, nobody knew what was happening... whether they had a job, could pay the mortgages, feed the families. It is great news."
Why is this news so important?
Gareth Stace, director general of industry lobby group UK Steel, told BBC Radio 4's Today programme that the business being bought was a "significant asset to our country".
He said that there was a need for "very significant investment" in the Scunthorpe works and that was why the deal with Jingye was "really welcome".
British Steel had previously been in rescue talks with Ataer, a subsidiary of Turkey's state military retirement scheme Oyak. Ataer said its own talks failed "mainly due to lack of support from the key stakeholders".
What is in it for Jingye?
What does a steel maker from Hebei province, south-west of Beijing, see in a struggling plant in Scunthorpe? It is difficult to know, particularly when we know so little about Jingye.
There is little publicly available information - certainly no set of accounts - but the organisation's Facebook page extols its rapid rise to become a big player in steel in just 20 years.
On the face of it, the Chinese buyer will be interested in the products that British Steel makes that it does not. British Steel is a specialist in railway tracks, "long products", a catch-all term for girders used in construction, and the high-quality steel wire used in car tyres and dozens of other industrial applications.
Jingye does not appear to make the first two, so British Steel should bring it some valuable technology and new product lines. This has to be set against the need for investment at Scunthorpe.
What British Steel workers will fervently hope is that the Jingye commitment is long-term and that this is not another false dawn.
Will British Steel now turn the corner?
Mr Stace said he believed the steel industry in the UK could now compete globally and he was publishing a manifesto with ideas for change.
"But the problem we have is we have an uncompetitive business landscape in the UK. Government can change that," he added.
"I'm talking about energy costs, business rates, procurement - the government buying more steel from the UK - free and fair trade, and even much more support for R&D [research and development], which we are going to lose when we fall out of the EU."
He said: "What government needs to do is give us that business landscape. We can thrive on the global market and generate highly paid, highly skilled jobs for the UK economy."
In the long term, it is believed that while Jingye Group has promised to increase production, it has also warned costs may need to be cut.
Ross Murdoch, national officer for the GMB union, said: "We were impressed with the passion and enthusiasm from the Jingye team.
"However, due diligence on this sale was completed very quickly and the devil will be in the detail."
Community, a UK trade union which absorbed the old Iron & Steel Trades Confederation body, said it welcomed "this positive step towards securing British Steel under new ownership".
"The fact that there has been ongoing interest from both Ataer and now Jingye rightly demonstrates that potential buyers believe that British Steel can have a sustainable future."
The UK industry has been struggling for a number of years amid claims that China has been flooding the market with cheap steel.
In 2016 the EU imposed tariffs of up to 73.7% on Chinese steel after an influx of cheap imports from Asia forced European manufacturers to cut jobs and lower prices.
It has total registered assets of 39bn yuan (£4.4bn). According to its website, Jingye Group ranked 217th among the top 500 enterprises in China in 2019.
The firm sells its products nationwide and exports them to more than 80 countries and regions.
Jingye's products have been used in major projects such as Beijing Daxing International Airport and the underground system in Shijiazhuang.