Sainsbury's to cut hundreds of management jobs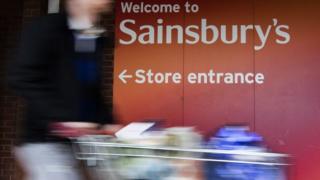 Sainsbury's has announced plans to cut hundreds of management roles in a fresh round of job cuts at the supermarket.
The chain said the cuts were largely due to its integration of Argos - which it bought in 2016 - into the business.
It said the move represented the "finalising" of new management structures and the merging of its store support centre teams and were part of cost savings already announced.
Since March 2019, Sainsbury's has axed one in five senior leadership roles.
Last year, it also announced an overhaul of the business aimed at saving £500m, including plans to move up to 70 Argos shops within its business.
Sainsbury's employs 178,000 people in total. In Tuesday's update, it refused to say how many management roles in total would be axed.
Cost cutting
Sainsbury's chief executive Mike Coupe said: "We have to adapt to continue to meet the needs of our customers now and in the future and, while change can be hard, it's also necessary."
A spokeswoman said the planned management cuts were part of efforts by the supermarket to try to avoid duplication of roles between Sainsbury's and Argos.
Sainsbury's outlined a new strategy in September after its failed Asda merger bid.
The plan focused on cost cutting, paying off debt, more technology and further integration with Argos, which it purchased in 2016.
Earlier this month Sainsbury's said Christmas sales had fallen despite solid grocery sales after people bought fewer toys.
Retail analyst Richard Hyman said the job cuts could have an adverse impact on how the business operates.
"Retailing is a people business," he said. "Stripping out people without any impact on the business [and the customer experience] is difficult."
He said retail was a tough market which was forcing some chains to prioritise lowering costs over investing, adding that "retail winners" are those prepared to make investments to improve revenue.